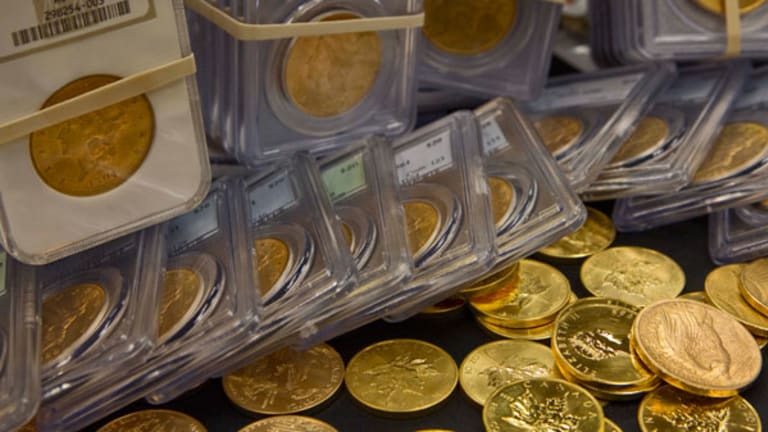 Bull Charts of the Day: Playing the Gold and Silver Miners Through ETFs
Buying the miners as a group provides more bang for the buck, the charts show.
NEW YORK (Real Money) -- There's some hesitation for bulls in the early going on the big indices, but buyers have found some footing clinging tight near recent highs.
I don't generally like to come back to a name twice within a few weeks, but the more equities play out like we are seeing, the more I feel a need to have some exposure to the precious metals or the miners. I still prefer the miners here, as I find the chart more compelling and feel they will provide more bang for the buck should we push higher.
For most, the Market Vector Gold Miners (GDX) - Get Free Report, or even the junior miners, should do the trick. While there are plenty of attractive individual names, they often move as a collaborative group, so why not just maintain access to the group? GDX is finally over the key $20 level. We do need a close over this level, but the ascending triangle pattern is solidly in place here. My upside targets are in the $21.50 to $22 area for the near term, as in the next few weeks. With this rising support line, our stop is much closer now. I am using $19.25 as the stop to the downside.
This is a much better risk-reward scenario than what buyers of last month or even a few weeks ago were getting. In addition to price, we have a confirmation breakout on the commodity channel index as well as a bullish crossover in the short-term slow stochastics. I'm already an owner of GDX, but if I weren't, I would not hesitate buying a close over $20 today.
If gold isn't your thing, then the Global X Silver Miners (SIL) - Get Free Report can absolutely work as well. The price pattern here is a wedge rather than an ascending triangle, so there is the risk the top of the wedge around $9.25 could act as some resistance. Furthermore, the CCI is hitting the extreme territory of 200+, so we have to be cognizant of a retracement. The hit of 200+ isn't necessarily a sell order, but a retracement lower is a yellow flag. The slow stochastics has already crossed over in a bullish fashion ahead of price, which is a positive here. Also, the RSI is making a new high for the month of April, so I would chalk these two indicators up to strong leading indicators on the bulls' side.
I do slightly prefer GDX to SIL, but I think both can play here.
Editor's Note: This article was originally published at 11:53 a.m. EDT on Real Money on April 28.
This article is commentary by an independent contributor. At the time of publication, the author held a position in GDX.