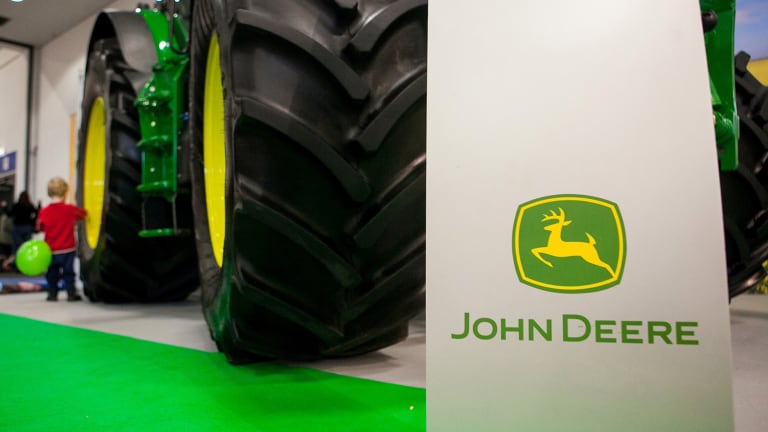 Bull Chart of the Day -- Why I'm Riding With Deere
Is Deere ready for a triple-digit run? Maybe with a little push.
Is Deere ready for a triple-digit run? Maybe with a little push.
NEW YORK (Real Money) -- It's been awhile since I've had any confidence in Deere & Co. (DE) - Get Report. And I'll admit, I'm still not 100% sold on this one, but the price action is keeping me intrigued here and beckoning to me to take note.
Deere is green on the year, but if we look back over the last 12 months, I'd say the stock has been uninspiring. It hasn't been awful by any means, but not one to boast about. Is Deere ready for the triple digits? With just a little push here, I would say yes.
The current price pattern seems to mimic the one we saw just a few months ago simply on a smaller scale. A double top in place with a rounding consolidation before a break higher. Even the dip on the Relative Strength Index is similar to the rounding price pattern which leads me to use the RSI more as a confirmation rather than a leading indicator here.
My focus here is on the slow stochastics, which is also repeating a similar pattern only in a shorter time frame just like price. There is still room to run here. To me, this one looks simple. A close over $94.25, and I'm a buyer looking for a move to $100. Options are liquid and plentiful here, so a defined risk can be easily utilized by targeting long $93 calls.
If I were a stock player, a close under $93 would be a yellow flag here while anything under $91.50 is a stop. A second consideration here is buying into the support level around $91.70 and giving the stock about $0.70 to the downside. If pursuing this approach, then I would sell part of the holding into the $93.50 to $94 area and look for $100 on the remainder.
The weekly picture presents a similar entry strategy to that I just mentioned: buying the dip. There is a much larger trading channel at play here with support around $91. Again, this speaks to our stop mentioned previously, but also to the idea of an attractive risk-reward buying a small dip here. The channel is rising with resistance sitting at $97 currently. This will rise as the weeks pass, so I would only be selling into $97 if the stock were to hit that mark before the Fourth of July holiday.
Trend and momentum still favor the bulls. Also, it is tough to see, but the 20-week Moving Average is sitting just under the support line at $90.35. Therefore, if my view is longer than a quick swing trade, I would focus on a weekly close under $90 for my stop. Better yet, just use $90 calls for a synthetic stock position here. At this point, I would consider iron condors or bullish put spreads if options were my comfort area. With the current setup in the market, I'm more comfortable just approaching this one with long calls if I get a trigger.
Editor's Note: This article was originally published at 11:50 a.m. EDT on Real Money on June 25.
This article is commentary by an independent contributor. At the time of publication, the author held no positions in the stocks mentioned.