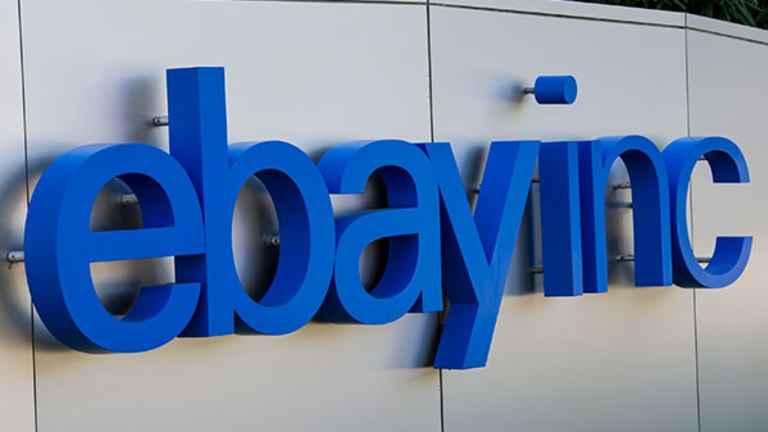 Bull Chart of the Day -- Why eBay Is Getting More Attention
What's not to like about the company's short-term chart in a choppy market? The bulls are buying. Should you?
NEW YORK (Real Money) -- I might be a day late and a dollar short on this one, but there's no denying eBay (EBAY) is attracting some attention. It could be the PayPal spinoff excitement or maybe something bigger under the surface.
I'll admit, I don't know what it is; however, the stock has been very strong for two days now coupled with strong action in the underlying call options. Bulls, for whatever reason, are persistently buying right now.
And what's not to like about the short-term chart in a choppy market? We have clear support just below $59.50. This uptrending line has been tested more than a half-dozen times over the last six weeks. Furthermore, we are breaking out above not one but two resistance lines at $61 and $61.40. This should set up $61 as solid support, and I can see $60 being additional support here. Momentum and trend have remained strong. The RSI has remained over 50 for most of this recent run, with just a temporary dip to that aforementioned support line. The slow stochastics have been a bit bumpier, but remain in bull mode.
With each drop in price, the test of support along with a bullish cross in the slow stochastics made for a nice entry. That's one worth sticking in the back pocket. And while the Aroon indicator is a bit of a trailing indicator here, it is good for stops and confirmation. I don't want to be positioned against a cross in the Aroon. In other words, I don't want to be long and unhedged if the red line crosses above the green. Currently, we have a solid bullish setup, so I want to have long exposure given the current price breakout.
My preference here is to be long July $60-$65 call spreads or long July $62.50 calls. I would also consider something along the lines of a 2x3x1 unbalanced butterfly being long 2x July $62.50 calls, short 3x July $65 calls and long 1x July $67.50 calls. I'm torn here, as I believe the spread offers the best risk management, but the $62.50 uncovered calls offer significantly more upside. Given the choppiness of the market, I opted to use the call spreads here and go a bit more on the conservative side.
Editor's Note: This article was originally published at 12 p.m. EDT on Real Money on Nat 29.
This article is commentary by an independent contributor. At the time of publication, the author held was long EBAY call spreads.