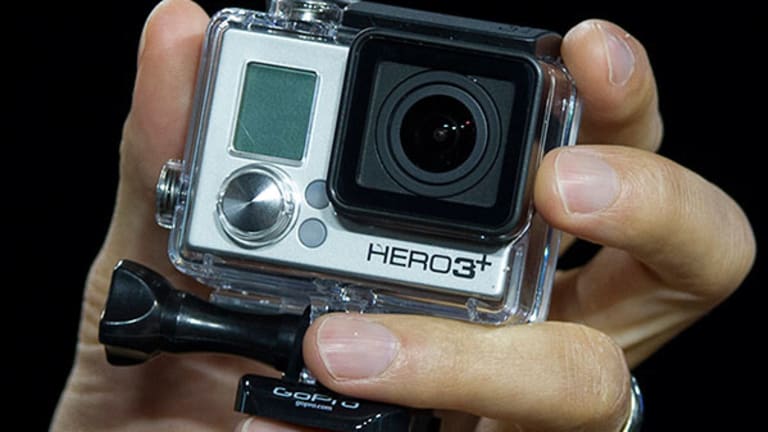 Bull Chart of the Day -- Vista Outdoor, Veeva Systems, GoPro
These three stocks are looking to break through resistance and power higher next week.
NEW YORK (Real Money) -- It's a three-day weekend, so why not take some time to check out three daily charts looking to break through resistance and power higher next week. I would put these in a more aggressive group though, so this is one time I'd rather take smaller positions if these trigger and try to let them have a little more room to run.
Vista Outdoor (VSTO) - Get Free Report is a newer issue here only have about four months of trading under its belt. The stock took off like a rocket running from $31 all the way up to $46.50 in less than the first month of trading. Since that time, it has consolidated in a very wide channel testing that high once in April. Now, we are testing that high again after a false breakdown in May.
Given that it is a newer issue and seeing that May's false breakdown is a big reason why I would look at a smaller size position here with more room for a stop. While we haven't quite broken out yet, I'm optimistic given the new highs in the RSI here and the strong stochastics. The change in money flow has been green for several days, even through the false breakdown. The upside seems modest in the $50-52 range but against a stop of $43.75 this wouldn't be a bad risk-reward scenario for a bullish play.
Veeva Systems (VEEV) - Get Free Report is trying to push through similar resistance here and fill a gap. This is a textbook, and very pretty, an ascending triangle with the stock right at resistance. If this one goes back under $27.50 for two days in a row, then the triangle becomes useless.
As that is less than 2% below the current price, a trader here doesn't have a long way before feeling like they are wrong. Momentum and trend are all bullish here. Obviously, some of that stems from the march higher, which began in April, but it leads one to have to lean bullish here.
A solid two-month base for this triangle hints that it could be very rewarding to the upside. That gap above the current price is just waiting to be filled and offers some 10% upside. If we see a breakout, then $27.50 can be used as a stop. Again, a very nice risk-reward scenario here.
GoPro (GPRO) - Get Free Report is the last. I've seen the name mentioned several times across various mediums. I realize I'm not first on this chart, but that doesn't make it any less bullish. There's a nice handle forming on the cup consolidating the push higher from the March lows. This sets us up for $60 if we can clear $55. I believe the upside could be more like $60-$65.
Where are we wrong? Below $52.50 is a huge yellow flag, but under $50 mean we see $47.50 likely before a break back over $52.50. Again, a nice trade off here. I would even lean towards simply using $52.50 calls to define my risk and knowing under that strike we have concerns. The money flow action is weakening a bit, so that's a concern although trend and momentum are both very bullish.
In the end, it comes down to risk vs. reward. All three names have very clear risk points and favorable rewards vs. that risk. I would call all three very aggressive names though, so sizing here is important. Even if they breakout there will be some turbulence on any push higher. Smaller sizing will allow it to be managed with less emotional impact.
I hope everyone has a safe and enjoyable weekend and has the opportunity to thank the men and women who protect our freedom today and remember those who fought to get that freedom and keep it.
Editor's Note: This article was originally published at 12:42 p.m. EDT on Real Money on May 22.
This article is commentary by an independent contributor. At the time of publication, the author held no positions in the stocks mentioned.