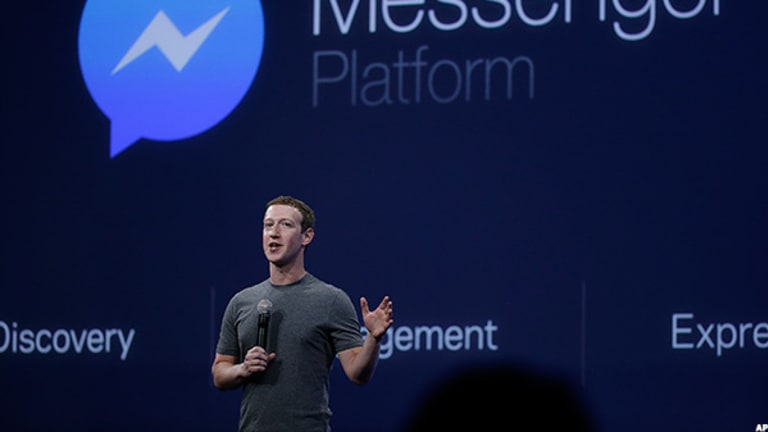 Bull Cases for Facebook
Ad revenue growth is expected to drive Facebook earnings, which are set for release Wednesday.
Editor's Note: This article was originally published on Real Money at 12:29 p.m. on July 27.
There are very few true bears when it comes to Facebook (FB) - Get Report , but the bulls covering the stock seem to generally be split into two camps; the ones who believe the company could suffer from its own success and see growth issues in the near term, and those who believe the good times will keep rolling. Both or neither will be proven right following the release of the social media giant's earnings results after the closing bell Wednesday.
Starting with the buy side, the Action Alerts PLUS holding was the subject of a JMP Securities note Tuesday that reiterated its market outperform rating and $147 price target. The firm expects Facebook to beat its own, and consensus, top- and bottom-line expectations for the quarter.
Past the headline numbers, JMP will be looking for a 52.5% year-over-year increase in ad revenue to $5.86 billion, updates on the company's Messenger, Oculus and WhatsApp initiatives, and confirmation that mobile daily active users have surpassed 1 billion.
"Facebook remains our top pick across the Internet sector with multiple catalysts in the near term, and we point to newer ad products, such as Dynamic Ads, Canvas ads, video ads and Instagram monetization and longer-term catalysts around Messenger, Oculus, and WhatsApp," the firm wrote in a note.
Analysts at Deutsche Bank were slightly less optimistic on Facebook. The firm expects some deceleration in growth, but the growth is still expected to continue. Deutsche Bank has similar ad revenue growth expectations as JMP -- 53% year-over-year growth to $5.84 billion -- and views the recent three- to six-month stall period in the stock as a good point for accumulation.
"On balance, unlike last quarter, we've heard mostly bullish feedback in our checks, but given the two-point step down from leap year, we think upside in 2Q may be somewhat contained," analyst Ross Sander wrote. "Our recent U.K. post-Brexit checks have also been stable for FB and mobile advertising. The uptick in concerns around declining engagement at FB and Instagram (from Snapchat) seem overblown, especially around revenue in light of Instagram's increasing ad load."
Wedbush analyst Michael Pachter believes Facebook has a "virtually insurmountable" competitive advantage over its competitors with 1.6 billion monthly active users and over 1 billion daily active users. The firm believes mobile ad growth will drive the company's earnings beat.
"We expect Facebook to continue its rapid growth overseas, and expect it to expand monetization of under-penetrated Instagram, WhatsApp and Messenger assets over the coming years. Investments in new initiatives position the company for long-term growth, and we believe that these initiatives will drive growth over the next decade. In summary, Facebook is a great company, period," Patcher wrote.
The firm has a higher EPS expectation than the consensus estimates, 85 cents per share vs. 81 cents per share. While the firm believes Facebook is approaching full penetration in North America and Europe, Facebook still has room to grow in Asia and the rest of the world.
"We think Facebook is well-positioned to deliver solid ad growth over the next several quarters, driven by growth in Asia and ROW. It appears that ad load, usage and ad rates can expand for several years on a global basis, with outperformance in underpenetrated regions that should drive global ARPU higher each year," Patcher wrote.
Finally, the Action Alerts PLUS team also remains bullish on the company and would be a buyer on any pullback. However, AAP co-manager Jack Mohr said the portfolio would not buy into the quarter and instead sees the period ahead of the company's earnings release as an opportunity to book some profits.
"We recently trimmed our Facebook position with shares trading about 85% above our cost basis as we wanted to take some profits on our largest position in the portfolio. The move was driven not by any change in our fundamental thesis, but rather to right-size our exposure and avoid the temptation of succumbing to greed following a parabolic run," AAP senior analyst Scott Berman said in an email exchange.
While the portfolio expects Facebook to see increased competition from the likes of Snapchat, Action Alerts PLUS is still betting on Facebook.
"We expect the name to emerge as more of a battleground in the near term -- with some analysts touting the continued growth and others questioning the ability for any further rally -- and prefer the certainty of some tangible profits near term over the risk of event-driven volatility," Berman said. "That being said, we are confident in the name for the long term as it continues to execute on its various growth and monetization initiatives. We leave our $145 price target unchanged."