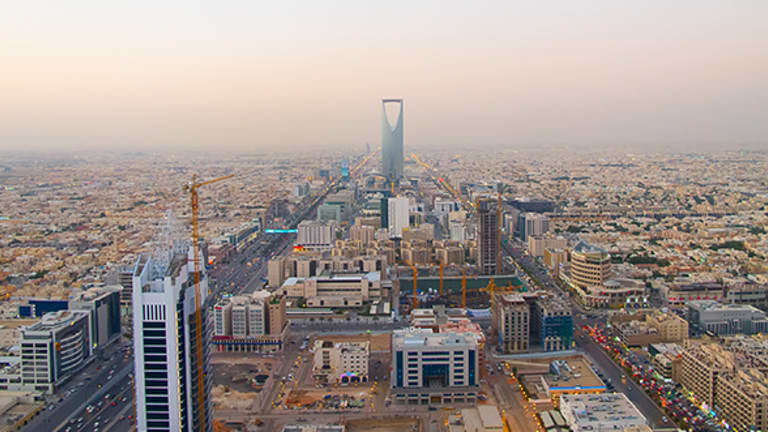 Buffett's Not Sweating Over China; An Oil Bottom; Anything but Cellphones: Jim Cramer's Best Blogs
Catch up on Jim Cramer's ideas from this past week as he talks about oil prices, the cellphone business, and why he can't take the long view on China's troubles.
NEW YORK Real Money -- Jim Cramer fills his blog on RealMoney every day with his up-to-the-minute reactions to what's happening in the market and his legendary ahead-of-the-crowd ideas. This week he blogged on:
Why he can't take the long view on China's troubles, unlike the Oracle of Omaha;
What the news out of Saudi Arabia will mean in the energy sector;
The "anything but cellphones" reaction to the Chinese slowdown.
Click here for information on RealMoney, where you can see all the blogs, including Jim Cramer's -- and reader comments -- in real time.
Watching China and Envying Warren Buffett
Posted on July 28 at 4:50 a.m. EDT
It all seems so ethereal. I am waiting to listen to some ridiculous conference call about Baidu (BIDU) - Get Baidu, Inc. Sponsored ADR Class A Report and thinking that somehow it will matter, petrified if I don't get the skinny on it.
Yet, if we step back and try to be, say, the impossible one, Warren Buffett -- do you think he's listening to the Baidu conference call? Do you think he is worried about anything China, other than how it can help him get better prices for the merchandise he wants?
Ah, but we are not Warren Buffett. We don't have his money, or his time frame or his ABILITY TO BE WRONG FOR LONG STRETCHES OF THE HORIZON AND IT DOESN'T MATTER (housing, oil, IBM)
And, while I am typically castigated as someone who thinks too short term, what am I supposed to do, not do the work so I cannot explain in any coherent and rigorous fashion what's occurring?
The simple fact is right now that China might, in some ways, be unraveling and there are so many industries devoted to producing goods for China -- iron, copper, autos, turbines, airplanes, shampoo, soda, aluminum, zinc, you name it -- that to not try to figure out what's going on is to be willing to sacrifice your year.
Now if your year means nothing to you and you are in it "for the long run," then you don't have to do anything other than re-invest when stocks break down. You are in a remarkable and enviable position. If I were you, I would just sit there and wait for one or two pitches a year and nothing else. It's not worth it to try to figure out how to make even more money if you don't care about how much you make to begin with.
I, on the other hand, am expected to give my opinions on stocks and the market with an eye toward explaining what is occurring, and it is rather hard to ignore the dissolution of the marginal buyer of pretty much everything and still be sanguine. A lot of stocks, a lot of companies, heck, a lot of countries-- of which, fortunately we are not one of -- depend on China for business and it just isn't taking what it once took.
We have whole countries in Latin America that have no place to put their surplus goods. We have a country with byzantine laws on the books, like ours, that can't export oil even as there are refineries overseas that would love our oil. So instead it sells at a huge price differential to whatever the world price is.
So, I hang on every word out of China. I hope the Party encourages an "orderly" decline like last night's, not some pell-mell tsunami of selling. I listen to everything possible out of China , including anything that Baidu has to say, and I am jealous of Warren Buffett, like everyone else, because he can sit there with his Coca Cola (KO) - Get Coca-Cola Company Report, IBM (IBM) - Get International Business Machines (IBM) Report, American Express (AXP) - Get American Express Company Report, Wal-Mart (WMT) - Get Walmart Inc. Report and Procter & Gamble (PG) - Get Procter & Gamble Company Report and perform amazingly, although if the rest of us owned the stocks we would, of course, be bums!
Saudi Cutbacks May Mean Bottom for Oils
Posted on July 29 at 2:15 p.m. EDT
We are getting some news out of Saudi Arabia about oil cutbacks that will have a dramatic impact on the price of oil and make it unlikely we will visit the $43 level again.
We all know that our production has already peaked and I expect it to decline pretty precipitously versus what others say it will. I am in the camp inspired by David Demshur, CEO of Core Labs (CLB) - Get Core Laboratories NV Report, that says the 70% depletion rate the first year of a shale well is extraordinarily shallow and that means our production will drop quickly if drilling remains this muted.
But I think just as important is what Demshur said about Saudi pumping -- that it simply can't be done full out much longer without too much water getting into the well and debasing it, something that is just plain irresponsible.
The news today from the wires that the Saudis are going to cut back is the missing piece of the puzzle that should cause oil to trade at these levels and not go much lower. I say not go much lower because we do have Iranian oil coming in soon if the deal is signed.
That said, the real takeaway here is that I think Demshur is going to be dead right and we are buying the oils very aggressively for Action Alerts Plus.
Oh, and don't forget, with this heat, you are going to see a real burn-off of natural gas because overtime power plants run on the stuff to meet the demand for air conditioning. That's all good for the complex.
Will ABC (Anything but Cellphones) Hurt Apple Too?
Posted on July 30 at 7:51 a.m. EDT
The moving parts on this Chinese slowdown boggle the mind. Its tentacles reach pretty much everywhere, whether it be the price Waste Management (WM) - Get Waste Management, Inc. Report gets for its scrap, to the parts Eaton (ETN) - Get Eaton Corp. Plc Report makes for its exported electrical systems or the amount of iron ore China can take, or cars Audi can sell -- not as many as of last night's revision -- to the amount of steel it will dump and the slowing amounts of Johnnie Walker it can drink - thanks, Diageo (DEO) - Get Diageo plc Sponsored ADR Report, for that little bit of downer on your call last night.
But nowhere is the confusion greater than in cellphones, where everyone admits there is a slowdown but no one wants to say who it is slowing for and why.
Cellphones are front and center because China is both the marginal maker and the marginal taker of cellphones and because it is in an infrastructure transition from fast to even faster technology, 3G to 4G, and we don't know where the build-out stands.
And, of course, cellphones are front and center because China is where Apple's (AAPL) - Get Apple Inc. (AAPL) Report hyper growth comes from, and Apple has indicated that, despite the slowdown in the economy, despite the crash in the Chinese stock market, despite the gloom we hear from all of the economic indicators, things are going gangbusters.
Now, we should have no reason to doubt Apple - which I hold in the Action Alerts PLUS charity portfolio that I co-manage -- or Tim Cook. We can perhaps suggest that sales have slowed since the quarter last talked about on the call. But we aren't getting that read.
Or we could suggest that it's become very zero-sum, with Apple just crushing its once fast-growing rival, Samsung, taking share faster than we have ever seen -- something that could be corroborated by the discounts that Samsung announced last night on all of its new phones. There was no such discounting for Apple.
But we do know this. Some companies are being hurt, and being hurt badly. We know that Qualcomm (QCOM) - Get QUALCOMM Incorporated Report had real Chinese issues. The company says they have nothing to do with the manufacturing portion of the business they have in China and much more to do with the loss of Samsung business.
Qualcomm's what I call a squishy story -- stock's down a ton already, lots of cash, big restructuring but no catalyst.
Into this whole opaque mix come NXP Semiconductors (NXPI) - Get NXP Semiconductors NV Report and Qorvo (QRVO) - Get Qorvo, Inc. Report which both, last night, reported numbers that didn't hit the mark.
Now NXPI and Qorvo, along with Avago (AVGO) - Get Broadcom Inc. Report and Skyworks (SWKS) - Get Skyworks Solutions, Inc. Report, are the companies that have most benefited from the strength in Apple phones. So any time we hear anything negative from any of them, we presume the problems are Apple-related.
Given that Apple won't let anyone talk about its business, the conference calls are always these elaborate kubuki dances about whether Apple's cutting back or not, or is the consumer in general slowing, or are the problems Samsung-specific.
Last night on the Qorvo call, which many will tell you was a disaster, you could sense the confusion. Qorvo portrayed its shortfall as an issue of the big infrastructure transition in China, NOT anything about Apple. But I don't think people want to believe that read-through, as the fates have turned on Apple for now because it didn't blow away the 47 million handset estimate.
Then you throw in the mixed, not disastrous, comments in the release from NXPI about demand and you get the sense that, well, look, it has to be Apple, it can't just not be Apple. But then this morning we come in and people LIKE the NXPI story, which then makes people feel BETTER about Apple and near-field communications payment systems.
Still, the accumulated evidence lets one make the case that it isn't just the infrastructure transition and it isn't just Samsung; it's the actual slowdown, exacerbated by the Chinese bear market, and it is sparing no one, including Apple.
What's the truth here?
I don't think that's the issue. I think the hot money made a bet on cellphones and sales in China both going strong. Now the hot money wants out of that bet, to go buy health care or soft goods or even the oils and potentially the industrials.
In fact, I think I can sum it up justly in three letters: ABC -- anything but cellphones, and when we finally sort out what went wrong, the Chinese stock market, the infrastructure transition, the Samsung dissolution, the too-high cost or saturation of high end handsets -- we will have already bottomed and started going up again.
At the time of publication, Jim Cramer's charitable trust Action Alerts PLUS was long AAPL.