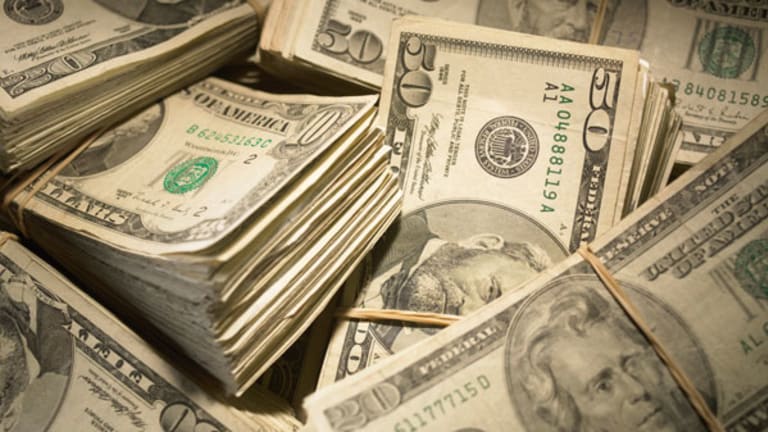 Buffett's Most Intriguing Quotes Explained
Intriguing quotes from Warren Buffett's annual shareholder letter.
NEW YORK (
) -- In his annual letter to
Berkshire Hathaway's
(BRK.A) - Get Berkshire Hathaway Inc. Class A Report
shareholders, Warren Buffett revealed that the company has lined up his successor as CEO, even if retirement is still a long way off.
Buffett also outlined why he thinks Berkshire can profit from its recent
IBM
(IBM) - Get International Business Machines Corporation Report
investment even if the
tech giant's shares don't appreciate in the next five years
.
The so-called Oracle of Omaha also praised bank executives like Jamie Dimon of
JPMorgan
(JPM) - Get JPMorgan Chase & Co. Report
and Brian Moynihan of
Bank of America
(BAC) - Get Bank of America Corp Report
.
Here's a look at the most memorable quotes of the
.
"Your Board is equally enthusiastic about my successor as CEO, an individual to whom they have had a great deal of exposure and whose managerial and human qualities they admire. (We have two superb back-up candidates as well.)"
Buffett indicated that Berkshire's board has found a successor CEO, without naming who it is. In the meantime, he continued to praise newly hired investment managers Todd Combs and Ted Weschler, who will both manage billion-dollar-plus sized portfolios in 2012. But don't expect Buffett, 81, or his investing partner Charlie Munger, 88, to quit Berkshire anytime soon.
"Do not, however, infer from this discussion that Charlie and I are going anywhere; we continue to be in excellent health, and we love what we do."
> > Bull or Bear? Vote in Our Poll
"We made few changes in our investment holdings during 2011. But three moves were important: our purchases of IBM and Bank of America and the $1 billion addition we made to our Wells Fargo position."
"Brian Moynihan has made excellent progress in cleaning these up, though the completion of that process will take a number of years. Concurrently, he is nurturing a huge and attractive underlying business that will endure long after today's problems are forgotten."
Berkshire moved markets in the summer of 2011 when he took a $5 billion preferred share stake in
Bank of America
(BAC) - Get Bank of America Corp Report
and bought up 700 million warrants to buy the company's stock, which are currently in the money.
"We should wish for IBM's stock price to languish throughout the five years," said Buffett of his $10.3 billion buy of "Big Blue's" stock, which puts his stake at 5.51%. Here's the math for why.
IBM has roughly 1.16 billion shares, 63.9 million of which are owned by Buffett in a 5.5% shareholding. Buffett expects the value of his investment to rise significantly as the company conducts its five-year, $50 billion stock repurchase program.
If IBM shares languish at their current near-record price of a little less than $200, IBM will buy back 250 million shares, putting Buffett's stock ownership closer to 7%, as the company's share count shrinks to 910 million shares. But if IBM shares continue to rise to say $300 a share, Buffet's stake would only be 6.5% on a share buyback of just 167 million shares.
"When Berkshire buys stock in a company that is repurchasing shares, we hope for two events: First, we have the normal hope that earnings of the business will increase at a good clip for a long time to come; and second, we also hope that the stock underperforms in the market for a long time."
"If you are going to be a net buyer of stocks in the future, either directly with your own money or indirectly (through your ownership of a company that is repurchasing shares), you are hurt when stocks rise. You benefit when stocks swoon."
That strategy has helped Buffett benefit from the postcrisis tripling of
Wells Fargo
(WFC) - Get Wells Fargo & Company Report
shares, as other billionaire investors
, only to miss a 2012 share rally.
"Our major businesses did well last year. In fact, each of our five largest non-insurance companies -- BNSF, Iscar, Lubrizol, Marmon Group and MidAmerican Energy -- delivered record operating earnings. In aggregate these businesses earned more than $9 billion pre-tax in 2011."
In 2011, Buffett spent $9 billion to buy chemicals maker Lubrizol, and he plowed a record $8.2 billion in cash into his newly acquired operating companies.
"We now have eight subsidiaries that would each be included in the Fortune 500 were they stand-alone companies. That leaves only 492 to go. My task is clear, and I'm on the prowl."
Berkshire's acquisitiveness may accelerate, if one were to judge by the tone of Buffett's annual letter. The company is looking to make additional large purchases in an expected earnings boost that will be a good use of the company's cash.
"Last year, I told you that "a housing recovery will probably begin within a year or so. I was dead wrong."
Buffett noted the impact on Berkshire's investment in
Clayton Homes
, the largest home producer in the U.S. in addition to other housing-related companies like
Acme Brick
,
Shaw
,
Johns Manville
(insulation) and
MiTek
(building products) that were adversely affected by a construction lull. The five housing-related companies had pretax profits of $513 million in 2011 compared with $1.8 billion in 2006.
"A few years back, I spent about $2 billion buying several bond issues of Energy Future Holdings, an electric utility operation serving portions of Texas. That was a mistake -- a big mistake ... Though we have annually received interest payments of about $102 million since our purchase, the company's ability to pay will soon be exhausted unless gas prices rise substantially. We wrote down our investment by $1 billion in 2010 and by an additional $390 million last year."
Buffett's hint that the Energy Future Holdings may be wiped out augurs poorly for private equity firm
KKR
(KKR) - Get KKR & Co. Inc. Report
, which led a buyout of the utility and has since marked it to 10 cents on the dollar.
"Investments that are denominated in a given currency include money-market funds, bonds, mortgages, bank deposits, and other instruments. Most of these currency-based investments are thought of as 'safe.' In truth they are among the most dangerous of assets. Their beta may be zero, but their risk is huge."
The Oracle said that a more than 40-year slide in the dollar has decreased its value by 86%, while a 5.7% annual return on U.S. Treasury bills has been eroded by inflation and would net the average investor little extra purchasing power.
"High interest rates, of course, can compensate purchasers for the inflation risk they face with currency-based investments -- and indeed, rates in the early 1980s did that job nicely. Current rates, however, do not come close to offsetting the purchasing-power risk that investors assume. Right now bonds should come with a warning label."
While Berkshire holds billions in currencies and T-bills, Buffett considers those holdings as key to the company's liquidity for stock and wholly owned investments, not a return strategy.
"The second major category of investments involves assets that will never produce anything, but that are purchased in the buyer's hope that someone else -- who also knows that the assets will be forever unproductive -- will pay more for them in the future. Tulips, of all things, briefly became a favorite of such buyers in the 17th century."
Buffett said that while gold bugs have profited on a postcrisis surge in the commodity on fears of a banking crisis, inflation and a eurozone meltdown, it is a "bandwagon" investment with little intrinsic value.
For more on Warren Buffett's investments, see
Berkshire Hathaway's portfolio
. For more on his investing strategy, read
Warren Buffett's 8 investing commandments
.
-- Written by Antoine Gara in New York