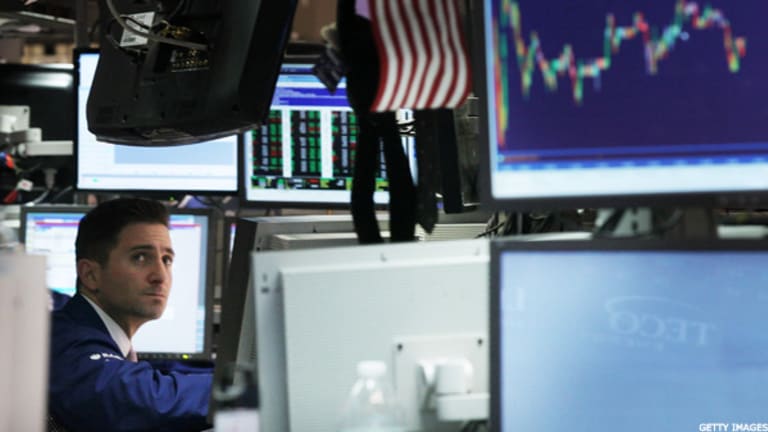 Buffett's Long-Term, High-Dividend Plays
Eric Winter details Warren Buffett's favorite dividend-paying stocks.
This article originally appeared on April 30, 2013, on
Real Money
. To read more content like this + see inside Jim Cramer's multi-million dollar portfolio for FREE.
NOW.
Although sitting on positions for long time periods can have some negative underlying drivers (i.e. a stock has turned into a loser and is now being held with hopes it will come in the black again), long-term holdings in a fund manager's portfolio can show great conviction and belief in the growth prospects of a company and its stock price.
Tracking the convictions of these major fund managers can yield some great results for the retail investor. Let's look at five of Warren Buffett's holdings that have stayed in his portfolio for at least a year and offer
substantially high dividend yields.
GlaxoSmithKline
(GSK) - Get GlaxoSmithKline Plc Report
provides the highest yield of the stocks in our screen, delivering 5.5% to shareholders. The pharmaceutical giant occupied a relatively small and unchanged percentage of Berkshire's assets under management looking back through 2012. Buffett has kept slightly more than 1.5 million shares in his portfolio in that time period. GSK is currently sponsoring a dry-powder inhaler drug called Breo Ellipta, made by
Theravance
(THRX)
. The drug saw favorable reception by the FDA two weeks ago. Billionaire Jim Simons of Renaissance Technologies has a position size in GSK that is almost double Buffett's.
ConocoPhillips
(COP) - Get ConocoPhillips Report
carries a yield of 4.6% annually. It has also received the largest commitment from Berkshire compared to the other stocks on our list, occupying roughly 1.9% of Buffett's portfolio. That 1.9% is indicative of Buffett's 13F for the fourth quarter of 2012. In first-quarter 2012, the investor had almost 3% of his $75 billion allocated to ConocoPhillips. COP has been taking strides recently to divest some of its international holdings to better concentrate on North American operations. China has recently announced its interest in buying COP's stake in the Kashagan oilfield in Kazakhstan, which would help COP lower some of its debt. Billionaire Michael Price of MFP Investors has almost 3% of his portfolio dedicated to COP.
Gannett
(GCI) - Get Gannett Co., Inc. Report
offers a respectable yield of 3.9%, despite falling into our small-cap category with its $4.8 billion market capitalization. Buffett started 2012 with a $26 million investment in GCI. His position's market value grew to over $31 million by the end of that year due to the stock rising in price (Buffett kept his position steady during that time). The multimedia and marketing company, which operates well-known brand
USA Today
, has continued to gain in share price since the beginning of 2013, delivering 13% since the turn of the year. The recent new highs still have room to stretch as well. GCI is nearly 5% away from Wall Street's one-year mean price targets. Billionaire Leon Cooperman of Omega Advisors trimmed his holdings in Gannett by almost 70% last quarter.
General Electric
(GE) - Get General Electric Company Report
saw significant unwinding by Berkshire in the past four quarters, starting with 7.7 million shares in first-quarter 2012 and ending fourth-quarter 2012 with a paltry 588,000 shares. But the dividend yield of 3.5% augmented the stock's 14% rise in 2012. Buffett's significant decline in position size seems to fall in line with how many analysts are ranking GE in the near term. JPMorgan downgraded the multinational last week following its earnings announcement, causing a 2.2% drop the day the news broke. The bank said it believes GE may no longer be the safe play it has been purported to be in the past. Billionaire Ken Fisher of Fisher Asset Management still owns over 30 million shares of GE stock.
General Dynamics
(GD) - Get General Dynamics Corporation Report
rounds out our list with a dividend yield of 3.3%. Similar to GSK and GCI, Buffett kept his position size in GD steady throughout 2012, with the market value of his position bouncing between $284 million and $268 million due to a fluctuating stock price. The stock is down slightly this year despite consistently winning or extending contracts, including a recent extension from the U.S. Navy potentially valued at $164 million if the contract last its full five-year life cycle. D. E. Shaw has over $66 million tied up in GD between equity and call option positions.
-- Written by Eric Winter and edited by Meena Krishnamsetty.
At the time of publication the author was long COP.