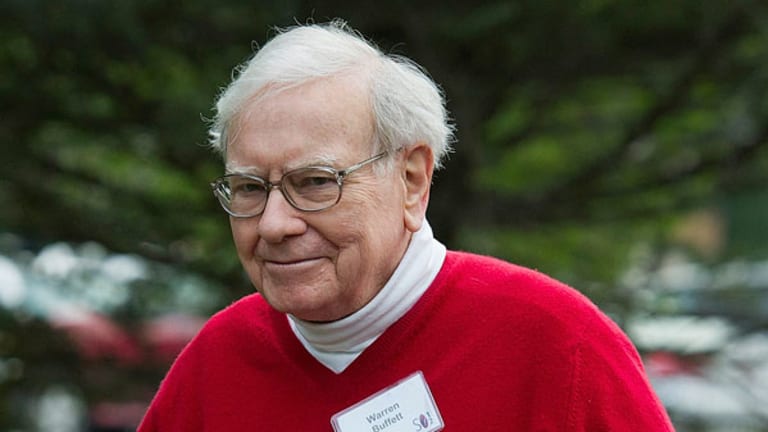 Buffett's Berkshire Hathaway Holds Economic Recovery Value
Heading into its annual shareholder meeting, Berkshire Hathaway remains poised for solid gains.
NEW YORK (
) -- Even as
Berkshire Hathaway
(BRK.B)
tests new record share-price highs, the Warren Buffett-run company remains poised to benefit from an economic recovery that could lift the value of the conglomerate's investments spread across stocks, energy, transportation and housing, among others.
Warren Buffett and his investors have plenty to celebrate heading into the firm's May 4
annual shareholder meeting
, given Berkshire Hathaway's share price gains that are solidly beating the
S&P 500 Index
over year-to-date, one-year and five-year periods.
Still, as Buffett welcomes investors to the shareholder meeting, the "Oracle of Omaha" isn't likely to rest on his laurels.
In Berkshire's 2012
,Buffett lamented an underperformance of the firm's book value growth relative the S&P 500, and even outlined a
.
Buffett fears Berkshire's five-year book value growth rate may underperform the S&P 500 for the first time ever. In 2012, Berkshire's book value per share increased 14.4%, behind the S&P 500's gains of more than 15%.
Berkshire's shareholder letter also called on an investor to take the bearish view on Berkshire Hathaway shares at the upcoming shareholder meeting.
On March 4, Buffett said on
CNBC
he had picked Doug Kass, head of
Seabreeze Partners
and a contributor at
TheStreet
, to make the case for
shorting shares of Berkshire Hathaway
.
While Kass will certainly have room to make an argument, and he could
, shorting Berkshire Hathaway shares has made for a disastrous trade over multiple decades.
That may continue to hold true in a post-crisis economic recovery given Berkshire's growing number of businesses and the impressive earnings growth posted by units such as
BNSF Railway
and
MidAmerican Energy
, in addition to the firm's long-held insurance business and stock portfolio.
"Berkshire Hathaway, led by Warren Buffett, is well positioned to benefit from improving earnings in its non-insurance business as the economy recovers, as well as from robust property-casualty insurance results," Jay Gelb, a Barclays analyst, wrote in a 129-page note Thursday that gives an "overweight" rating to Berkshire's Class A and B shares and respective price targets of $178,500 and $119 a share.
Gelb noted that Berkshire had roughly doubled the S&P 500's gains in 2013, with the outperformance reflecting "substantial exposure to an improving economy and housing market, in addition to a strong positioning to rising equity markets."
Currently, Berkshire holds about $90 billion in equity market investments, according to data compiled by
Bloomberg
, with
Coca-Cola
(KO)
,
Wells Fargo
(WFC)
and
International Business Machines
(IBM)
standing out as the firm's three largest stock holdings.
Also see: Cleaning Up With Consumer Goods Makers
"We expect Berkshire shares to benefit from strong growth in both book value per share and earnings, driven by its insurance and non-insurance businesses," wrote Gelb, who noted that as Berkshire's newer railroads, energy, housing, retail and manufacturing businesses have grown, insurance has become a smaller portion of Berkshire's annual earnings.
The percentage contribution to operating earnings from Berkshire's non-insurance businesses increased from 43% in 2006 to 70% in 2012, according to Gelb.
Berkshire's annual meeting will certainly celebrate the strong growth of many of the firm's operating units and its stock market portfolio.
Still, there are questions over who might take over as CEO after Buffett, who at 82 years old, continues to show little sign of slowing, as evidenced by a joint deal with
3G Capital
, the iconic ketchup maker.
Technical financial matters such as share buybacks and the prospect of a dividend are also likely to be topics raised by investors, in the firm's Saturday afternoon question and answer session.
If there is an elephant in the room in Omaha's CenturyLink Center, where the shareholder meeting will occur, it is roughly $12 billion in free cash flow and $35 billion in pro-forma cash Buffett and Berkshire will wield for future acquisitions.
Also see: 10 Most Expensive Trips To The Ballgame in 2013
Buffett has called Berkshire's cash an
elephant gun
to bag large acquisitions and said in his 2012 shareholder letter he remains on the prowl for big deals.
At last year's shareholder meeting, Buffett said the firm had nearly signed onto a $20-billion acquisition, but dropped out over a disagreement on price.
CNBC's
David Faber reported earlier in 2013 that Berkshire was an unnamed bidder for
NYSE Euronext
(NYX)
in the stock exchange's proxy filing detailing its merger with
IntercontinentalExchange
(ICE)
.
If Buffett does shoot his so-called elephant guns for acquisitions, expect another high quality company such as Heinz or
BNSF Railway
to be within Berkshire's gaze.
"It's far better to buy a wonderful company at a fair price than a fair company at a wonderful price," Buffett said in his 1989 shareholder letter.
For some topics on investors' minds heading into Berkshire's annual meeting, see why Buffett's buyback math
.
Also see why Berkshire will be taking a
later in 2013.
-- Written by Antoine Gara in New York.