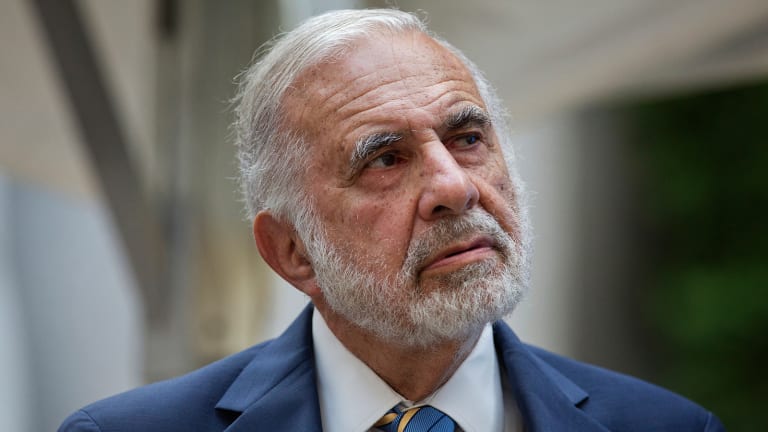 Buffett Took Occidental CEO to the Cleaners in Financing Deal, Icahn Says
Icahn slams Occidental Petroleum management's 'abysmal record' in open letter to shareholders.
Carl Icahn continued his attacks on Occidental Petroleum's (OXY) management Monday, saying in an open letter to shareholders that Berkshire Hathaway (BRK.A) (BRK.B) Chairman and CEO Warren Buffett took Occidental's CEO to the cleaners in a deal to help finance its $38 billion acquisition of Anadarko Petroleum (APC) .
Icahn, whose investment vehicle owns more than 33 million shares of Occidental, is pushing to replace four members of the board and to change the company's charter in the wake of the deal.
Icahn said in the letter that Occidental CEO Vicki Hollub cut a bad deal with Buffett to help finance the Anadarko acquisition. "In my opinion, Buffett figuratively took her to the cleaners. Not only did he get a $10 billion preferred paying 8% but he also amazingly received a bonus of 80 million warrants worth approximately $1.2 billion simply for providing the financing," Icahn wrote.
Icahn said he recognizes that the Anadarko deal can't be undone.
However, he said he is seeking shareholder support in replacing four board members, an unusually cumbersome process in Occidental's case, because the newly combined company "will be in immediate need of a strong board and good, thoughtful decision-making that prioritizes stockholder value; a board with at least four members that understand they serve on behalf of the stockholders, not the CEO."
Shares of Occidental added 18 cents to close at $52.51.