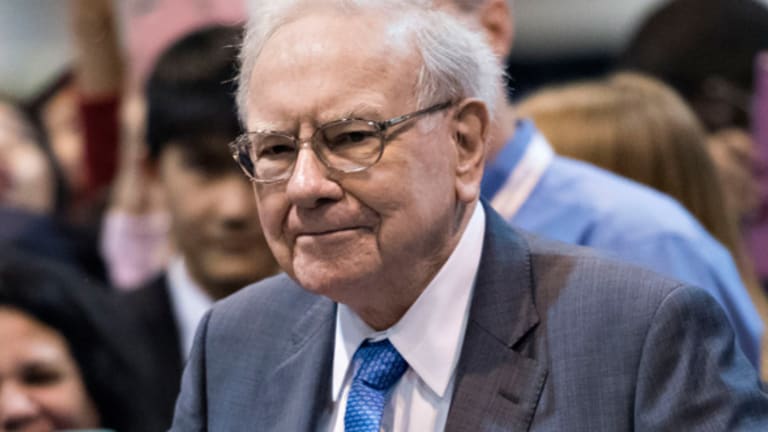 Publish date:
A Wealthier Warren Buffett Says Sour Politicos Are 'Dead Wrong' on Economy
Berkshire Hathaway posted higher earnings than analysts predicted for 2015, and CEO Warren Buffett, nicknamed the 'Oracle of Omaha' remains bullish on its future -- and the U.S. economy's.
Berkshire Hathaway posted higher earnings than analysts predicted for 2015, and CEO Warren Buffett, nicknamed the 'Oracle of Omaha' remains bullish on its future -- and the U.S. economy's.
This article, originally published at 9:51 a.m. on Saturday, Feb. 27, 2016, has been updated with analyst commentary.
Donald Trump may be the loudest of the presidential candidates prophesying doom for the U.S. unless he's elected, but his rivals aren't far behind.
Warren Buffett says they're all "dead wrong."
His Berkshire Hathaway (BRK.A) - Get Report, which reported higher 2015 earnings than analysts expected on Saturday, will be among the beneficiaries of significant per-capita economic growth in the next quarter-century, the billionaire predicts.
"Candidates can't stop speaking about our country's problems, which, of course, only they can solve," Buffett, who has endorsed Democrat Hillary Clinton for president, wrote in his annual letter to shareholders. "As a result of this negative drumbeat, many Americans now believe that their children will not live as well as they themselves do. That view is dead wrong: The babies being born in America today are the luckiest crop in history."
Even with today's slower growth of 2% in the U.S. economy, the world's largest, per-capita gross domestic product will increase by $19,000 over the next quarter century, to about $75,000, Buffett wrote.
"All families in my upper middle-class neighborhood regularly enjoy a living standard better than that achieved by John D. Rockefeller Sr. at the time of my birth," said the CEO of Omaha, Neb.-based Berkshire (BRK.B) - Get Report . "His unparalleled fortune couldn't buy what we now take for granted, whether the field is -- to name just a few -- transportation, entertainment, communication or medical services."
Growth of 8.3% in Berkshire Hathaway's revenue, which totaled $210.8 billion last year, underlies some of the Oracle of Omaha's optimism. Net earnings climbed 21% to $24.1 billion, or $14,656 a share, topping the $10,630 average of analysts' estimates. 
Top-line growth was driven by the conglomerate's insurance businesses, whose revenue climbed 11% to $162.9 billion, and 12% gains in finance and financial products, Berkshire Hathaway said in its annual report.
Insurance businesses were a drag on profit, however, as their earnings fell 9.1% to $6.39 billion; auto insurer Geico helped pulled total underwriting income 31% lower. More frequent and costlier claims at Geico eroded the benefits of 707,000 new policies written as auto sales in the U.S. reached a record high.
Profit at Burlington Northern Santa Fe, Buffett's biggest non-insurance business and one of the largest railroads in North America , climbed 9.8% to $4.25 billion. Operational improvements fueled by a $5.8 billion upgrade in railroad track and equipment helped compensate for declining shipments of goods used in shale oil production as crude prices fell about 70% in the past year and a half.
That drop has had broad effects on the U.S. economy, devouring the earnings of energy production firms and raising concerns that they'll be unable to repay bank loans taken out when prices were higher. In mid-2014, for example, crude was selling for about $107 a barrel, compared with about $34 now.
"With oil at low prices, we expect that volumes in 2016 will weaken compared to 2015," said executives with Burlington Northern, which has roughly 32,500 miles of track in 28 states.
"For most American railroads, 2015 was a disappointing year" as shipments fell and earnings weakened, Buffett said in his shareholder letter, but Burlington Northern posted a $606 million gain in pre-tax income.
The report, overall, prompted KBW analyst Meyer Shields to reduce his estimate for this year's earnings by 1.7% to $11,640 a share, citing lower utilities and energy income as well as higher taxes. Shields has a "market perform" rating, the equivalent of "hold," on Berkshire shares and doesn't recommend them over broader indexes.
Buffett, however, remains bullish on both his company and the U.S. economy. With the latter, "the pie to be shared by the next generation will be far larger than today's," he said, though how it's split up will remain contentious.
"Clashes of that sort have forever been with us -- and will forever continue," he wrote. "Congress will be the battlefield; money and votes will be the weapons. Lobbying will remain a growth industry."