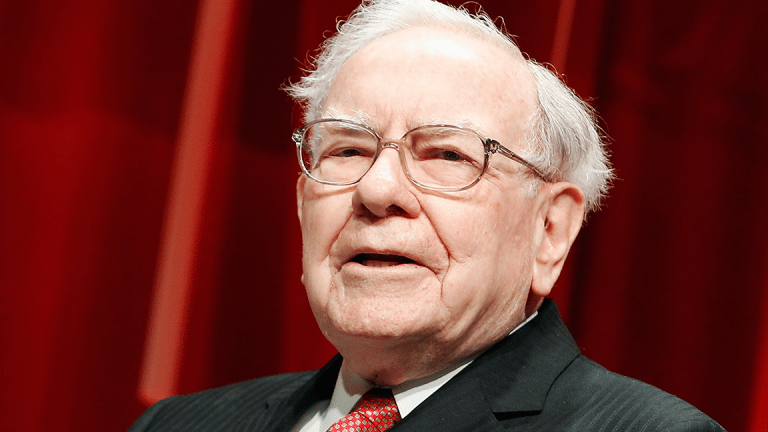 Warren Buffett's Berkshire May Gain $27 Billion if Tax Bill Passes This Year
Berkshire, Comcast, Sprint are all poised to book big gains from deferred tax liabilities if the corporate tax rate falls to 20%.
Warren Buffett, one of the world's richest people with a fortune estimated by Forbes at $75.6 billion, often muses on his belief that tax cuts aren't needed for the super-rich.
"I don't think I need a tax cut," he told CBNC in an interview on Oct. 3.
But his investment firm, Berkshire Hathaway Inc. (BRK.A) - Get BRK.A Report , could end up as one of the biggest beneficiaries of Republican efforts to cut the U.S. corporate tax rate to 20% from the current 35%.
In fact, Omaha, Nebraska-based Berkshire, where Buffett serves as CEO, could book an after-tax gain of about $27 billion as soon as this quarter if the tax bill passes before the end of the year, tax experts say, based on regulatory filings made at the end of 2016.
Here's how. Berkshire owns utility companies serving 4.7 million customers as well as the 32,500-mile Burlington Northern Santa Fe Railway system -- two businesses that are big investors in things like plants, equipment and other infrastructure. And, as an incentive to make such investments, the U.S. tax code allows owners to defer taxes on the expenses.
As a result, Berkshire Hathaway had some $63.2 billion in deferred tax liabilities as of year-end 2016, an amount that's supposed to represent taxes the company will eventually have to pay.
But if the corporate tax rate drops by 43% (to 20% from 35%), Berkshire's future tax obligations would fall by $27.1 billion, resulting in an automatic paper gain that would immediately boost the company's net worth. Buffett owns about 18% of the company, according to a filing earlier this year. 
"He's had a penchant for industrial companies, and their very nature is that they tend to have deferred tax liabilities," said Charles Mulford, an accounting professor at Georgia Tech University who has studied the issue. "Those are taxes they'd have to pay that now they're not going to have to pay."
Berkshire CFO Marc Hamburg didn't return a call seeking comment.
Investors and analysts are trying to gauge which stocks could be the biggest gainers and losers from President Donald Trump's tax-cutting push, and nowhere are they easier to sort than when companies have amassed reams of tax credits or built up big piles of deferred tax liabilities -- those that were never paid but are still owed.
Citigroup Inc. (C) - Get Citigroup Inc. Report , the New York-based bank, disclosed Wednesday that it might have to write off $20 billion of tax credits that will become worthless once the rate drops. Bank of America Corp. (BAC) - Get Bank of America Corp Report , Ford Motor Co. (F) - Get Ford Motor Company Report , General Motors Corp. (GM) - Get General Motors Company (GM) Report and American International Group Inc. (AIG) - Get American International Group, Inc. Report also have billions of dollars of deferred tax assets that might have to be written off.
But, according to Mulford's reckoning, there are far more companies with deferred tax liabilities. They took advantage of incentives built into the U.S. tax code to defer payments well into the future - and now would be looking at a far lower bill if the corporate rate goes down.
AT&T Corp. (T) - Get AT&T Inc. Report , the telecommunications company, had some $58.7 billion of deferred tax liabilities as of year-end 2016, according to filings.
Comcast Corp. (CMCSA) - Get Comcast Corporation Class A Report , the cable company and broadcaster, had $34.8 billion of the liabilities.
Sprint Corp. (S) - Get SENTINELONE, INC. Report , another telecommunications company, had a long-term deferred tax liability of $14.4 billion.
"Those liabilities will be settled at a much lower amount," says Robert Willens, a corporate tax analyst in New York. "They'll be required to write down those liabilities to reflect lower rates, and when you write down a liability you record a gain on your income statement."
Since the gains would be one-time in nature, many analysts are likely to discount them when valuing the stocks on metrics like, say, price-to-earnings, Willens said.
However, many investors and analysts look for stocks that are valued based on their net worth, which the tax gains would directly affect, he said.
As for Buffett, the billionaire has proven aggressive over the years in trying to minimize Berkshire Hathaway's tax bill, Willens said.
"He makes a distinction between his individual situation and his situation as a steward for shareholders," Willens said. "He is not in any way shy about minimizing taxes for the corporation."
Now it's about to pay off. 
Citigroup and Comcast are holdings in Jim Cramer'sAction Alerts PLUS Charitable Trust Portfolio. Want to be alerted before Cramer buys or sells C or CMCSA? Learn more now.
More of What's Trending on TheStreet: