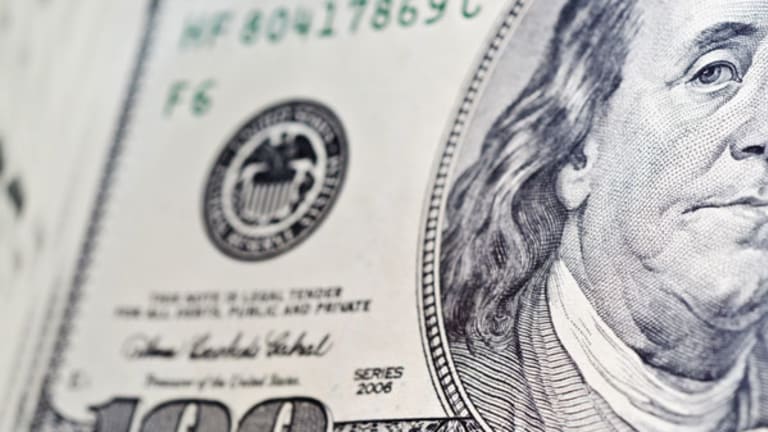 Buffett Picks Put Berkshire in Growth Push
Berkshire earnings outperform the S&P 500 for the first time since the crisis as Buffett retools for growth.
NEW YORK (TheStreet) --
Berkshire Hathaway's
(BRK.A)
stock didn't beat the
Standard & Poor's 500 Index
in 2011, but its earnings did, reversing a trend of postcrisis underperformance for Warren Buffett's financial empire and setting up the "Oracle of Omaha" with a change of investing strategy.
Berkshire's earnings -- and the composition of its portfolio headed into 2012 -- signal that the legendary investor has put crisis-era investments to rest, setting up for more growth-oriented investment gains for years to come just as U.S. stock markets broach postrecession highs.
Berkshire Hathaway reported fourth-quarter net income of $3.05 billion, or $1,846 a share -- a 30% decline from 2010 earnings of $4.38 billion, or $2,656. Nevertheless, the investment company reported that its book value per share rose 4.6%, beating the 2.1% return of the S&P 500, including dividends, marking the first time since the crisis that Berkshire was able to outperform the index.
About management succession, Buffett highlighted confidence in the hirings of investment managers Todd Combs and Ted Weschler, who will manage pieces of Berkshire's portfolio in 2012.
"Each will be handling a few billion dollars in 2012, but they have the brains, judgment and character to manage our entire portfolio when Charlie and I are no longer running Berkshire," wrote Buffett in his annual letter to shareholders released on Saturday morning.
The letter also revealed that the company's board has identified someone to succeed Buffett as CEO, saying this was "an individual to whom they have had a great deal of exposure and whose managerial and human qualities they admire."
In December, Buffett told
60 Minutes
that his son Howard Buffett will be an unpaid, nonexecutive "guardian" of Berkshire Hathaway's values after he dies.
Still in characteristic form, Buffett, 81, indicated that he isn't showing signs of slowing anytime soon. "Do not, however, infer from this discussion that Charlie and I are going anywhere; we continue to be in excellent health, and we love what we do," he wrote.
Berkshire's outperformance came as multibillion-dollar, crisis-era fixed-income investments in companies such as
General Electric
(GE)
and
Goldman Sachs
(GS)
expired.
>>View Warren Buffett's Portfolio
Overall, Goldman, GE and insurer
Swiss Re
paid Berkshire $12.8 billion to redeem fixed-income-like securities such as preferred shares, netting Berkshire $1.2 billion in pretax earnings. "That's a lot of income to replace, though our Lubrizol purchase did offset most of it," wrote Buffett.
That sets up for his postcrisis strategy of large stock investments and a new focus on acquisitions as a way to put the firm's $37.3 billion in cash to work in a way that will outperform the S&P 500 over the long haul. As of 2011, Berkshire's compounded annual gain of 19.8% more than doubled the S&P 500's 9.2% gain, since the fund's inception in 1965, according to its letter.
In 2011, Berkshire put $9 billion of cash to work buying
Lubrizol
, a maker of chemicals for automotive engines and a similar amount to take a 5.51% stake in
IBM
(IBM)
. Those two 2011 investments typify Berkshire's strategy as it weeds out crisis-era investments and refocuses on long-term growth in earnings and dividends.
Companies wholly earned by Berkshire added more than $9 billion in pretax 2011 earnings, contrasting with the $393 million that its only owned company
MidAmerican
energy contributed to earnings just seven years ago.
Berkshire's purchases of Lubrizol and railroad
Burlington Northern Santa Fe
-- along with earlier acquisitions of
Iscar
,
Marmon Group
and MidAmerican -- set the fund up for consistent earnings growth in years to come, he said in his letter.
"Unless the economy weakens in 2012, each of our fabulous five should again set a record, with aggregate earnings comfortably topping $10 billion," wrote Buffett.
Those investments also help Berkshire to put its prolific cash to work in a manner that may help it outperform stock indices. In 2011, Berkshire's operating companies spent $8.2 billion for property, plant and equipment, eclipsing a previous record by more than $2 billion.
For the U.S. economy, Buffett made a point that investing in those operating companies will be a minor stimulus that shows "invest in the U.S." is still alive and well.
"About 95% of these outlays were made in the U.S., a fact that may surprise those who believe our country lacks investment opportunities," said Buffett in his letter.
Berkshire's acquisitiveness may accelerate, based on the tone of Buffett's annual letter. The company is looking to make additional large purchases in an expected earnings boost.
"We now have eight subsidiaries that would each be included in the Fortune 500 were they stand-alone companies," Buffett said. "That leaves only 492 to go. My task is clear, and I'm on the prowl."
The second piece of Buffett's 2011 strategy was to take multibillion-dollar stakes in IBM and
Bank of America
(BAC)
, in a move that Berkshire expects will add to its outperformance as earnings growth at those companies leads to increasing dividend payouts.
With a $5 billion preferred stake and 700 million in-the-money warrant contracts in Bank of America, along with a $10.9 billion purchase of IBM shares, Berkshire now has four key investments that it expects will drive investment gains.
Berkshire's largest investment is in
Coca Cola
(KO)
, and its third largest-investment is in
Wells Fargo
(WFC)
, with 8.8% and 7.28% share stakes, respectively.
"Had we owned our present positions throughout last year, our dividends from the 'Big Four' would have been $862 million," said Buffett.
"Our share of this quartet's earnings, however, would have been far greater: $3.3 billion," he continued. "Charlie and I believe that the $2.4 billion that goes unreported on our books creates at least that amount of value for Berkshire as it fuels earnings gains in future years. We expect the combined earnings of the four -- and their dividends as well -- to increase in 2012 and, for that matter, almost every year for a long time to come. A decade from now, our current holdings of the four companies might well account for earnings of $7 billion, of which $2 billion in dividends would come to us."
Some bets didn't work out in 2011,
Buffett acknowledged
, noting that last year he had predicted a housing recovery would probably begin within about year.
"I was dead wrong," wrote Buffett, who noted the impact on Berkshire's investment in
Clayton Homes
, the largest home producer in the U.S.
Full-year net income slipped to $10.3 billion from $13 billion in 2010. In 2011, Berkshire's stock dropped more than 4%, underperforming the S&P 500. Year to date, the company's shares are up nearly 5% to $120,000.
For more on Warren Buffett's investments, see
Berkshire Hathaway's portfolio
.
10 Companies in the 'Ultimate Stock Pickers' Portfolio
-- Written by Antoine Gara in New York