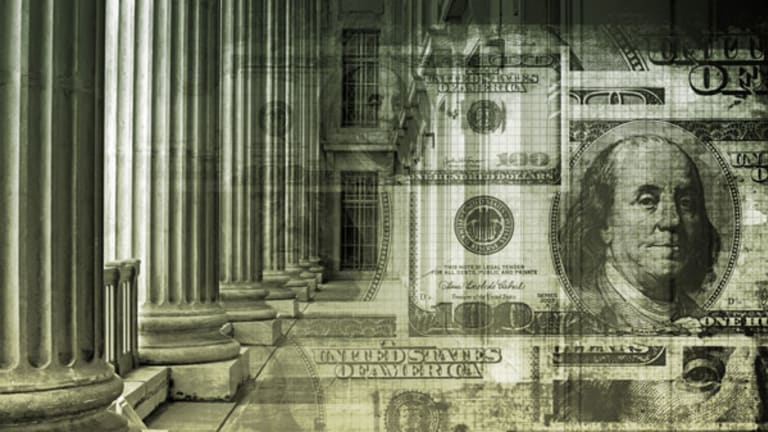 Buffett May Feast on Ackman's Procter & Gamble Bet: Street Whispers
Bill Ackman of Pershing Square may help prod a P&G earnings revival that could help Warren Buffett to a successful stock exit.
Bill Ackman of Pershing Square may help prod a P&G earnings revival that could help Warren Buffett to a successful stock exit.
NEW YORK (
) --
Procter & Gamble's
(PG) - Get Report
better than expected third-quarter earnings may help the company's embattled chief executive Bob McDonald prove a plan to cut billions in costs is working. P&G's Thursday earnings also signal that an activist push by William Ackman of
Pershing Square Capital Management
is bearing fruit for investors, as some top shareholders like Warren Buffett of
hit the exits.
At issue for P&G is whether CEO McDonald can lead a right-sizing of the consumer products giants' costs, as investors like Ackman of Pershing Square clamor for C-Suite change and a refocus on new product research and development.
Following Ackman's $1.8 billion stake taken in P&G in July, the sometimes activist investor is reported to have called for McDonald's head after two years of flat share performance, earnings misses and spiraling costs that cut into new product development, according to September reports from the
Wall Street Journal
.
When Ackman unveiled his P&G stake some speculated the hedge funder would push a split-up of the maker of Gillette, Duracell and Tide products, following previous breakups at consumer products companies like
Fortune Brands
(FBHS) - Get Report
. Prior to the investment, analysts at Sanford C. Bernstein said the company should consider a split if earnings don't improve.
While McDonald remains at the helm of P&G and the company's conglomerate structure is intact, the CEO has outlined a multi-year, $10 billion cost saving plan that falls in-line with some complaints expressed by Ackman, according to
Wall Street Journal
reports.
Thursday's earnings, which beat a low bar of expectations, signaled that McDonald is making progress in his plan to cut $10 billion in costs by 2016 and layoff 4,100 workers by 2013. Continued signs of rebounding earnings after a string of cuts to P&G's forecasts may be prodded on by Ackman.
For Buffett, who pared his P&G holding by 19% in the second quarter, according to
Bloomberg
data, a turn in the company's performance may help the 'Oracle of Omaha' profitably exit a position that still stands in excess of $4 billion and is one of
Berkshire Hathaway's
(BRK.A) - Get Report
largest stock holdings.
That would come as the value investing legend says he's out of ideas on how to turnaround P&G after shares had stalled in the $60-level since late 2009, significantly underperforming the
S&P 500
.
"What goes on inside the place, what mistakes have been made, what the plans are, I don't know the answers on that," Buffett said to
CNBC
on Wednesday. "The jury's out on that now, because they have disappointed in terms of earnings and we'll see what happens. I know the board is actively engaged and trying to come up with a strategy they think makes sense to take the earnings forward," he added in the TV interview.
At this point, it is Ackman who may be more engaged with P&G and who might have the biggest impact on whether large shareholders like Buffett see stock gains headed into 2013.
On Thursday, P&G reported net income off $2.81 billion, or 1.06 a share excluding one-time items, beating analyst estimates compiled by
Bloomberg
of 96 cents a share. The Cincinnati-based company also forecast that 2012 EPS of between $3.80-to-$4, meeting previous guidance.
While the quarterly earning beat is helping to drive P&G stock to five-year highs above $70 a share, the report doesn't mark the end of the company's turnaround campaign.
"We think the company has set fairly low expectations for the quarter," said JPMorgan analyst John Faucher of an expected beat, in a research note published ahead of earnings.
While P&G did beat Faucher of JPMorgan's estimates, the company fell short on the analysts optimism that it would boost EPS guidance past $4 a share or grow top line sales.
Still, as Ackman wields his activist techniques to prod change at P&G, Faucher's optimistic the company can pull out of an earnings rut in coming years.
"Although the valuation of the stock has moved up, we think the company's execution and potential acceleration of its cost-savings program, together with improvement in share trends, may lead to further upside," wrote the analyst on Wednesday.
For more on what Ackman thinks of his P&G stock play and a heavy slate of 2012 investments, see why he may have
forgotten about P&G and J.C. Penney
, another large turnaround play, at the
Value Investing Congress
earlier in October.
For more on Warren Buffett's 2012 investing challenges, see why his
Wells Fargo
(WFC) - Get Report
hinges on Fed chair Ben Bernanke
and why bank stocks may face
.
Also see why its
Johnson & Johnson versus Goldman & Goldman
on other turnaround campaigns of consumer products giants.
Follow @agara2004
-- Written by Antoine Gara in New York