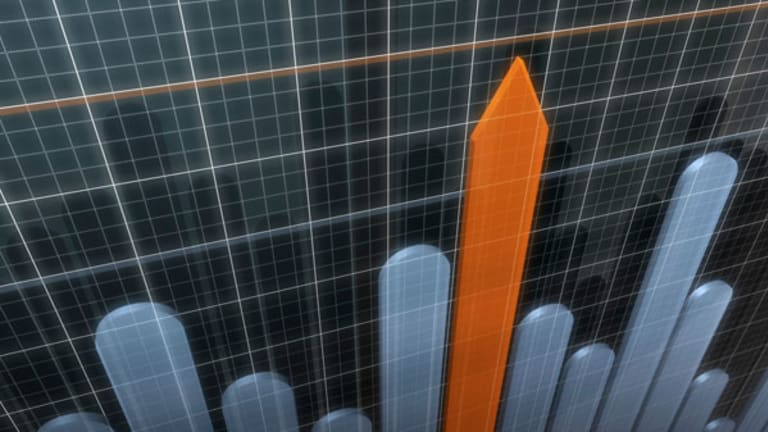 Buffett Explains Key Math in IBM, Wells Fargo Investments (Correct)
Warren Buffett explains why he benefits if stocks in which he has invested <I>don't</I> go up.
This article has been corrected to show that Berkshire Hathaway's shares currently trade at about 125% of book value. The original article stated that the company's shares trade at a bit more than 80% of book value. TheStreet regrets the error.
NEW YORK (
) -- For those looking to use Warren Buffett-run
Berkshire Hathaway's
(BRK.A)
investment strategy to bolster their portfolios, there are two options.
The first is to simply copy his recent investments in
IBM
(IBM)
and
DirecTV
(DTV)
, as well as his boosted stake in
Wells Fargo
(WFC)
.
The second is to focus on -- and learn from -- the investment guru's math on how to gain on stock swoons and share repurchases. He laid out this thinking in his annual letter to shareholders on Saturday.
The math applies both to Berkshire's own repurchases of its own shares, and to buybacks by other companies, including IBM, in which Berkshire has invested $10.3 billion.
The key for shareholders in companies with buyback plans is that their stocks
underperform
. That may look like a contrarian strategy until the math is explained.
In 2011, Berkshire bought back $67 million worth of its stock in a suprise September announcement, increasing the value of the remaining shares held by investors.
But in Saturday's letter to shareholders, Buffett explained the conditions that are necessary for such buybacks to benefit shareholders.
"Continuing shareholders are
hurt
unless shares are purchased below intrinsic value. The first law of capital allocation -- whether the money is slated for acquisitions or share repurchases -- is that what is smart at one price is dumb at another," wrote Buffett in his letter.
Simply put, Buffett will consider buying back Berkshire shares so long as the company's stock trades at less than 110% of its book value.
In 2011, Berkshire's stock dropped more than 4%, underperforming the
S&P 500
. Year to date, the company's shares are up nearly 5% to $120,000.
Currently, Berkshire Hathaway has $37.3 billion in cash on hand, and the company's shares currently trade at about 125% of book value, meaning they're above the buyback threshold right now.
That math is also a key for Buffett's IBM investment and guide for how to invest in non-Berkshire owned stocks.
For more on Warren Buffett's investments, see
Berkshire Hathaway's portfolio
. For more on his investing strategy, read
Warren Buffett's 8 investing commandments
.
In the letter to shareholders, Buffett said he hopes IBM's stock price "languishes throughout the five years" that the company engages in a $50 billion share repurchase program.
That's right: He wants the shares of a company in which he's investing to languish!
"When Berkshire buys stock in a company that is repurchasing shares, we hope for two events," Buffett explained. "First, we have the normal hope that earnings of the business will increase at a good clip for a long time to come; and second, we also hope that the stock underperforms in the market for a long time as well."
Let's go through the math.
IBM has roughly 1.16 billion shares, 63.9 million of which are owned by Buffett in a 5.5% shareholding.
Buffett expects the value of his investment to rise significantly as the company conducts its five-year, $50 billion share repurchase program.
If IBM shares languish at their current near record price of a little less than $200, IBM will buy back 250 million shares, putting Buffett's stock ownership closer to 7%, as the company's share count shrinks to 910 million shares.
But if IBM shares continue to rise to say $300 a share, Buffet's stake would only be 6.5% on a share buyback of just 167 million shares.
Of course, the benefit of owning shares -- regardless of buyback programs -- is contingent on a company's earnings prospects, and that's where Buffett's strategy kicks in.
If IBM earns $20 billion in the year that its buyback expires, and its shares are still trading at $200, Buffett says that Berkshire's share of the earnings will be $100 million more than if shares trade at $300.
"At some later point our shares would be worth perhaps $1.5 billion more than if the "high-price" repurchase scenario had taken place," wrote Buffett of the impact to Berkshire's earnings.
"If you are going to be a net buyer of stocks in the future, either directly with your own money or indirectly (through your ownership of a company that is repurchasing shares), you are hurt when stocks rise. You benefit when stocks swoon," wrote Buffett.
That strategy has helped Buffett benefit from the tripling of Wells Fargo shares in the wake of the financial crisis, as other billionaire investors
, only to miss the bank's 2012 rally.
After consistently buying Wells Fargo shares through the crisis, Buffett benefitted in 2011 from a share buyback program and a dividend boost that helped the bank to outperform its peers.
As with IBM, Buffett may be positioned to see his investment in the nation's fourth largest bank by assets grow even if he stops buying shares and simply waits for company management to do so, as analysts at Bernstein Research expect.
"In my early days I, too, rejoiced when the market rose. Then I read Chapter Eight of Ben Graham's
The Intelligent Investor
, the chapter dealing with how investors should view fluctuations in stock prices," wrote Buffett. "Immediately the scales fell from my eyes, and low prices became my friend. Picking up that book was one of the luckiest moments in my life."
Still, he acknowledges that his IBM investment and others like Wells Fargo or newly acquired shares in DirecTV will be driven by future earnings and, only secondarily, by buybacks.
For more on Berkshire Hathaway, here's how Buffett explained in his annual letter that
Berkshire Hathaway is positioned for growth in 2012 and beyond
.
-- Written by Antoine Gara in New York