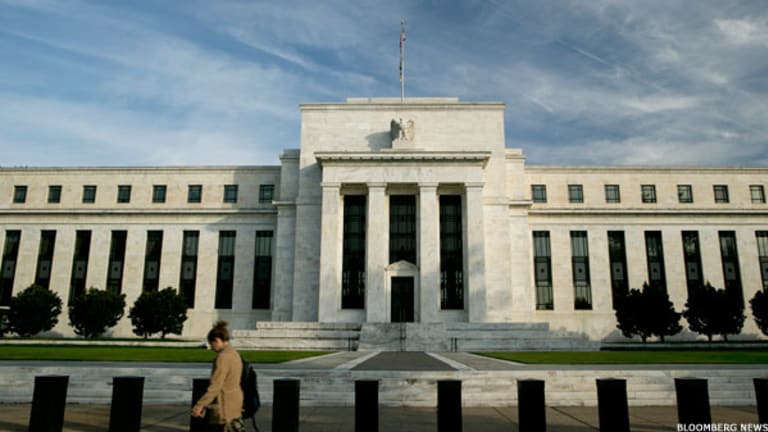 Buffett Buyback Math Key to Post Stress Test Bank Earnings
Why a Warren Buffett investing staple may be key for bank stress tests.
Why a Warren Buffett investing staple may be key for bank stress tests.
Updated to include stress test results
NEW YORK (
) -- There is a way to tie a final set of
Federal Reserve
bank stress test results to the industry's long-term growth prospects.
The key hinges on the investing mathematics preached by Warren Buffett of
Berkshire Hathaway
(BRK.B) - Get Report
and the Fed's approval of capital returns to investors.
In the final piece of the 2013 stress tests, formally known as the Comprehensive Capital Analysis and Review or CCAR, the Fed has
approved plans by most of the nation's largest banks
to either boost dividends, buy back shares or do both, in what represents growing momentum of capital returns to investors.
While some have criticized a seeming
on bank capital returns over the industry's long-term earnings prospects in this year's stress test jockeying, there is a way to tie the two together.
Investors might do well to hunt for banks that are using Fed-governed capital returns to grow their bottom line by
. Given a still uncertain earnings environment for Wall Street titans and Main Street lenders, net buybacks that drive share counts lower could help drive overall earnings per share growth in 2013 for a handful of banks.
In that scenario, American Express, US Bancorp, State Street and Bank of New York Mellon appear to be a clear winners, given their mix of share buybacks and dividend increases. American Express will be buying back $3.2 billion in shares a starting in the second quarter, while its quarterly dividend will rise 15% to 23 cents.
At State Street, buybacks will be $2.1 billion as its dividend climbs to 26 cents a quarter. US Bancorp will buy back $2.2 billion in shares and pay a 23 cent quarterly dividend, while Bank of New York Mellon will buy back $1.35 billion in stock a quarter and boost its payout 15%.
JPMorgan Chase and Goldman Sachs both received "conditional approval" for their capital plans, with the Fed requiring both companies to submit revised capital plans "by the end of the third quarter to address weaknesses in their capital planning processes."
A focus on buying back shares cheaply to create room for earnings growth would be straight from the investing playbook of Warren Buffett, who spent a significant piece of Berkshire Hathaway's 2011 annual letter detailing why stalling stock gains at
IBM
(IBM) - Get Report
and an aggressive share buyback authorization
The logic Buffett applies to his IBM investment also may be a crucial aspect of Berkshire's large stock investments in the banking sector, including big positions in
American Express
(AXP) - Get Report
,
U.S. Bancorp
(USB) - Get Report
and
Wells Fargo
(WFC) - Get Report
, to a lesser extent, given a lack of clarity on share buybacks.
A Jan. 14 analysis by bank research firm KBW shows that among banks submitting capital plans to the Fed, there are just five large banks that have been able to consistently reduce their share count through share repurchases in the wake of the crisis, including American Express, U.S. Bancorp,
Bank of New York Mellon
(BK) - Get Report
,
Goldman Sachs
(STT) - Get Report
and
State Street
.
In contrast, firms such as
Bank of America
(BAC) - Get Report
,
Morgan Stanley
(MS) - Get Report
and
SunTrust
(STI) - Get Report
have seen share count growth exceed asset growth, according to KBW's analysis.
"Looking forward, capital management will be critical in a slow-growth, highly regulated, banking world, in our view, and the most successful banks will need to be reducing shares outstanding to achieve strong EPS growth," KBW analyst Fred Cannon wrote.
Given what could be an increasing focus on EPS, Goldman Sachs
as one of the lenders most affected by stress tests, being able to separate itself from peers like Morgan Stanley by way of buybacks.
That will be put on hold for a while as the company works to fix capital planning issues to better match the Fed's analysis.
In a press release, Goldman said it would hold off on returns of capital until the third quarter. "We are pleased to continue to have the flexibility to return capital to shareholders," said Chairman and Chief Executive Officer, Lloyd Blankfein.
Goldman's previously announced program to buy back up to roughly 11% of its outstanding shares in coming years may be the best hint for how the bank is gearing to return to pre-crisis earnings and valuations.
By reducing its share count, Goldman may be smoothing a new path towards earnings records, this time focusing on earnings per share over other metrics like return on equity, which remain stubbornly low.
During the
fourth quarter
of 2012, Goldman bought back $1.53 billion in shares, exceeding the $1.2 billion forecasted by Morgan Stanley analyst Betsy Graseck.
For all of 2012, Goldman bought back nearly $5 billion in stock, or a total of 42 million shares.
Goldman's authorization to buy back up to 46 million shares in coming years is the most aggressive among its investment banking peers after Morgan Stanley, Citigroup and Bank of America didn't submit 2012 buyback plans during Fed stress tests and JPMorgan halted a $15 billion multi-year buyback in August after it incurred what stands as an over $6 billion trading loss.
Citigroup and Morgan Stanley have already indicated they won't be focusing on reducing share counts in 2013.
In a press release after the initial stress test results were announced on March 7, Citigroup said it wouldn't raise its quarterly dividend of $0.01 a share, however, the bank will try to repurchase up to $1.2 billion in shares in 2013, a move that will offset potential dilution from stock-based compensation.
Since hitting a high of nearly 550 million in shares after taking $10 billion in Troubled Asset Relief Program funds and $5 billion in emergency capital from Warren Buffett and private investors, Goldman has reduced already reduced its share count by roughly 12% through repurchases.
In line with Goldman's authorization, International Strategy & Investment Group analyst Ed Najarian in August estimated that Goldman may yet cut its share count by 11%, putting shares at roughly 434 million.
Were Goldman's annual earnings to stabilize at say $10 billion, slightly above a three-year post crisis average of $8.71 billion, the bank's EPS would come exceed $23.00, which was the average of its 2006 and 2007 results.
For Bank of America will repurchase $5 billion in common stock and redeem $5.5 billion in preferred shares, exceeding even optimistic buyback projections by Richard Staite of Atlantic Equities, who foresaw a $3.2 billion repurchase.
Wells Fargo, which in spite of an attractive dividend, only recently said it would try to
, is raising its dividend 20% to 30 cents a quarter and says it will improve in the $4 billion in share repurchases it conducted in 2012.
JPMorgan will fall slightly short of Staite's expectations, announcing $6 billion in buybacks instead of the $7.5 billion the analyst forecast. While Morgan Stanley will not ask to return capital, the bank's setting its sights on taking full control of a brokerage joint venture it created with Citigroup in 2009.
In stress test results released last Thursday, Citigroup and Fifth Third Bancorp were projected by the Fed to have Tier 1 common equity ratios in excess of 8.0% in a stressed economic scenario of a deep recession, 12%-plus unemployment, a 20% slump in housing prices, and a 52% drop in U.S. stock markets.
While Citigroup and Fifth Third emerged with the Fed's imprimatur, lenders such as
JPMorgan
(JPM) - Get Report
,
Bank of America
(BAC) - Get Report
and
Wells Fargo
(WFC) - Get Report
appeared more vulnerable to a deep economic crisis, on a relative basis.
Wells Fargo's Tier 1 common equity ratio under the Federal Reserve's "severely adverse scenario" would fall to just 7.0%, well below those of Citigroup and Fifth Third, but still significantly above the 5.0% minimum threshold to pass stress tests.
Bank of America would weather the Fed's severe scenario with a projected minimum 6.8% Tier 1 common ratio, while JPMorgan's minimum stressed ratio of 6.3% indicates it's the most vulnerable of the "big four" U.S. banks to an economic downturn.
JPMorgan's underperformance under the severely adverse scenario may reflect the hit the bank took in 2012 when it recorded a trading loss in excess of $6 billion, which caused the nation's largest bank by assets to suspend a $15 billion share repurchase plan.
In a stressed scenario,
Morgan Stanley
(MS) - Get Report
and
Goldman Sachs
(GS) - Get Report
would have capital ratios below 6.0%, but above the minimum 5.0% threshold.
The divergence in Citigroup's performance from large-cap bank competitors such as JPMorgan and Wells Fargo, also may indicate its cautious stance on share buybacks or dividends through 2012.
-- Written by Antoine Gara in New York