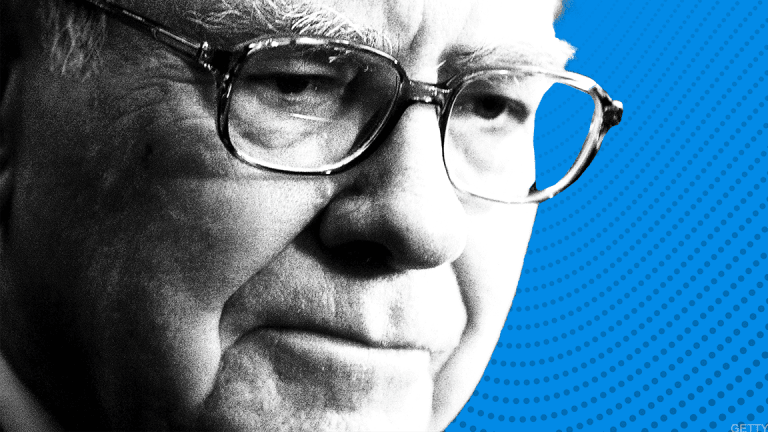 Buffett's Berkshire Hathaway Closes Below $300,000
Shares of Warren Buffett's investment vehicle, Berkshire Hathaway, ended the day below $300,000 for the first time since late March.
Stocks in Warren Buffett's Berkshire Hathaway portfolio fell Wednesday with Class A shares of the investment vehicle ending the day below $300,000 for the first time since March 27. Berkshire Hathaway A shares (BRK.A) - Get Berkshire Hathaway Inc. Report fell $1,190.01, or 0.4%, to $299,860.00. Berkshire Hathaway B shares (BRK.B) - Get Berkshire Hathaway Inc. Report fell $1.18, or 0.59%, to $198.52. 
Among Buffett's holdings identified in Berkshire Hathaway's latest Securities and Exchange Commission filing, nine rose while 38 fell.
Teva Pharmaceutical Industries (TEVA) - Get Teva Pharmaceutical Industries Limited American Depositary Shares Report rose 18 cents, or 1.89%, to $9.70.
M&T Bank shares (MTB) - Get M&T Bank Corporation Report rose $2.52, or 1.55%, to $164.75.
United Parcel Service shares (UPS) - Get United Parcel Service Inc. Report rose 70 cents, or 0.74%, to $94.77.
Among Buffett stocks underperforming Wednesday, DaVita shares (DVA) - Get DaVita Inc. Report fell $2.53, or 5.39%, to $44.39.
Johnson & Johnson shares (JNJ) - Get Johnson & Johnson Report fell $5.74, or 4.19%, to $131.33.
Restaurant Brands International shares (QSR) - Get Restaurant Brands International Inc. Report fell $2.23, or 3.27%, to $65.94.
So far this month, six of Buffett's stocks have gone up, while 41 have lost ground.
The S&P 500 index fell 19.37 points, or 0.69%, to 2,783.02 Wednesday.
Twenty-eight stocks in Buffett's portfolio outperformed the S&P 500 for the day while 19 lagged.
Johnson & Johnson is a component of the Action Alerts Plus portfolio. To find out more about how you can profit from Jim Cramer and the AAP team's investing ideas, please click here now.