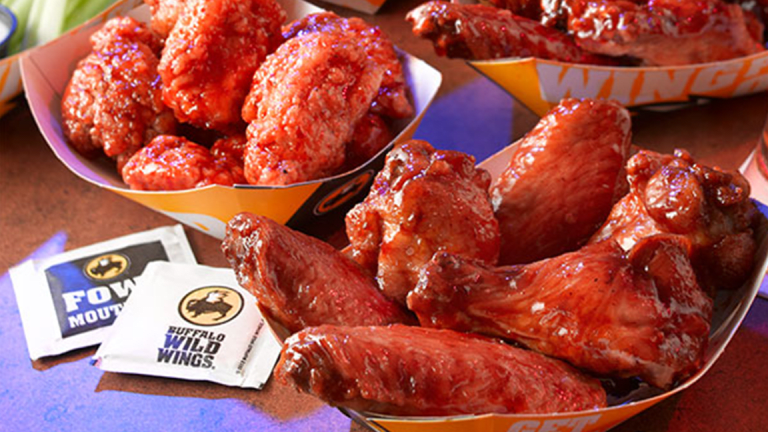 Buffalo Wild Wings Sale Is a Win for This Activist Investor
Mick McGuire, who succeeded in installing three dissident directors onto the wing and beer chain in June, agrees to vote his shares in favor of the deal, which comes after over a year of agitations.
Arby's Restaurant Group Inc.'s $2.9 billion, or $157 a share, deal Tuesday, Nov. 28, to buy wing and beer chain Buffalo Wild Wings Inc.  (BWLD) is a big win for activist investor Mick McGuire.
Specifically, the deal by Arby's, which is owned by private-equity firm Roark Capital, to buy Buffalo Wild Wings represents a 38% premium to Buffalo Wild Wings 30-day volume-weighted average stock price as of Nov. 13, the latest trading day prior to reports about a possible transaction.
The acquisition announcement comes after McGuire's activist fund, Marcato Capital Management, succeeded in June at installing a minority slate of three of four dissident directors onto the company's board in a hotly contested proxy war that was almost a year in the making. McGuire got a seat for himself, a key part of the activist victory. In addition, Buffalo Wild Wings CEO Sally Smith, who had fought McGuire throughout, agreed to resign.
The sale price represents a significant profit for McGuire, who has agreed to vote his fund's 6.4% stake in favor of the deal. Marcato launched a campaign for change at Buffalo Wild Wings in July 2016, reporting in an activist securities filing that it owned a 5.1% stake it had purchased between June 20 and July 22 at prices ranging from $140.59 a share to $144.22 a share, well below the $157 a share purchase price announced Tuesday.
An activist who succeeds in driving change in the boardroom doesn't always succeed in propelling his target company's share price. That might have been the story at Buffalo Wild Wings, whose shares until recently had been on a major downward trajectory. The company's shares traded at about $152.35 on June 2, the day of the contest but traveled downward to as low as $117.25 a share earlier this month before recovering due to speculation about a merger. On Tuesday, the restaurant chain's shares traded up by 6.4% in premarket trading to $155.75.
During his campaign McGuire hadn't pushed for Buffalo Wild Wings to be sold, though that is a key part of the typical activist playbook and something he has agitated for at other target companies. Currently, McGuire is pushing for Deckers Outdoor Corp. (DECK) to sell itself. He's trying to take over the entire board at the maker of UGGs boots in a contest set to go the distance on Dec. 14.
The sale also marks the latest in a trend of publicly traded casual restaurant chains selling themselves to private-equity firms.
Barclays served as financial advisor to Arby's and White & Case LLP served as the restaurant chain's legal counsel. Goldman Sachs & Co. LLC served as Buffalo Wild Wings financial advisor and Faegre Baker Daniels LLP provided legal advice.
More of What's Trending on TheStreet: