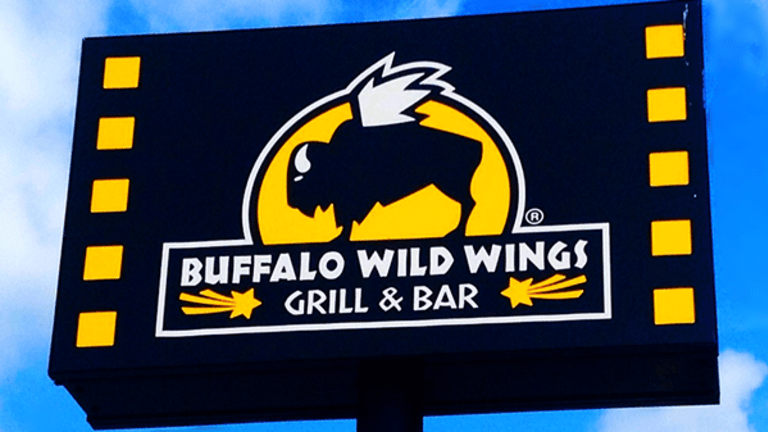 Buffalo Wild Wings's Chart Doesn't Enrich Its Menu
The stock has been under pressure over the past two months.
Buffalo Wild Wings Inc. (BWLD) was downgraded Friday by The Street's quantitative service, Quant Ratings. I regularly examine the daily upgrades and downgrades by our quantitative service to see if there is a company I need to review.
The share price of BWLD has been under pressure over the past two months, falling below $130 this past Friday from above $165 in late April. With prices retesting levels not seen since April 2016, a good review of the charts and indicators seems in order.
In this daily bar chart of BWLD, above, we can see the price action covering the last 12 months. Prices crossed above and below the 50-day moving average line and the slower-to-react 200-day line for much of the past year. Earlier this month, BWLD closed below these two averages and notice that the slopes of these averages turned negative in late May. Prices have broken below the lows of October and July.
The daily On-Balance-Volume (OBV) line turned low in early May, signaling that sellers of BWLD turned more aggressive; volume was now heavier on days when BWLD closed lower. The 12-day momentum study in the bottom panel has been weakening, but has yet to show a bullish divergence to the price action.
We can find a number of bearish clues in this weekly bar chart of BWLD, above. Prices are below the declining 40-week moving average line. Looking back over the past several years, we can see that there were three prior instances when prices dipped into the $130-$120 area and rebounded. This time, BWLD may not be so fortunate.
The weekly OBV line has been under pressure since September 2015 and is still pointed down, telling us that sellers have been more aggressive for a long time and this has probably weakened the position of the longs. The weekly Moving Average Convergence Divergence (MACD) oscillator is below the zero line for an outright sell signal.
In this Point and Figure chart of BWLD, above, we can see a pretty sharp selloff in May and June (find the "5" and the "6" on the chart above). While there is some chart "support" down to $122.47, it may not last for long. This chart yields a potential downside price objective of $92.46.
Bottom line: BWLD could bounce in the short run, but possible support in the $130-$120 area is not impressive and farther back in history (more to the left side of the weekly chart), making it less reliable. A break of $120 on BWLD could open the way for further losses to around $92.
Click here to sign up for Quant Ratings, where you can read our full report on BWLD or more than 4,000 other stocks that our service rates in real time every market day. This article originally appeared at 10 ET on Real Money, our premium site for active traders. Click here to get great columns like this from Jim Cramer and other writers even earlier in the trading day.
(Our Quant Ratings service assesses stocks using a proprietary computer model that runs a variety of factors through quantitative and technical analysis. Ratings do not necessarily reflect the opinions of Jim Cramer or other columnists, who may use different criteria to grade stocks.)
Employees of TheStreet are restricted from trading individual securities.