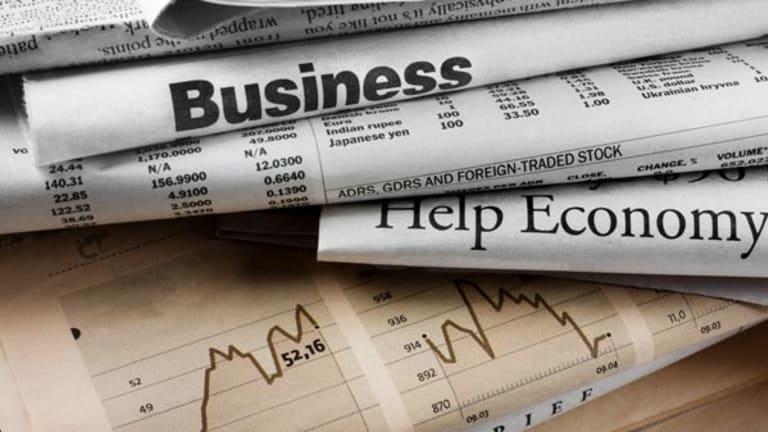 Budweiser: Quick 11% Gain Brewin'?
Anheuser-Busch is poised to climb 11% to $70, or drop down to the $55 level, in coming weeks. It all depends on how its merger with InBev fares.
For more stories like this, check out TheStreet.com Ratings section. And for another "sin stock" take from TheStreet.com Ratings, check out Tobacco Stocks: Not for the Nervous Investor.
During a recession, a stock portfolio that's overweight in health care, consumer staples and utility sector stocks may provide some cover from larger losses. Unfortunately, during panic-selling, no stock investment is truly immune.
Within the consumer staples sector, there is one beverage company that's rated A+ by our model and poised to soar as much as 11% by year's end. That stock is
Anheuser-Busch
(BUD) - Get Report
.
Belgium-based
InBev NV
has agreed to buy this American brewer for $70 a share in a deal expected to close by Dec. 31.
If the acquisition goes through as planned, the Bud shares would be cashed out at $70 each, a premium of 11% from their current level around $63. On the other hand, if the deal fails, the stock could drop back to trading levels in the $50 to $55 range or lower.
Anheuser-Busch increased its third-quarter beer sales to U.S. retailers by 3.6% and its shipments to wholesalers by 2.3%. In its preliminary third-quarter results, Bud said it expects revenue per barrel to rise 4%. That's slightly more than the expansion in its costs of goods sold per barrel, heralding wider gross margins.
InBev investors voted to approve the merger back on Sept. 29, and Anheuser-Busch shareholders get their say on Nov. 12. Bud's board is in favor of this friendly bid, so barring a regulatory or shareholder surprise, the biggest question is, "Can InBev raise the money?"
Even though it is the world's largest brewer, InBev didn't have all of the $60.8 billion needed to purchase Anheuser-Busch. So InBev arranged to borrow $45 billion from a syndicate of banks including
Bank of Tokyo-Mitsubishi
(MTU)
,
Banco Santander
( STD),
Barclays Capital
(BCS) - Get Report
,
BNP Paribas
(BNPQY)
,
Deutsche Bank
(DB) - Get Report
,
ING Groep
(ING) - Get Report
,
JPMorgan Chase
(JPM) - Get Report
,
Mizuho
(MFG) - Get Report
, Fortis Bank and the
Royal Bank of Scotland
(RBS) - Get Report
.
has since been taken over by the Dutch government and the other banks are working their way through the current credit crunch, which partially explains the decline in Bud stock since mid-September. If the banks come through with the financing, Anheuser-Busch stock will likely jump back to the purchase price of $70 in a hurry.
BUD: Poised to Break Out or Down
Source: Bloomberg
As with any trading strategy, including betting on acquisition deals, you can lose money. Before placing any trade, it is best to know how much downside risk you can stomach and attempt to limit your risk by placing your stop-loss orders to help protect you from sudden moves against your positions.
For more information, check out an
.
Kevin Baker became the senior financial analyst for TSC Ratings upon the August 2006 acquisition of Weiss Ratings by TheStreet.com, covering mutual funds. He joined the Weiss Group in 1997 as a banking and brokerage analyst. In 1999, he created the Weiss Group's first ratings to gauge the level of risk in U.S. equities. Baker received a B.S. degree in management from Rensselaer Polytechnic Institute and an M.B.A. with a finance specialization from Nova Southeastern University.