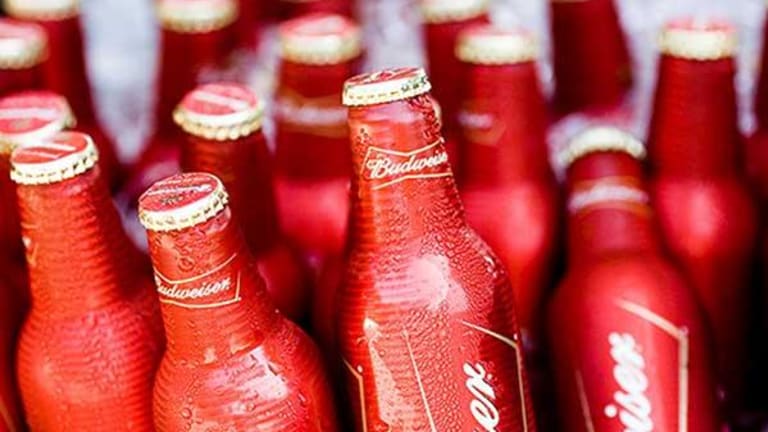 Budweiser Maker AB InBev's Quarterly Profit Lags Forecasts
The company cuts its guidance for Brazil but says it still expects to close the SABMiller deal after raising its offer earlier this week.
Budweiser maker Anheuser-Busch InBev (BUD) - Get Report said core profit rose less than expected in the second quarter while reiterating its expectation of closing the SABMiller (SBMRY) deal in the second half.
Normalized Ebitda rose 4.3% to $4.01 billion, undershooting the $4.13 billion projected in a Reuters consensus forecast. The company said top-line growth was partly offset by investments in brands, which was weighted towards the first half of the year.
Total volumes declined by 1.7% in the second quarter, as weaknesses in Brazil and Argentina overshadowed good results in Mexico and the U.S.
Concerning the proposed combination with SABMiller, the Leuven, Belgium-based buyer aid it had made "significant progress" towards obtaining regulatory approvals, including recent approval in the U.S.
ABInBev also lowered its 2016 guidance for Brazil, where it now expects net revenue to be flat compared to last year, compared with a previous forecast of net revenue growth in the mid to high single digits. It blamed a weak consumer environment and the increased mix of returnable glass bottles, which boost Ebitda but which reduce net revenue on a per hectoliter basis.
The brewer also again referred to this week's revised offer for its U.K. peer SABMiller as a "final" one. The target's board has yet to make a decision on the sweetened bid, though it has not given a timetable for doing so.
AB InBev on Tuesday raised its offer to £79 billion ($104.21 billion) from £73 billion agreed last year.
AB InBev shares were up 1.8% at €112.25.