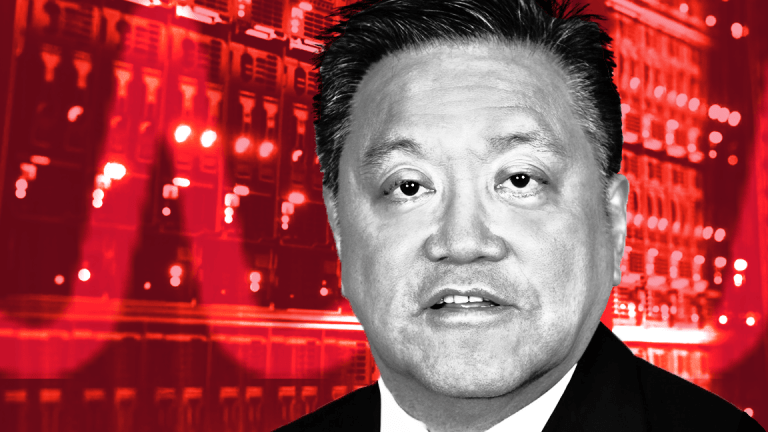 Broadcom's Boardroom Battle With Qualcomm Will Likely Lead to a Higher Bid
The semiconductor company is seeking to take over Qualcomm's board, but investors likely will seek out a higher bid down the road.
It's war.
Broadcom Ltd. (AVGO) - Get Broadcom Inc. Report  on Monday, Dec. 4, took its hostile $130 billion bid to buy Qualcomm Inc. (QCOM) - Get Qualcomm Inc Report  to the chipmaker's shareholders by launching a total boardroom takeover effort intended to help propel its deal effort.
The semiconductor company's boardroom battle was expected as Qualcomm last month said it was rejecting Broadcom's unsolicited offer of $70 in cash and stock. The deal, should it ever be consummated, would represent the largest ever technology combination.
Qualcomm, which is in the midst of completing a $47 billion acquisition of NXP Semiconductors NV (NXP) - Get Nuveen Select Tax-Free Income Portfolio Report , on Monday reiterated that Broadcom's offer "dramatically undervalues" the business. In a statement, Qualcomm said Broadcom's directors are conflicted because they are seeking seats to propel Broadcom's undervalued offer.
Broadcom didn't raise its offer, though it is possible that such a move could emerge in the coming weeks. Instead it sought to nominate 11 dissident director candidates to Qualcomm's board in a move that would totally replace the semiconductor company's existing director base.
The move was expected shortly because Qualcomm's Dec. 8 deadline for nominating dissident director candidates for its 2018 annual meeting was approaching quickly.
Broadcom's Hostile Bid Was Timed To Execute Boardroom Battle
A person familiar with the strategy noted that Broadcom's hostile bid was timed in part so that if Qualcomm rejected the offer it could follow up with a boardroom director fight. The director candidates all have relevant experience. For example, one nominee, Samih Elhage, is the former president of the Mobile Networks Business for Nokia Group. However, the board wouldn't spend a lot of time in power. Once elected, their primary responsibility would be to agree to sell the business to Broadcom.
Expect a Higher Premium to Appease Shareholders
In a statement, Broadcom President Hock Tan said he has heard from many Qualcomm shareholders who have said they want his company to engage. Now that Broadcom has nominated its director slate, expect Tan and his team to start traveling around the U.S. to start negotiating with shareholders directly. One activist investor who has been involved in this kind of situation suggested that shareholders will always want a higher price, above the premium Broadcom has already offered up. Once Broadcom receives the feedback the question will be whether it will succumb to shareholder pressure and hike its offer. He added that in these type of situations the ultimatel premium paid is usually substantial.
In addition, shareholders will need to receive some sort of assurance that once Broadcom's directors are installed that it won't change the price or in some way alter the terms of the deal. If Qualcomm's board believes it is facing a boardroom defeat, it may grudgingly decide to negotiate with Broadcom so that directors can assure shareholders that the deal will be a binding contract.
Broadcom May Need to File a Lawsuit in Delaware 
Qualcomm, which is incorporated in Delaware, is likely to seek to delay its annual meeting, which will buy it time as it seeks to engage its own shareholders. In a statement Monday, Qualcomm said Broadcom's directors are conflicted because they are seeking seats to propel Broadcom's offer, which "dramatically undervalues" the company. Qualcomm also said the bid would "foreclose" Qualcomm's options for over a year given the "magnitude of regulatory issues" around the deal.
The comments suggested that Qualcomm will seek to delay its meeting and fight the offer for months to come. However, there are only so many months it could delay before a Broadcom Delaware lawsuit could compel Qualcomm to hold its meeting. One person familiar with Delaware law suggested that Broadcom will file a lawsuit if Qualcomm postpones its meeting by 13 months from its previous meeting. He added that the lawsuit will likely take three months, which means the meeting and boardroom battle will take place by June at the latest.
Alternatively, Qualcomm could seek to find a so-called white knight acquirer, which may be considered friendlier and willing to pay more than Broadcom. For example, in 2014, Valeant Pharmaceuticals International Inc. joined forces with Bill Ackman's Pershing Square to employ a boardroom election effort in a bid to buy botox-maker Allergan PLC. However, Allergan fended off Valeant by agreeing to be acquired for a premium by White Knight Actavis in a defensive move.
More of What's Trending on TheStreet: