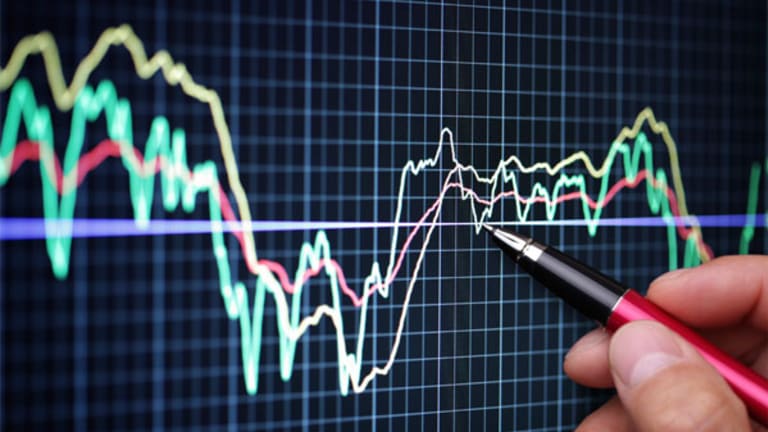 Bristol-Myers Squibb, Merck, Synergy Pharmaceuticals: Doug Kass' Views
Doug Kass shares his thoughts on biotech and discusses the shape of things to come.
Doug Kass shares his views every day on RealMoneyPro. Click here for a real-time look at his insights and musings.
Synergy Pharmaceuticals Consolidating Recent Gains
Originally published Jan. 20 at 12:16 p.m. EDT
The market continues to be in rally mode as everyone watches the presidential inauguration ceremonies. Biotech is not participating in the rally. Bristol-Myers Squibb (BMY) - Get Free Report is one reason the sector is not participating, as its key oncology drug Opdivo will not pursue accelerated approval to be used in the treatment of front-line lung cancer. Shares are down some 10% on this news. Competing oncology compound Keytruda seems to have the momentum right now and has been powering Merck's (MRK) - Get Free Report shares recently.
Not surprisingly, as I earlier noted, Synergy Pharmaceuticalsundefined is selling off after an initial rally Friday morning on early approval of its main drug candidate, plecanatide, known by its brand name Trulance. This trajectory happens quite often in this space as the stock runs up into approval, rallies a bit after approval and then sells off. Maybe it is typical "buy the rumor, sell the news" behavior or maybe investors get over the relief of approval quickly and then start to think of upcoming commercialization challenges. Whatever it is, it happens more often than not. I'm very happy to get $0.75 on the April $8 calls I sold against a good portion of my Synergy position this morning. I still like the long-term story and it would make a more-than-logical buyout target for the likes of Takeda Pharmaceutical, but shares may need some time to consolidate recent gains.
Position: Long SGYP.
Expressing Disappointment With American Express
Originally published Jan. 20 at 9:55 a.m. EDT
The Trump era from a market perspective begins on an up note, at least as far as equities are concerned. All the major indices are up nicely in early trading in front of the inauguration. Oil is also up more than a $1 a barrel.
American Express (AXP) - Get Free Report is down after an earnings miss. I've been following this stock a long time as I was in technology management there for a long time. The company could benefit from a leadership change given current CEO Kenneth Chenault has been there for some 15 years now.
Chenault did some good things early in tenure, but his leadership has long become stale. There have been no significant acquisitions over that time frame, and small purchases AXP has made have not turned out as expected. They turned down an opportunity to invest in PayPal (PYPL) - Get Free Report in its early stages. Members of the stellar leadership team Chenault inherited have left, many to take larger roles at the likes of Citigroup (C) - Get Free Report and JPMorgan Chase (JPM) - Get Free Report .
Chenault has not seemed to have been able to reverse the decline the company has experienced in credit card space. The best action to date was spinning off Ameriprise (AMP) - Get Free Report , which has tripled in the market since being liberated a decade ago.
Position: Long AXP.
The Shape of Things to Come
Originally published Jan. 20 at 8:32 a.m. EDT
"The most dangerous man to any government is the man who is able to think things out ... without regard to the prevailing superstitions and taboos. Almost inevitably, he comes to the conclusion that the government he lives under is dishonest, insane, intolerable."
--H. L. Mencken
Given the rancor throughout what was a nasty campaign in 2016, the actual formal transition of power Friday seems rather anti-climactic. It is going to be a few months before investors know which policies and programs the new administration prioritizes.
Lobbyists for large multinationals certainly are going to earn their money in coming months given the administration's desire for a much different direction on trade policy, not to mention tax and regulatory reform. Large concerns also could continue to be impacted by currency fluctuations as well as possible retaliatory trade actions should the new administration overstep in imposing tariffs or other actions aimed at trading partners.
On the other hand, smaller, domestically focused concerns could do quite well under the new administration. This is especially true if a President Trump is successful in enacting major tax and regulatory reforms, which are both long overdue.
The United States has the highest corporate tax rate of the G-7 and has fallen down the ranks of the most competitive countries in recent years. In addition, the outgoing administration added more new pages of rules and regulations to the Federal Register than any before it.
Small companies tend to be the most impacted by compliance costs given their small scale. Significant movement on reform on both fronts could be a godsend, especially if it is accompanied by higher economic growth off the anemic levels of the past decade. These domestic concerns also have few impacts from overseas trade or fluctuations in the major currencies.
Whatever happens in the next few months, it is hard to argue that we don't live in interesting times.
Position: None.
Action Alerts PLUS, which Cramer co-manages as a charitable trust, is long C.