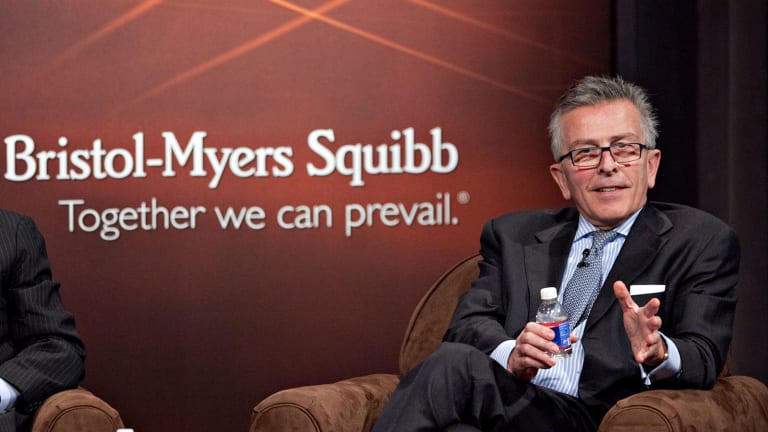 Bristol-Myers Offers Strong Risk/Reward Trade Now
Wise investors should not follow analysts who have downgraded Bristol-Myers Squibb, but should instead purchase the stock on sale.
There will undoubtedly be lots of analysts covering for themselves and downgrading pharma giant Bristol Myers (BMY) - Get Report after a plunge.  Analysts are notoriously too positive at tops and too pessimistic at bottoms. I hope every one of these analysts puts a hold or sell on BMY.  Early in my career my favorite stocks were those that Merrill Lynch analysts had a short term neutral rating on but a long-term buy. That meant the stock had already gotten thumped but had long-term merit.
BMY falls into that category now.
When is the most money made in investing?  It's taking the other side of the crowd's view and buying capitulation. 
CAPITULATION
Capitulation is when investors give up all hope of a rebound, usually after holding a position too long.  Every investor has a pain threshold, and when it's a hit, emotions take hold and the sell button gets pushed. I've been there myself many times and created a rule that says:  If I finally can't stand it anymore and need to sell, HOLD FOR THREE MORE DAYS. This rule has served me well over the years. 
True capitulation involves extremely high volume and sharp declines.  Where do we see the signs of capitulation currently?
Bristol Myers yields 2%. The stock was selling at $75 just a few days ago but finished Friday trading at $60.22 Thats a roughly 20% move in two days. Growth managers are undoubtedly selling the stock now that the short-term growth story is over, but alas, the value and opportunistic investors will be interested soon enough.  Then we have the opportunistic traders who thrive on short-term market dislocations.
When a stock is plunging like this, it's difficult to pick the absolute bottom so I prefer the strategy of buying in tranches.  Consider now a wonderful time to begin building a position in this high quality pharma brand.  The lost opportunity could amount to roughly $1 billion in revenues, yet the stock has lost 20 times that amount roughly in market cap. That seems a bit much.
For now, this is a trade opportunity back to the gap fill around $66, which is a nice risk/reward for a few months hold time.
If everyone has a three-day rule before buying a stock that's plunging and it's day two with massive volume, shouldn't a prudent investor nibble on some shares now? It's akin to planning for a big party. Get there a early, deal with the dis-array on set-up, get a great seat then let the room fill up around you. When everyone is over-served and making a fool of themselves, you exit. That's about what it's like to buy BMY today.
VOLUME:
Average daily volume for BMY is 6.8 million shares
Friday it traded 86 million shares, which is 12 times normal volume
BMY traded about 36 million shares in the first three hours of Monday trading and more than 58 million shares for the day. The buy range is $58 to $60 per share. 
Technicals: There's short-term positive divergence -- price making new lows, momentum making higher lows. That suggests that sellers are exhausting themselves.
To be clear, buying a falling knife is a tricky business, but if you have a time frame of more than two weeks, and you should, this is a wonderful opportunity to buy a high quality pharma brand on sale during a short-term dislocation.  
Buy fear. Sell Euphoria.
This article is commentary by an independent contributor. At the time of publication, the author held no positions in the stocks mentioned.