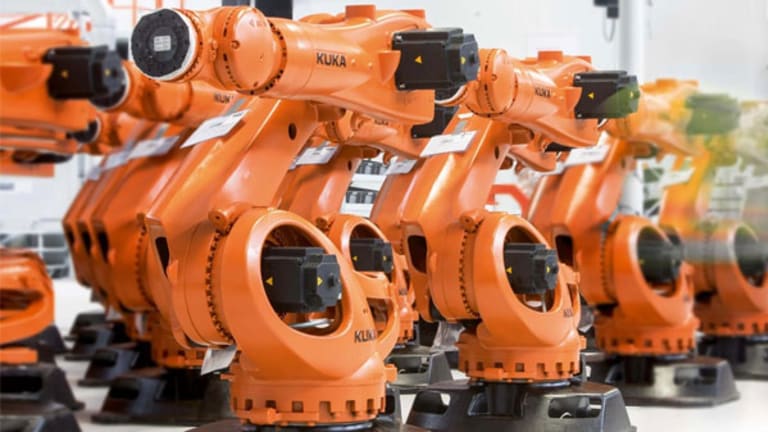 Bringing Jobs Back to the U.S.--For Robots, but Still Jobs
From manufacturing to finance, U.S. businesses are embracing automation and here are prime examples and some of the companies making it happen.
From manufacturing to finance, U.S. businesses are embracing automation and here are prime examples and some of the companies making it happen.
For many years, major manufacturing companies have been figuring out how to make their goods as efficiently and at the lowest cost.
This had led to many companies seeking out labor that can be trained and deployed in cheaper venues than the U.S. And it isn't always just wage rates, but can include a myriad of conditions from regulations to taxation.
But when companies can deploy automation efficiently, that can be a game changer. The move also can reap significant long-term rewards for shareholders.
Few automobile manufacturers operate factories without at least robotic assistants on their assembly lines or centers. And for an increasing number of other manufacturers, robotics keep advancing so that the need for a human hand is rapidly going away. This unstoppable trend makes robotics one of
the most promising growth opportunities you can find
.
Moreover, given the cost of shipping, the rationale for using factories thousands of miles away from the U.S. making goods for the U.S. in automated factories is coming under attack. Take, for example, a cotton T-shirt being made in China from cotton grown in Texas. If that cotton can be sent to an automated factoring in the U.S. and come back as a shirt without crossing an ocean margins can be made more efficient.
This development is a moneymaking game changer that like for automobiles will be reducing the needed human jobs and will enable manufacturers to bring operations back to the U.S.
Some of the companies rolling out their first attempts in the U.S. include Nike (NKE) - Get Report , Adidas (ADDYY) and Under Armour (UAA) - Get Report .
Nike is trying a new robotic mechanism that make some of the complex parts of the sole of a sneaker in its plants in the Northwest and Midwestern US that in turn still have to go to other nations for full assembly.
Under Armour, armed with tax incentives is building local facilities in the Mid-Atlantic which like Nike is doing some component work for soles of some of its shoes.
But leave it to the Germans to get a robot to do the whole shebang. Adidas has already rolled out robotics that can make the entire shoe utilizing robotic machinery from the privately-held DESMA company in Achim, Germany. The machines are being shipped to an experimental factory in Georgia and if successful will change the labor needs of the company.
Robots are on the rise. Thanks to builders including ABB (ABB) - Get Report and FLIR (FLIR) - Get Report - the number of manufacturing robots is rapidly expanding. In the last reported ten years manufacturing robots deployed worldwide have gone from 120,000 to over 254,000 and climbing.
ABB has been a leader in major industrial assembly lines. And Flir has been at the forefront of optical and other sense technologies that allow smarter robots that can deal with more variable in products, such as with shoes.
But robotics doesn't just stop at manufacturing. Financial services is a sector ripe for further innovation. Now, we've seen automated trading in the markets. And we've also seen automated news reports of basic financial information.
However, the actual interaction with human customers is rapidly on the rise. Automated advisory services for asset allocations and taxes are already here taking advantage of a questionnaire. And for banks such as HSBC (HSBC) - Get Report , it has had bank branches with limited human tellers instead relying on advanced ATM tellers.
And Bank of America (BAC) - Get Report has recently begun to follow with a rollout of three trial teller-less branches in the U.S.
One of the key advances is the ability for machines to recognize human speech and to process it in an artificial intelligence fashion. Think of it as a far more advanced version of Amazon's (AMZN) - Get Report Alexa.
And one of the leading companies behind the technology is Baidu (BIDU) - Get Report . The Beijing-based technology company with a wide-variety of technology companies has been one of the leaders in not just voice recognition - but language processing. This is the key to successful interaction with human customers. And it is not just with bank deposit takers, but think customer service, call centers and more.
The World's Most Profitable Trading Strategy
Most options traders strike out on 7 out of every 10 trades. They place high-risk trades, hoping for a big payout. But they lose... a LOT! That's why Jim Fink flips options on its head, allowing him to make money more than 85% of the time. Jim turned $50,000 into over $5 million trading this way. For a limited time, he's offering his personal strategy guide to readers. The information inside could unlock $67,548 in extra income for you over the next 12 months. Get your copy now by clicking here.
Neil George does not have any conflicts of interest including no current ownership of the companies mentioned above.