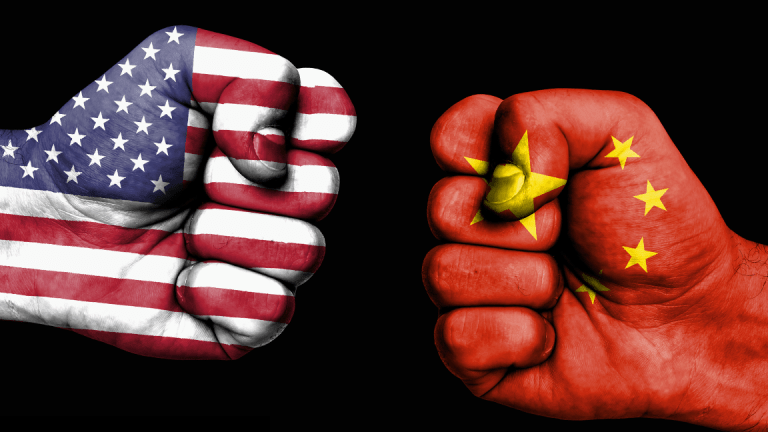 Bring on Trump's Trade War
Now may be the time for the U.S. to start a trade war because its economy is stronger than China's and less dependent on exports, but the ending may not be in American hands.
Maybe a trade war isn't such a bad thing after all.
The U.S. has targeted $34 billion of Chinese goods entering the U.S. with a 25% tariff, covering products such as aircraft components and agricultural equipment. China retaliated with levies on U.S. cars and soybeans. It's likely just the first step, as President Trump later threatened to impose levies on $500 billion of Chinese goods, about the extent of what U.S. bought in 2017. China's Commerce Ministry is calling it "the largest trade war in economic history."
Markets may be agreeing with TheStreet's founder Jim Cramer, who says now is the time for the U.S. to start a trade war because its economy is stronger than China's and less dependent on exports. China bought U.S. goods worth only about $130 billion last year, so it's impossible for Beijing to match the U.S. tariffs dollar-for-dollar.
"If you're going to take on the Chinese you do it from strength," Cramer said on CNBC. "And we have much more strength than they do."
There's also been talk that China may devalue its currency to ameliorate the effects of tariff-driven price increases, but that brings on the risk that owners of Chinese securities will flee those investments. Same with China selling its $1.2 trillion of U.S. debt: either other investors would buy it or, if the market dried up, the U.S. could buy back its own debt at a discount.
Other measures China could take include organizing boycotts of U.S. companies operating in China. Though that could in theory hit profits of U.S. companies such as Microsoft (MSFT) - Get Microsoft Corporation (MSFT) Report , Apple (AAPL) - Get Apple Inc. (AAPL) Report , Procter & Gamble (PG) - Get Procter & Gamble Company Report , Coca-Cola (KO) - Get Coca-Cola Company Report , McDonald's (MCD) - Get McDonald's Corporation (MCD) Report , Caterpillar (CAT) - Get Caterpillar Inc. Report and Boeing (BA) - Get Boeing Company Report , the fact is that many of the companies are already making much of what they sell in China in local factories. So China could hurt itself as much as the U.S. by taking such a step.
Still, another fact that remains is China is ruled by the Communist Party and its people have scant opportunity to vote with their pocketbooks. While U.S. opinion on the trade war varies widely depending on the constituency affected, in China the nation speaks with one voice.
Chinese vice premier Liu He issued a statement to Chinese media last week urging calm and rationality in reporting on the trade conflict, and to wait for instructions from the Ministry of Commerce before reporting comments from President Trump, U.S. government spokespersons, or U.S. officials.
"The trade conflict is really a war against China's rise, to see who has the greater stamina," according to the document. "This is absolutely no time for irresolution or reticence."
The document lists various approaches that China and Chinese media should take in a trade war.
"Don't attack Trump's vulgarity; don't make this a war of insults," the document warns. "Each department should strengthen its contribution to the stabilization of market expectations. We stop negotiation for now, acting tit for tat, roll out corresponding policies, hold public opinion at a good level without escalating it, limit scope, and strike accurately and carefully, splitting apart different domestic groups in U.S."
So, even though the Chinese have more to lose and fewer weapons with which to wage a trade war, that doesn't mean they're not ready to make a go of it. Whether Americans have a similar stomach remains to be seen, though there are signs that might draw the attention of the President, whether sooner or later.
"There are real issues in our trade relationship with China that need to be addressed, but Iowa agriculture cannot continue to bear the brunt of the retaliation from our trading partners," Iowa Secretary of Agriculture Mike Naig said in a statement on the department's website. "The Administration needs to move forward quickly to provide market certainty for farmers for this year and as they plan ahead for 2019."
Ravin Gandhi, CEO of GMM Nonstick Coatings, a Chicago-based company that makes coatings for pots and pans, said President Trump's plans amount to "playing chicken" with the U.S. economy, and may result in unintended consequences.
"I think our president has made the political calculus that our economy is strong, and he's willing to potentially inflict some pain upon us, because it's good for him politically to hurt China," Gandhi told Bloomberg. "And I think it's OK right now, but man, if it really turns into a trade war, China has proven that they are willing to let their people suffer for woefully stupid economic policies for decades."
So bring on the trade war, which the U.S. reckons on winning, at least in the first few innings. China looks to be planning on a long game.