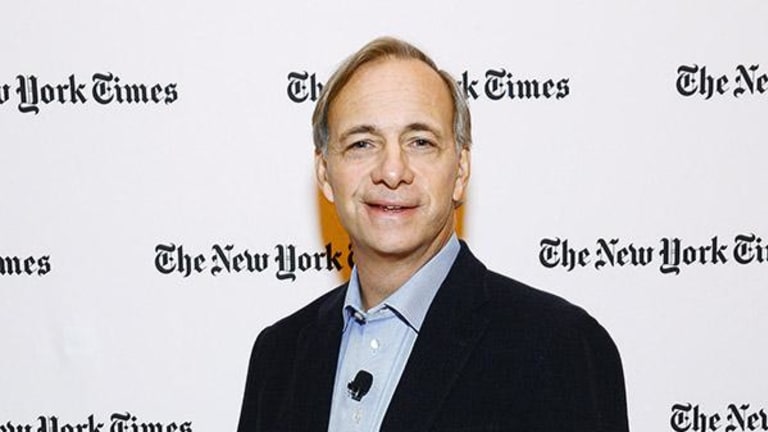 Bridgewater's Dalio Says Media Distorted Harassment Claims, Times Stands Firm
After employee allegations surface calling the world's largest hedge fund a 'cauldron of fear,' Bridgewater's founder responds in a statement blasting the media and touting fund perfornace.
Ray Dalio feels sorely misunderstood, and he blames the reporters.
In a lengthy public statement, the Bridgewater Associates founder and chairman called recent coverage of an employee's sexual harassment claims against the hedge fund "sensationalistic and inaccurate," and part of "the growing trend of media distortion." The employee claims that Bridgewater mishandled his sexual harassment complaint against a male supervisor, videotaping his emotional meeting with a human resources staffer and distributing copies among co-workers.
The allegations, filed in public documents with Connecticut's Commission on Human Rights and Opportunities, were reported by TheStreet and elsewhere, and offered a rare window into daily life at the world's largest hedge fund, which manages over $150 billion in assets for public pension funds, national governments, university endowments, and others.
Taping meetings is routine at Bridgewater, which subscribes to a philosophy of "radical transparency" laid out in Dalio's 100-page principles manifesto.
"We make these tapes available to employees because we believe strongly that in order have a real idea meritocracy, people need to see and hear things for themselves, rather than through the spin of others," Dalio said in his statement, self-published on LinkedIn (LNKD) . Bridgewater offers all employees access to a confidential employee relations team outside the management chain for handling personal matters, Dalio added.
Without specifically addressing the aggrieved employee's complaints, Dalio said reporters had "intentionally strung together a series of misleading 'facts' in ways they felt would create the most sensationalistic story," singling out the staff of the New York Times (NYT) - Get Report , which first reported the story.
The Times reporters who wrote that story published a follow-up article reporting Dalio's criticism. Times spokesman Jordan Cohen said the company would not be commenting further.
Dalio advised curious minds to go read some books. Specifically, he recommends Robert Kegan's An Everyone Culture and Edward Hess's  Learn or Die, both of which have chapters devoted to Bridgewater.
Dalio also notes that his flagship hedge fund, Pure Alpha, has posted gains of $1.3 billion so far this year, or roughly 2% by TheStreet's estimate. Pure Alpha had been widely reported as down double-digits for the year.
"Bridgewater is culturally committed to the pursuit of truth," Dalio said in his statement, adding that in legal matters the firm "always had a strong preference to not 'settle' claims but rather to be judged by the appropriate legal or regulatory system."
Which legal system will adjudicate the harassment claim that sparked the controversy remains unclear, though many employment contracts require closed, private arbitration for disputes. The employee's complaint to the state agency was withdrawn from the state oversight agency in March after a request he and Bridgewater filed jointly. His lawyer did not return inquiries, and a Bridgewater spokeswoman said she had no information on the legal process in the case. 
Bridgewater, even more so than most most hedge funds, has a reputation for secrecy that at times clashes with its stated zeal for transparency. In the first sentence of his statement, Dalio acknowledges that "we continue to be reluctant to engage with the media."
Dalio's public accusation of journalistic malfeasance recalls similar cases in recent months. In October, Amazon (AMZN) - Get Report spokesman Jay Carney wrote a rebuttal to a New York Times article about Amazon's workplace culture. Self-published on the website Medium, the rebuttal called the Times' reporting on employee grievances "sensationalistic."
"It gets easier all the time to find a place to publish," said Rick Edmonds, a media business analyst with the Poynter Institute, a non-profit journalism school. "It's a way to respond to a story that's negative, as opposed to talking to a reporter and seeing if your side comes through."