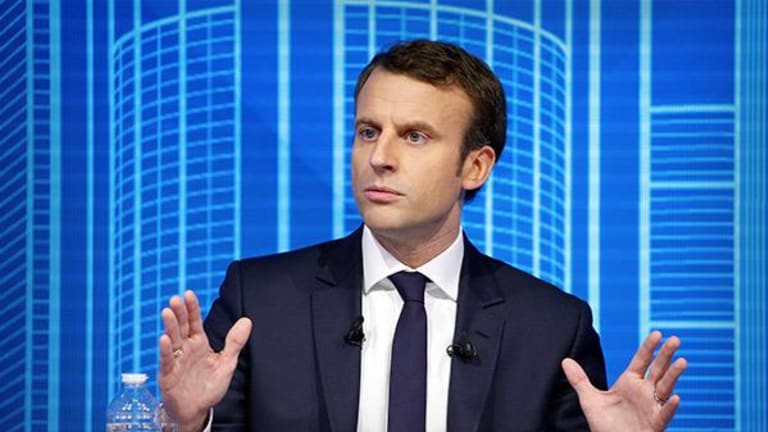 Emmanuel Macron's win in Sunday's first round of France's elections could complicate negotiations between Britain and the European Union as the centrist presidential candidate seeks to bolster relations between Paris and Brussels
The 39-year old former investment banker will face far-right Eurosceptic Marine Le Pen in a runoff on May, but polls suggest he'll win by roughly 20 percentage points.
Macron's first round victory, however, marked a seismic shift in French politics, with French voters shunning traditional parties for the first time in the history of the country's post-war Republic. In fact, Macron only formed his 'En Marche' (On The Move) party last year and has never been elected to public office.
But what will it mean for Britain's pending Brexit negotiations -- and Prime Minister Theresa May in particular -- as she heads to the June 8 vote with a commanding lead over her nearest rivals?
An initial reading of the second round prospects suggests May would prefer to deal with Macron, given Le Pen's anti-EU rhetoric and her vow to hold her own referendum on France's membership of the European Union, thus leaving officials in Brussels determined to hold a tough line on Brexit in order to discourage voters in France from following Britain's lead.
However, despite his explicit pro-growth agenda and reformist ambitions, Macron is a staunch defender of the European project and could actually intensify the EU's collective stance in Brexit negotiations. 
Earlier this year, he said he would make sure Britain did not receive too many concessions when it leaves the European Union and vowed to reporters in London he wouldn't allow May to secure "undue advantages" when it leaves the bloc.
EU leaders of the remaining 27 member states are set to meet on April 29 to discuss Brexit negotiations and adopt formal guidelines. But the seats around that table could look dramatically different when negotiations get underway in after the U.K. election.
Not only will France's seat be different. Germany will hold an election on Sept. 24, which could see Chancellor Angela Merkel unseated, although her party's recent performance in polls and local elections suggests a firming of support.
The musical chairs around the table could frustrate Brexit negotiations, especially if a shift to non-traditional parties continues.
"Macron's election would also signal a shift in political appetite for a stronger EU," said Oxford Economics Senior Economist Marion Amiot. "He could push for a common Eurozone budget to cement the idea that the common currency needs a fiscal and political union. His willingness to put the Franco-German relationship back at the heart of the EU suggests his election could give a new impetus to Eurozone integration."
Although a Le Pen presidency is unlikely, if it were to happen she would have to govern under a coalition, with other parties unlikely to back her. "She would have to back down from her euro-exit agenda which French voters would ultimately reject in a referendum. In other words, not only is a Le Pen presidency unlikely, it is also likely to be marked by political stalemate rather than the radical political shift she currently tries to project," Amiot said.