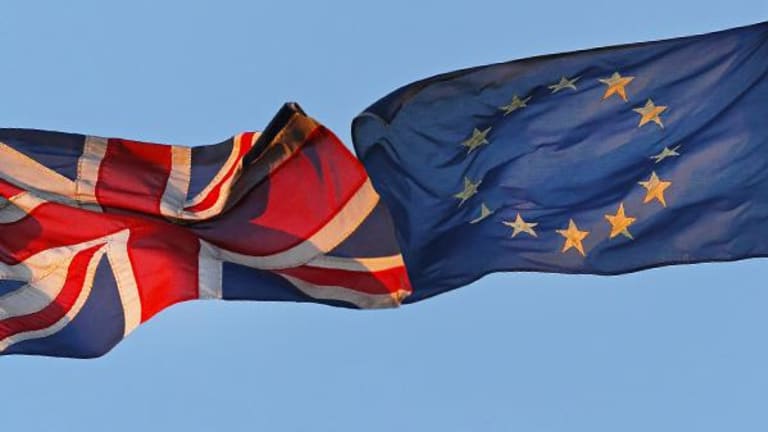 Brexit Already Having a Negative Impact, Business Leaders Say
The U.K.'s top business leaders have painted a pessimistic view of Brexit, with more than half of respondents in a survey saying that it is already having a negative impact.
The U.K.'s top business leaders have painted a pessimistic view of the country's decision to leave the European Union, with more than half of respondents in an Ipsos Mori survey saying that it is already having a negative impact. 
The survey of senior executives from more than 100 of the largest 500 companies released Monday found that 58% said Brexit is hurting business, even though the formal process for leaving has yet to begin. Thirty one percent said they have no seen a difference to their business, 11% said the vote has had a positive impact and two-thirds believe the situation will worsen over the next 12 months.
"Business in this country is already feeling the pain of the economic upheaval of leaving the EU," CEO of Ipsos Mori Ben Page said in a statement. "According to respondents there is no sign that this is likely to ease this year."
More than two-thirds of respondents said that they have already responded to the referendum results, with actions that range from moving business out the U.K. and hedging the pound.
Mercer warned Monday that Britain's labor market will likely worsen if foreign workers are prevented from coming to the U.K. Analysis by the consultancy found that British firms could struggle to find skilled workers after Brexit due to a combination of an ageing population and fewer workers entering the country.
The slew of Brexit predictions comes on a day when U.K. lawmakers will debate amendments to the government's bill that will allow Prime Minister Theresa May to trigger article 50 and begin the formal negotiations for an exit.
Monday's debate is expected to focus on amendments to the process of leaving, with debates on amendments about the rights of EU citizens in the U.K. and whether parliament gets a say on the final deal on Tuesday.
There are reports that the Prime Minister could face a rebellion from her own party who fear May will walk away from the negotiating table without a deal. In a speech delivered in mid-January, May said that she would prefer to leave the EU with no deal rather than a bad deal at the end of the two-year negotiating period, meaning trade with the U.K. would fall under World Trade Organization rules.
The Financial Times has reported that 27 Conservative Party lawmakers could support an amendment that would force May back to Brussels if a deal is not concluded.
Some industries, however, could benefit from a WTO framework, according to analysis by Bain & Co. which found that British-based aerospace and pharmaceutical companies could receive a more than £200 million boost as they would be exempt from tariffs and would also benefit from a further fall in the value of the pound.
Companies such as BAE Systems (BAESY) , Cobham plc (CBHMY) , GlaxoSmithKline (GSK) - Get Report , AstraZeneca (AZN) - Get Report , GKN plc (GKNLY) and Rolls-Royce (RYCEY) could see a boost from such an arrangement.
The pound has fallen nearly 18% against the U.S. dollar since the June 23 Brexit vote and traded around $1.2481 at mid-day in London Monday.