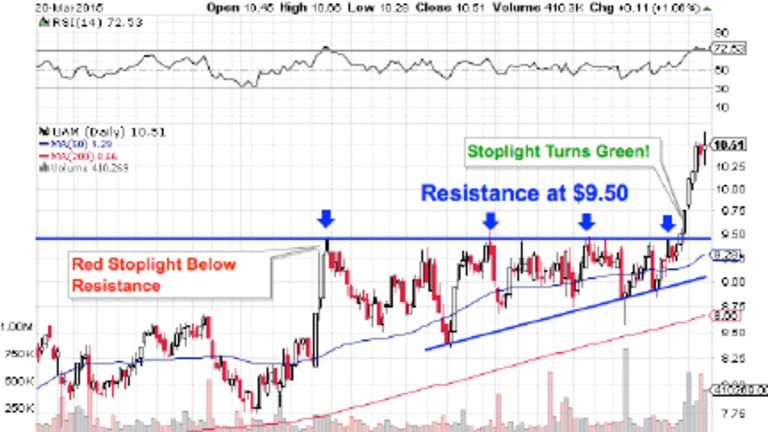 How to Trade a Breakout: Breakout Trading Technical Analysis Primer
Breakout trading is one of the most popular methods of applying technical concepts to live financial markets.
BALTIMORE (Stockpickr) -- You don't have to know much about trading to figure out that if a stock is in "breakout mode," you probably want a piece of the action. But what exactly constitutes a breakout? And why do they work?
In this technical primer, we're going to take a look at the nuts and bolts behind how how a breakout trading strategy works -- and how to implement it for your portfolio.
If you're familiar with technical analysis, chances are you've at least heard the term "breakout trading" before. As the foundation of the uber-successful trading systems used by some of the biggest Wall Street investment managers, breakout trading is one of the most effective technical strategies out there -- and also one of the most nerve-wracking.
After all, it's one thing to analyze technical charts after the fact to find trading opportunities, and it's yet another to pull the trigger on a real trade. Using a technical strategy has significant advantages. Whether used as a standalone method of analysis or as a timing supplement to fundamentals, technicals can provide significant cues about a stock's potential price movement.
Almost any method of analysis seems great in theory, but the money is made where the rubber meets the road. Not surprisingly, applying technical analysis concepts to real-world markets is also where most people (particularly those with fundamental backgrounds) have the most trouble.
What Is Breakout Trading?
Breakout trading is one of the most popular methods of applying technical concepts to live financial markets. In its simplest form, breakout trading is the practice of buying stocks as they "break out" above a prior resistance level or "break down" below a prior support level.
In the below chart, a breakout in this silver ETF occurred when shares made a sustained move above $30, signaling a buy.
The rationale for this strategy is simple: If support and resistance levels act as barriers to share price movement, then the breach of a previous support or resistance level should leave shares free to make a larger move.
That's a pretty logical approach to trading. Here's another way to think about it: If a resistance level indicates a glut of supply of shares of a stock at a particular price overhead, then a breakout above that price level should mean that buyers have absorbed the excess supply above, and now those sellers are adjusting their ask prices to higher levels (or opting not to sell at all). That clears the way for shares to get bid up to higher prices.
That's the theoretical side of things. As I said earlier, in practice, there are significant challenges to being a successful breakout trader.
Challenges of Breakout Trading
The biggest challenges for would-be breakout traders are psychological -- particularly for investors with fundamental value backgrounds. For upward breakouts, waiting for a stock to move higher before buying can feel incredibly unnatural for an experienced value investor. And staying in the game after a string of losing trades can wear away at the confidence of even the most experienced trader.
It's no surprise then that an estimated 90% of retail traders eventually go bust.
But it's crucial to think like a technician if you're going to find success as a breakout trader. Instead of using technicals as a way of predicting where share prices are headed in the future, you're using technicals to define supply and demand characteristics that lead to a higher probability of a move in one direction than a move in the other.
In other words, you don't want to predict -- you just want to react when a breakout happens.
Breakout traders are basically looking for "high-probability setups" where share prices have moved outside of the price barriers created by support or resistance levels. To fundamental investors, it's enticing to buy shares before a breakout actually happens, but the breakout is the critical element of creating that high-probability setup. As long as there's still a glut of supply overhead, you don't want to be a buyer.
A prominent portfolio manager I know once described breakout trading as a "traffic light system." When you're sitting in your car at a stoplight, you don't try to predict when the light is going to go green. Instead, you just hit the gas when it does.
The chart below is a great visualization of how that "traffic light system" gets put into practice. This chart was showing traders a red light until shares broke out above $9.50 resistance. That's when the light turned green. The key to buying wasn't predicting the breakout -- it was buying when after the signal hit.
On the Lookout for Breakout Trades
The first step toward becoming a breakout trader is to be on the lookout for potential breakout trades. Historically, market technicians have done this by poring over thousands of stock charts to find those that looked primed for a break outside of a previous support or resistance level.
Today, advanced chart screening software can take away much of that work by identifying a watch list of breakout setups in just a few minutes.
Once those setups have been identified, it's time to determine what needs to happen to classify that stock as a breakout; you'll want to know exactly when the breakout conditions are met. Normally, you can set free trade alerts through your broker's trading platform. By using alerts instead of stop orders, you're able to weed out stocks whose breakouts aren't statistically valid (that is, not confirmed by a material move outside of the support or resistance level) or are just intraday whipsaws.
Factors such as exit points and stop loss levels can vary based on each trader's preferences but should be predetermined before entering any trade.
Spotting successful breakout setups can take time and experience to get a handle on. Actually trading them takes even more time and experience, as well as the psychological fortitude to withstand a run of losing trades before booking a winner that more than makes up for them. The best way to overcome that hurdle is to look at lots of charts on a regular basis.
Because breakout trading styles vary considerably, win rates for profitable systems can be below 50% or as high as 90%. Paper trading is an exceptional way to build confidence and develop your skills before putting real cash on the line. You have to remember that breakout trading is a probabilistic pursuit. That means that you don't know beforehand whether any single trade is more or less likely to end with gains -- but you do know that buying breakouts with a strict set of trading rules will make your winners outweigh your losers over the long run.
At the end of the day, breakout trading is as simple as hitting the gas when the stoplight turns green.
This article is commentary by an independent contributor.