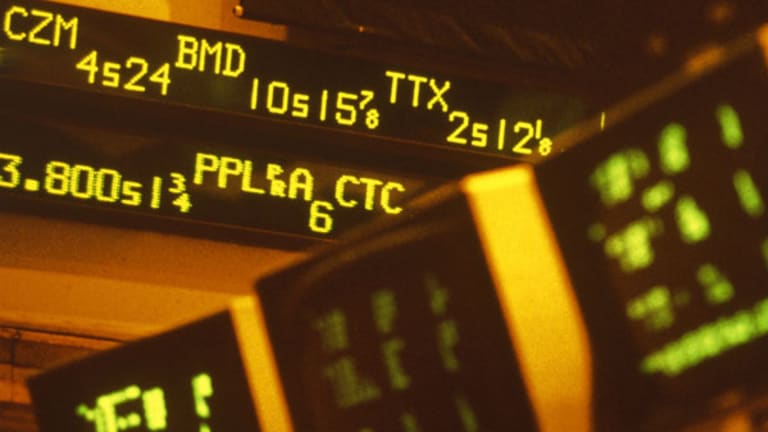 Breakout Stocks: Warner Chilcott, Alliance
Here 's a look at a number of stocks that are already breaking out or could be setting up to become solid breakout stock plays.
By Roberto Pedone
WINDERMERE, Florida (
) -- Trading stocks that are breaking out can be a very profitable strategy if done right. That's because once a breakout occurs that isn't a rally, it can signal that a major fundamental change is occurring in a stock or in the entire stock market. A major fundamental change will usually create new trends, and new trends will cause breakouts that will have lasting power. For these reasons alone, investors should always be paying attention to which stocks and sectors are breaking out.
Trading breakouts is not a new game on Wall Street. This strategy has been pioneered by legendary traders such as William O'Neal, Stan Weinstein and Nicolas Darvas
A breakout occurs when a stock makes a move through a significant level of support or resistance, which is usually followed by heavy volume and increased volatility. Wall Street players love to see an upside breakout because it demonstrates strength in the underlying asset as the price breaks above a level of previous resistance. An upside breakout can also take a stock to new highs, which will generate a lot of interest as the stock shows up on sophisticated software that scans for this type of action.
Here 's a look at a number of stocks that are already breaking out or could be setting up to become solid
If you're looking for a stock that is breaking out to new all-time highs, look no further than
Warner Chilcott
(WCRX)
. This company is a Bermuda-based specialty pharmaceutical company focused on the women's health care and dermatology segments of the U.S. pharmaceutical market.
This stock is just starting to break out to new all-time highs as the shares push through some previous resistance at around $29.25 a share. Helping to fuel this breakout was the company's announcement on Friday that it had completed a loan and debt offering needed to pay a special dividend of $8.50 a share. The dividend will be payable on Sept. 8 to shareholders of record as of Aug. 30.
This stock will most likely push higher into Aug. 30 as some of the bears who're short the stock cover their positions to avoid having to be on the hook for that big dividend. This should create some decent trading opportunities for the fast traders. However, once the dividend is paid out, the stock will probably fall around the same amount of the $8.50 payout.
If you think the strength in Warner Chilcott is real, than I would wait until after Sept. 8 to consider the stock from the long side.
Another stock that could be setting up to breakout is
VanceInfo
( VIT), an information technology service provider and an offshore development company in China. This company offers IT services including R&D services, enterprise solutions, application development and maintenance, testing, as well as globalization and localization.
Shares of VanceInfo are trading up more than 1% today as the stock nears some previous overhead resistance at around $28 a share. If the stock can manage to trade above that level it would mark a brand new all-time high. This is a great sign if you're long the stock because it means shares will have no previous resistance that could stall any further upside move.
If a breakout does happen on VanceInfo, and it isn't a false move, then this stock could be just beginning a much longer term uptrend. It's worth noting that the stock sold off a few points on Aug. 17 after company issued a tepid forecast for its third-quarter earnings. That selloff came on heavy volume of 2 million shares vs. the average three-month daily volume of over 540,000 shares. It's possible that many of the sellers that wanted out of the stock in the near term got out on that move.
Market players should also keep an eye on breakout stock play
Alliance Resource Partners
(ARLP) - Get Alliance Resource Partners L.P. Report
, a producer and marketer of coal, primarily to U.S. utilities and industrial users. This company operates nine underground mining complexes in Illinois, Indiana, Kentucky, Maryland and West Virginia.
As I write this, shares of Alliance Resource are surging above some previous overhead resistance at around $53.25 a share. This move marks an official breakout for the stock to new 52-week highs. Investors should now watch to see if the stock can close above $53.50 a share on above average three-month daily volume of around 98,000 shares. A move that demonstrates those strengths could mean that higher prices are in the cards in the near term.
In fact, it could mean Alliance is setting up to test its all-time high of $55.50 a share, which it hit in June 2008. A move above that level would be very bullish for this stock.
Alliance is not just an attractive breakout candidate it's also a great dividend stock play. Shares currently payout $3.24 a share and yield 6.10%, so you could capture some income and potentially more upside in this stock.
Tne final stock that could be setting up for a major breakout is
Knightsbridge Tankers
(VLCCF)
, a company engaged in the international seaborne transportation of crude oil and dry bulk cargoes.
Shares of Knightsbridge Tankers are approaching some previous resistance at around $19.34 a share. If the stock can manage to move above that level, and get above its 52-week high of $19.86, then it will be in official breakout territory. I would consider this move very significant because the stock won't see any significant resistance until it reaches $24 to $26 a share. That leaves room for some very nice upside on a breakout that has lasting power.
It's worth noting that on Aug. 12, the company reported an 88% surge in second-quarter revenue that came in at $26.3 million versus $13.9 million a year earlier. Profits also jumped with net income coming in at $13.4 million as compared to $3.1 million for the same period a year ago. This strong fundamental backdrop could help to push Knightsbridge into breakout territory.
This is also another breakout candidate that pays a great dividend with the company shelling out $2.00 a share at a 10.70% yield. The payment date is coming up on Sept. 7, so you could get a buying opportunity on any weakness into that event.
To see more breakout action in stocks such as
VMware
(VMW) - Get VMware, Inc. Report
,
Red Hat
(RHT) - Get Red Hat, Inc. Report
and
Banco Frances Del Rio SA
(BFR)
, check out the
portfolio on Stockpickr.
RELATED LINKS:
>>5 Stocks With Rising Expectations
>>Dividend-Boosting Stocks: Aflac, Torchmark
>>Top Ag Plays Off Fertilizer M&A Boom
Follow Stockpickr on
and become a fan on
Facebook.
At the time of publication, author had no positions in stocks mentioned.
Roberto Pedone, based out of Windermere, Fla., is an independent trader who focuses on stocks, options, futures, commodities and currencies. He is also an outside contributor to Beconequity.com and maintains the website Maddmoney.net, which he sold to Blue Wave Advisors in 2008. Roberto studied International Business at The Milwaukee School of Engineering, and he spent a year overseas studying business in Lubeck, Germany.
Stockpickr is a wholly owned subsidiary of TheStreet.com.