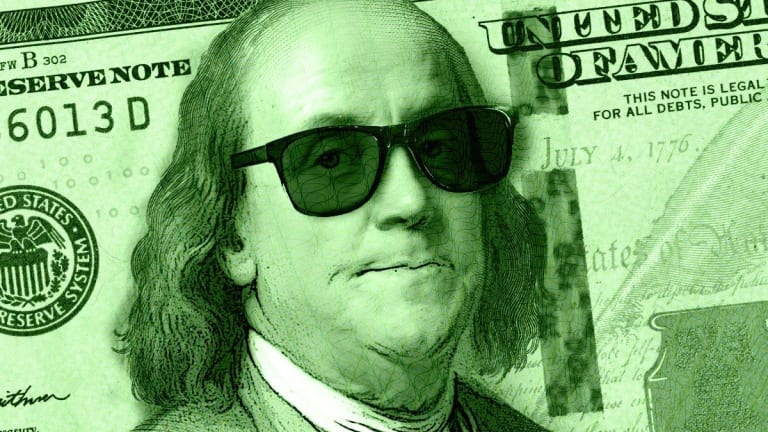 Booming U.S. Economy Generates a Dud Week for Investors
It's all about the outlook, made explicit during an earnings season that's featured several solid performances tempered by lowered expectations.
A booming economy should be good for stock market investors, except when it's not.
After the U.S. said it had its best quarterly economic performance in almost four years, investors in the biggest U.S. equities responded by bidding all three major indexes down for the day, leaving the Dow Jones Industrial Average undefined up about 1% for the week, the S&P 500 undefined ahead about six tenths of a percentage point and the Nasdaq Composite undefined down 1.1%.
The trouble with making investment decisions based on quarterly earnings results or GDP statistics is that they are backward looking numbers which, as the saying goes, may not be indicative of future performance. That seems to be what investors are signaling this week, even if President Trump is saying otherwise. He's been touting the stock market's performance a good deal less recently, insofar as the big indexes are about where they were the first week of February and have yet to regain their January highs.
"These numbers are very, very sustainable," the president said Friday regarding economic growth after the GDP report. "This isn't a one-time shot." He predicted that growth would reach the highest average annual rate in 13 years. The economy grew 3.5% in 2005 and 3.8% in 2004.
Alas, that rosy prediction isn't shared by economists who largely expected Friday's numbers to be very good. Going forward, not as good: The economy is projected to slow in the second half of the year and average 2.8% over the full 2018, based on a survey by FactSet. After that, the economy may decline to 2.4% growth in in 2019 and 2% in 2020.
There are lots of reasons to speculate that the leading cause of the second quarter expansion, the effects of last December's $1.5 trillion of tax cuts, has about run its course. For consumers, a report earlier this week from LendingTree noted that the recent uptick in personal spending was fueled with credit-card debt, rather than extra cash in consumers' wallets from the tax cut. Another cost of those tax cuts are federal budget deficits that have now ballooned the national debt past $20 trillion.
And as investors speculate about what effect the on-again, off-again trade war might have on sales, some of the jump in in second-quarter growth was due to higher exports, according to Standard & Poor's. The ratings firm's chief U.S. economist, Beth Ann Bovino, wrote in a report that some businesses may have been "frontloading" shipments "to get ahead of the storm of proposed tariffs from the dueling governments."
"Over the longer term, we see the U.S. economy shedding the growth of 2018 and 2019 and moving more towards the trend of 1.8%," Bovino wrote. "The boost from the tax cut will have filtered through without perhaps delivering the long-term, productivity-generating results expected by the White House."
It's all about the outlook, made explicit during an earnings season that has featured several solid performances tempered by lowered expectations. Boeing (BA) - Get The Boeing Company Report is a good example. The aerospace giant beat earnings and revenue expectations -- sales were $24.26 billion compared to expectations for $24.04 billion -- but its shares fell when it cut its defense operating margins and its full-year earnings guidance didn't meet analysts' expectations.
One problem, as some economists see it, is that Trump himself has spread so much uncertainty about his policies that businesses aren't willing to invest their tax savings in new plants, equipment and expansion plans. While the president's agreement earlier this week with the EU to resolve trade differences encouraged investors, the president's threatened tariff war with China has prompted concern from Wall Street to the Federal Reserve over its potential effect on growth.
That's leaving aside the troubles afflicting the chip and entertainment stocks, chiefly Facebook (FB) - Get Meta Platforms Inc. Report , which lost about $120 billion in market value on Thursday after the company missed on revenue expectations and gave guidance about future profits that caused investors to flee.
It may amount to more than just money, though, for Facebook investors and users in the months and quarters ahead. Surely some portion of the company's 2.4 billion users worldwide must be having second thoughts about participating in -- and paying for -- what amounts to a massive Big Brother scheme, not referring to the TV show. When a company's business model depends on monetizing the results of surveillance of its own customers, it's not unreasonable to think that a significant portion may decide to opt out. That's a bad sign for Facebook, whose model depends on gaining ever more users.
So hanging in there gets a little more complicated. Two big bellwethers will publish their earnings next week, Caterpillar (CAT) - Get Caterpillar Inc. Report and Apple (AAPL) - Get Apple Inc. Report , the last of the FANGS to report. Caterpillar's investors will see whether the company walks back its controversial remarks last quarter that results had reached a "high-water" mark, and Apple will be looked for to provide some hope for tech stocks that have suddenly revealed themselves, improbably, to be subject to the forces of gravity.
With reporting by Bradley Keoun and Anders Keitz.
Apple and Facebook are holdings in Jim Cramer's Action Alerts PLUS member club. Want to be alerted before Jim Cramer buys or sells AAPL or FB? Learn more now.