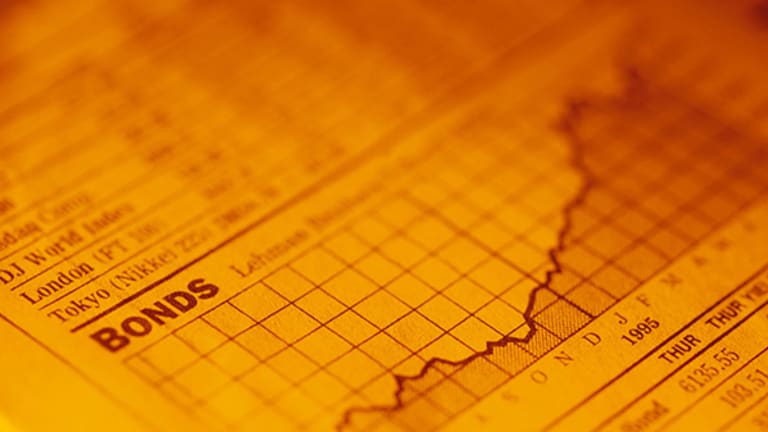 Bond Rally Continues Thanks to Brexit
There's nothing like the threat of recession to push bond prices up.
As European Union leaders gather at a summit without the U.K. in Brussels on Wednesday, investors can be sure of one thing in all this Brexit-related drama: the bond rally looks set to continue.
The president of the European Central Bank, Mario Draghi, said ahead of the EU summit that Brexit could shrink the GDP of the eurozone by around 0.5% over the next three years, according to a document seen by Bloomberg reporters.
As investors already know, there's nothing like the threat of recession to push bond prices up because markets flee to the safety of bonds at the same time as central banks purchase them as part of their quantitative easing efforts.
"More accommodation by central banks means that gains in bonds over the past few days should prove lasting for quite some time and provide a base for even greater gains should new shocks jolt us in the next few months," analysts at Societe Generale wrote in a note to investors Wednesday morning.
Not just government debt, but corporate debt is likely to benefit as well. Although stock markets took a big hit following the referendum, they are beginning to calm down somewhat and some investors are starting to bottom fish (prematurely, quite possibly).
But the high-quality corporate debt market is different than the equity market, especially that in eurozone corporate debt. There a rally would be justified.
"Forgotten amid Brexit is the impressive speed at which the ECB have begun the Corporate Sector Purchase Program," analysts at Bank of America Merrill Lynch said.
They calculated that the ECB is buying around 10 billion euros ($11 billion) a month in corporate credit, partly because of scarcity of eurozone government bonds it can purchase. Around 60% of German Bunds currently have a yield below the ECB's negative deposit rate of -0.4%, which also acts as the floor for the yields of the bonds it is willing to buy.
The analysts see the ECB's corporate bond purchasing program acting "as a very effective pain killer" for the credit markets at this volatile times, and say that they are tempted to "nibble" on eurozone bonds, but not on bonds denominated in pounds, which are still likely to suffer from the volatile exchange rate.
While for the short term the rising bond prices and conversely falling yields could offer investors some sort of certainty that at least some capital gains are to be found somewhere in the financial markets, for the longer term they complicate things even more.
The world was only beginning to recover from the regime of extremely low interest rates that has hurt savers across the globe and heightened inequality between those asset-rich, who only became richer, and those relying on income, who became poorer.
Central banks may try to keep the economies from falling back into recession by maintaining accommodative monetary policies across the world, but this is getting to the point where in fact it hurts rather than helps.
Negative interest rates are spooking some savers into saving even more of their income, restricting consumption, while entrepreneurs and investors are holding back on taking risks as they cannot even have a rough estimate of their future returns on investment.
"If the populist vote is being stoked by wealth inequality, then central bank largesse is only complicating matters," the analysts at Bank of America Merrill Lynch pointed out. "The irony of Brexit is that the world has just been handed another dose of negative rates."
Here are more articles from Real Money on the intricacies of Brexit:
Editor's Note: This article was originally published at 8 a.m. EDT on Real Money on June 29.