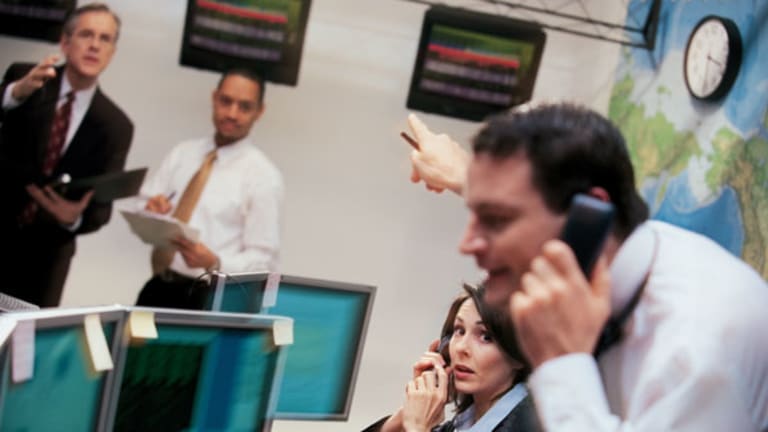 Bojangles Slips After First Earnings Report Since IPO
Quick service restaurant Bojangles (BOJA) is falling after its first earnings report since becoming a public company in early May.
NEW YORK (TheStreet) -- Quick service restaurant Bojangles (BOJA) - Get Bojangles', Inc. Report is falling after its first earnings report since becoming a public company in early May.
WHAT'S NEW: Charlotte-based chicken-and-biscuit chain Bojangles reported first quarter earnings per share of 17c, beating analysts' expectations of 15c, on revenue that increased 19.2% from the year ago quarter to $114.6M, which was also higher than analysts' estimates of $114.48M. The restaurant chain, which opened 16 new restaurants during the quarter, saw its system-wide comparable restaurant sales increase 7.9% compared to the first quarter of 2014. For fiscal year 2015, the company expects to report revenue of between $480M-$487M. Analysts were forecasting revenue of $486.6M. Bojangles guided for FY15 system-wide comparable restaurant sales growth of low to mid-single digits. In FY15, the company expects the opening of 50-57 system-wide restaurants, consisting of 22-25 new company-operated restaurants and 28-32 new franchised restaurants. Operating income for the chain decreased 7.2% to $9.5M in Q1 down from $10.2M in the year-ago quarter primarily due to a $2.7M increase in costs related to its initial public offering.
ANALYST OPINION: Shares of the chain dipped on June 2 after multiple analysts initiated coverage with opinions differing. Stephens' Will Slabaugh initiated coverage of Bojangles with a $26 price target and an Equal Weight rating, noting that as the company expands outside of its North and South Carolina base, unit economics could potentially deteriorate as new locations may not enjoy the same level of built-in brand awareness.
WHAT'S NOTABLE: The market has seen a number of restaurant chain IPOs recently. In its first day of trading today, Wingstop (WING) - Get Wingstop, Inc. Report, another entry into the sector, spiked approximately 61% to $30.50 from its IPO price of $19. High profile, New York based burger chain Shake Shack (SHAK) - Get Shake Shack, Inc. Class A Report debuted in January and is trading above $76 per share after having its IPO priced at $21 per share. Other IPOs in the space include California burger chain Habit Restaurants (HABT) - Get Habit Restaurants, Inc. Class A Report and Zoe's Kitchen (ZOES) .
PRICE ACTION: Bojangles had its IPO price at $19 per share on May 8 and opened at $26.55 per share. Shares of Bojangles are down about 1.5% to $25.44 in midday trading, but off their earlier low of $24.35.
Reporting by Peter Bonventre.
The Fly
is a leading digital publisher of real-time financial news. Our financial market experts understand that news impacting stock prices can originate from anywhere, at any time. The Fly team scours all sources of company news, from mainstream to cutting-edge, then filters out the noise to deliver short-form stories consisting of only market moving content. Follow @theflynews on Twitter. For a free trial, click