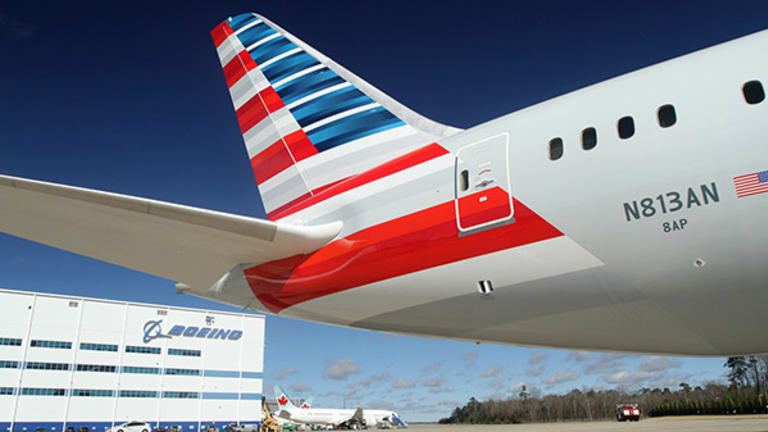 Shares of Boeing (BA) - Get Boeing Company Report are sliding after Bank of America Merrill Lynch analyst Ronald Epstein downgraded the stock to Underperform, a rating equivalent to "sell," as he believes the company will not generate the forecasted amount of $29B in order to offset the deferred production costs for its 787 jet. Boeing is scheduled to report first quarter results on April 27.
DISAPPOINTING CASH RECOVERY: BofA Merrill Lynch's Epstein downgraded Boeing to Underperform from Neutral, as he expects the company's 787 program to only generate $14B in cash by the first quarter of 2022, compared to Boeing's forecast of $29B in cash by from the program by that time. The current program accounting block for the 787 is 1,300 aircraft and the company has already delivered 393 787s, which leaves 907 undelivered units, the analyst told investors. Epstein said Boeing needs to generate at least an average unit profit of $30M for the 907 remaining units in order to burn off the 787 deferred production costs that reached $28.5B as of last year's fourth quarter. However, he believes a $16M average unit profit is more likely. Epstein added that he expects Boeing to take a charge on the 787 program and/or extend the block size. The company may offset its working capital requirements by squeezing its suppliers and increasing its accounts payable on the balance sheet, Epstein noted. Epstein raised his price target on the shares to $125 from $115.
PRICE ACTION: In morning trading, Boeing's shares slipped about 2% to $130.10.
OTHERS TO WATCH: Boeing's suppliers include Spirit AeroSystems (SPR) - Get Spirit AeroSystems Holdings, Inc. Class A Report , Triumph Group (TGI) - Get Triumph Group, Inc. Report , Astronics (ATRO) - Get Astronics Corporation Report , United Technologiesundefined , Honeywell (HON) - Get Honeywell International Inc. (HON) Report , Alcoa (AA) - Get Alcoa Corp. Report and GE (GE) - Get General Electric Company (GE) Report .
Reporting by Jessica de Sa-Mota.
Exclusive Look Inside:
You see Jim Cramer on TV. Now, see where he invests his money and why GE is a core holding of his multi-million dollar portfolio.
Want to be alerted before Jim Cramer buys or sells GE? Learn more now.

The Fly
is a leading digital publisher of real-time financial news. Our financial market experts understand that news impacting stock prices can originate from anywhere, at any time. The Fly team scours all sources of company news, from mainstream to cutting-edge, then filters out the noise to deliver short-form stories consisting of only market moving content. Follow @theflynews on Twitter. For a free trial, click