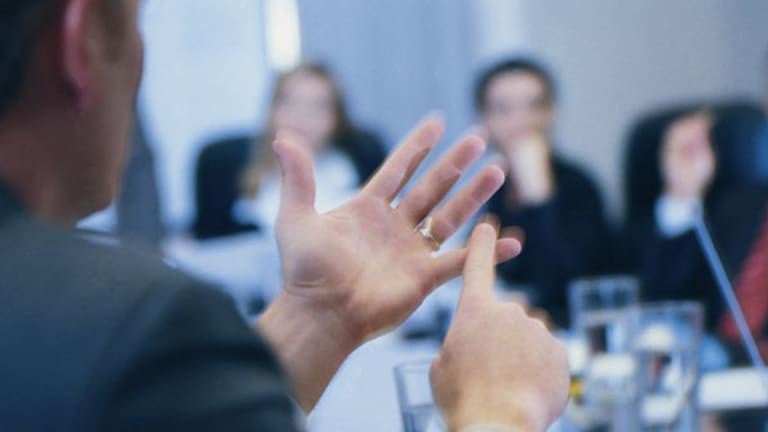 Boeing's Solar Pilot Seeks Safe Landing
Boeing sets its sights on solar. And Russ Jones, director of the aerospace giant's Spectrolab, is piloting the effort.
Editor's note: This story was part of TheStreet's 10-part Top Business Leaders of Tomorrow series.
NEW YORK (
) -- The oldest solar cell manufacturer in the world is coming down to earth.
In the case of
Boeing's
(BA) - Get Boeing Company Report
Spectrolab -- which for more than 50 years has been the dominant force in the niche solar market of powering space satellites -- coming down to earth means placing a bet on its land-based solar business supplanting the legacy space satellite market within the next few years. Engineering the effort for Boeing is Russ Jones, director of the Boeing solar power affiliate .
Boeing's Spectrolab has boldly gone where no other solar cell maker has gone before -- into zero G -- but whether it can become a rising star in terrestrial solar comes back to the fundamental debate on cost versus efficiency.
More Top Leaders: IBM's Steve Mills >>
Low-cost has the upper hand on high efficiency among solar companies, and that's a trend that has only been increasing in the past few years, as crystalline silicon-based panel manufacturers from China, like
Trina Solar
(TSL)
-- which plans to be at or under $1 in manufacturing costs in 2011 -- and U.S. low-cost leader
First Solar
(FSLR) - Get First Solar, Inc. Report
battle for supremacy in the solar market.
The cost versus technological efficiency debate also revolves in the orbit of the classic mantra of "American excellence," an idea with which Boeing is not unfamiliar.
In the case of solar, American excellence has been reformulated as a drive to engineer low-cost solar cells and panels. First Solar's thin film technology may be among the least efficient in the market, but it's the lowest cost, and it's this formula that has excelled in solar. For solar companies with high efficiency solar cells, the reaction from investors has increasingly been 'great technology, but cost is the more important story."
One need look no further than the stock performance of
SunPower
(SPWRA)
, the manufacturer of the highest efficiency cell among the pure-play solar companies, or
Evergreen Solar
(ESLR)
, currently struggling to find a recapitalization plan that won't further dilute investors in its under-$1 shares. Both companies have great solar technology, and both have watched the market punish their stock price over the past year.
Indeed, when it comes to excellence in manufacturing efficient solar cells, Boeing's Spectrolab is in its own solar system. With its new solar cell reaching above 39% efficiency, and plans to have a plus-40% efficiency solar cell available by the second quarter of 2011 -- though those plans were already pushed back once from an expected 2010 introduction -- the Boeing solar power affiliate will set the standard in commercially produced solar cell efficiency.
Yet if excellence is measured in how low one can take manufacturing costs versus the Chinese and First Solar, it might be easy to conclude that Spectrolab's Jones is dreaming when it comes to taking on the land-based solar companies, even with the "best cell" on the market.
Indeed, some Silicon Valley-based privately held solar companies that once had big dreams about IPO riches based on their patented technologies for achieving solar cell efficiency, are now waving the white flag, shifting to a course of selling their technology to the Chinese as away to improve the efficiency of the low-cost leaders. It's technical excellence by the way of capitulation to the dominance of the low-cost leaders.
Nevertheless, the Boeing Spectrolab executive thinks it's time to remind the world that American excellence doesn't need to play second-fiddle to low-cost Asian manufacturing. It's no easy task, and it's predicated on significant adoption of an approach to land-based, large-scale solar power known as concentrated photovoltaic (CPV).
The argument for CPV is straightforward. It's most advantageous in high direct-source sunlight areas, and these are the areas where solar is going to first be economically competitive even without national feed-in tariff subsidies. The southwestern U.S., the Iberian peninsula, Northern Africa -- where the massive Desertec solar project has dreams of powering Europe -- and South Africa are all areas in which CPV players believe the opportunity is growing and will only grow larger as grid parity becomes a reality for solar.
"Generally, solar still needs some help from incentives around the world, but we're rapidly closing in on the day when that's not necessary," Jones says.
This may be true, but in the foreseeable future, it may only be relevant for some select high sun areas -- even conservative solar consultants think that within two years grid parity is possible in markets with lots of sun and high electricity prices, such as the Iberian peninsula.
The Spectrolab executive says that the race to grid parity, and the increasing focus on large-scale solar installations from countries including the U.S., is aligning well with the evolution of the CPV technology.
CPV has had trouble breaking into the market because of the immaturity of its systems approach. There had been a lack of demonstrated open-field trials that flat panel solar had demonstrated over a period of 30 years. Now, CPV customer companies of Boeing's Spectrolab are on the cusp of eliminating this issue, having had substantial field demos over the past few years.
As the large-scale, utility-sized solar power market develops, the opportunity to work with project developers on CPV is an approach that Boeing's solar power subsidiary hopes will be a game-changer. Spectrolab isn't alone, either, among the high efficiency solar cell players targeting CPV as a way to turn the tide back in favor of efficiency and away from the dominance of the low-cost model as the only factor. In fact, when SunPower hosted its recent annual investor day, it referred to CPV as a potential game-changer for its business, too.
"We want to be a major supplier of solar cells for the CPV market and we believe the CPV market will have a substantial place in the overall PV market," Jones said. "I don't envision ever being a player in the residential rooftops market. Our primary market is open-field utility scale solar, and it's going to be a big market in the next few years. We think CPV is very well suited to take advantage of that trend."
Spectrolab officials also noted that by contributing to the race toward grid parity through the development of large-scale, utility-level solar projects, it will have an impact on the residential electricity market, even if its solar cells are not featured on rooftops. Boeing's solar power affiliate contends that it's very likely residential customers will purchase green energy produced from Spectrolab CPV technology through the conventional grid system within the next five years.
Boeing has been investing in this premise over the past few years, putting equipment in place to be prepared for the CPV capacity boom. "Spectrolab and Boeing have been making substantial investments in the last three years to scale up and be ready for CPV as a major market. We perceive our opportunity in the coming year is in the 100 MW to 200 MW range," Jones said.
In terms of production, Boeing's Spectrolab shipped two millions cells (equivalent to between 30 megawatts and 40 megawatts) this year. Depending on some project time lines, Spectrolab expects to ship 5 million to 10 million cells next year (equivalent to 100 MW to 200 MW). "We expect to grow rapidly as third-party concentrator modules and systems obtain large scale project financing," Jones said.
Yet to put even that level of growth in solar perspective, the largest Chinese crystalline silicon module makers are targeting capacity in the range of 2 gigawatts in 2011.
The Boeing solar power affiliate thinks it's just a matter of a few more years until there is a new model of the solar system.
"We have aspirations of reaching the multi-gigawatt level in a few years," Jones says, adding, "What we need in the CPV industry is the system to be treated on a level footing, and we can win on cost. We're at the point now where we think utilities and investors are gaining confidence that CPV can succeed."
Winning on cost, though, isn't as simple as the Boeing Spectrolab executive makes it seem. The solar market is dominated by the cost per watt economic model: whichever companies can manufacturer at the lowest cost per watt win, or at least, have been winning.
Jones concedes that this industry dynamic is a challenge, but he thinks it's also an example of misguided thinking about solar economics.
"Ultimately, cost is what's important. Yet I also want to say that there is a general tendency in the industry and the media to talk about cost per watt, but that's not the right number. What you really need to know is cost-per-KW-hour of electricity delivered. Cost per watt might be higher than fixed orientation flat panel, but it delivers electricity in KW hours at lower price," the Spectrolab executive contends.
The simple way of looking at the debate over cost is this: if you take cost per watt times capacity factor, that's cost per KW hour. The capacity factor calculation takes into account variability of sun resource, things like clouds and rain and nighttime and the length of day. It also takes into account temperature losses due to cells operating in warmer than expected conditions.
The short answer qualitatively is that CPV systems are a little bit more expensive in dollar per watt terms, but have a substantially greater capacity factor, double the capacity factor of a typical fixed orientation panel, according to Spectrolab.
"Lots of people have looked at fundamental cost drivers and limitations of solar power systems and concluded that it can be cheaper on the basis of KW hours delivered. It's an immature market, but potential is there to replace traditional PV and solar thermal," Spectrolab's Jones says.
Jones doesn't have an issue with the status quo among the crystalline silicon pack in solar. The Spectrolab executive just thinks that he's got a better product and will ultimately gain a fair shake in the argument about cost. "I like and believe low-concentration silicon solar can be successful, but what we are doing will deliver substantially higher efficiency per square meter of aperture, and that has benefits in terms of material costs and land use," Jones says.
Whether the Boeing solar power affiliate has its head in the clouds about the opportunity in the terrestrial solar market will remain open to debate. There is no sign of modesty when it comes to global ambitions, or lessening of market share rapaciousness from the Chinese solar module makers. If anything, 2011 is shaping up to be a year when more low-cost solar product will be churned out than ever before, with capacity expansion plans reaching well into the tens of gigawatts for the Chinese market players.
Spectrolab's Jones conceded that when it comes to timing greater adoption of CPV in the land-based solar market, it's still far from an exact science. "It's a moving target in terms of estimating CPV capacity, because we are trying to break into a market with more established players, and it can be volatile year to year."
For the time being, it's fair to say that when it comes to the solar market dominated by commoditized, as opposed to highly efficient product, Boeing, the aerospace giant, is still orbiting. The optimal window of re-entry to the terrestrial solar market for Spectrolab may yet be a few solar system revolutions into the future.
-- Written by Eric Rosenbaum from New York.
RELATED STORIES:
>>Solar Stock Gainers: First Solar, GT Solar
>>Solar Outlook 2011: New Year, Same Old Euro
>>Goldman Says Sell Jinko Solar
>To contact the writer of this article, click here:
Eric Rosenbaum
.
>To follow the writer on Twitter, go to
.
>To submit a news tip, send an email to:
.
Top Business Leaders of Tomorrow:
United Guaranty's Eric Martinez