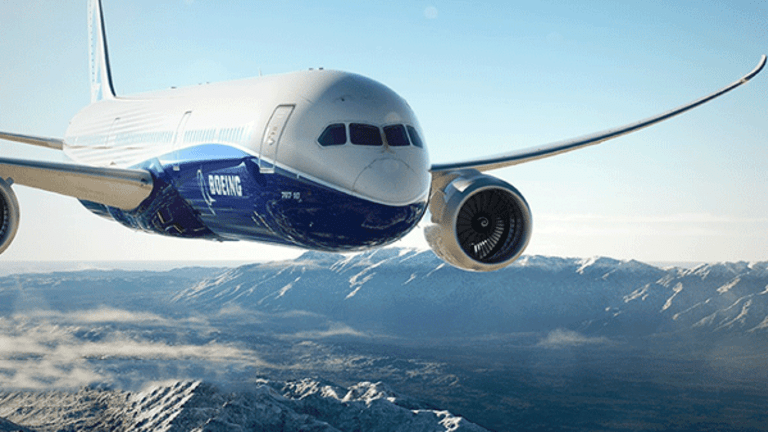 Boeing Tops Profit Estimates, Lifts 2017 Earnings Guidance
Boeing posts stronger-than-expected first-quarter profit and increases its full-year profit guidance thanks in part to a lower anticipated corporate tax rate.
Boeing (BA) - Get Boeing Company Report posted stronger-than-expected first-quarter profit and increased its full-year profit guidance thanks in part to a lower anticipated corporate tax rate.
Boeing said its first-quarter earnings came in at $2.01 a share, well ahead of the $1.91 estimate compiled by FactSet. Revenue for the period was $21 billion, the company said, modestly shy of the $21.33 billion FactSet consensus. Boeing also lifted its full-year core earnings guidance to between $9.20 and $9.40 a share for a previous estimate of $9.10 to 9.30.
"With a sharp focus on performance and productivity, our team delivered another quarter of solid financial results, including year-over-year earnings growth and strong operating cash flow," said CEO Dennis Muilenburg. "In turn, we continued to position Boeing for growth with 2 investments in new products and services, innovation, and our people, while again demonstrating our commitment to return significant cash to our shareholders."
"We also achieved major milestones, including the certification of the new 737 MAX 8 and first flight of the 787-10 Dreamliner, and we captured a $3.4 billion contract award for 268 Apache helicopters," he added. "We remain on track to achieve our full-year revenue, earnings and cash flow targets as our teams deliver on our large and diverse order backlog. As we do so, we're focused on accelerating productivity, quality and safety improvements, strengthening execution on development programs, and capturing new business opportunities."
Boeing added that full-year revenue, margin, and operating cash guidance targets were reaffirmed, with the latter held at around $10.75 billion for the year. 
Boeing said earlier this month that it delivered 169 jetliners during the first three months of the year, down from 176 over the same period in 2016. Deliveries of Boeing's single-aisle 737 fell to 113 from 121 while its twin-aisle 777 jetliner deliveries fell to 21 from 23. However, its key 787 Dreamliner saw deliveries rise to 32 from 30.
The company said it expects to deliver between 760 and 765 commercial aircraft in 2017, an increase from 748 in 2016.
Boeing shares closed at an all-time high of $183.51 in New York on Tuesday after rising 0.8% on the session, extending their year-to-date gain to 17.87% against a 6.24% advance for the Dow Jones Industrial Average.