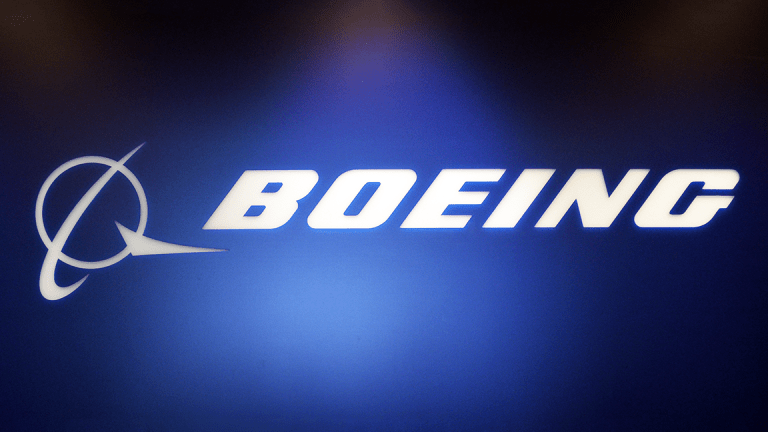 Boeing's Earnings Soar, Shares Slip as Margins and Profit Guidance Disappoint
The Chicago-based aerospace and defense company posted adjusted earnings of $3.33 per share on revenue of $24.26 billion.
Tough crowd.
Boeing Co. (BA) - Get The Boeing Company Report slipped on Wednesday, July 25, as it cut its defense operating margins and its full-year earnings guidance didn't meet analysts' expectations, even though the company reported strong second-quarter results and raised revenue guidance.
The Chicago-based aerospace and defense company posted adjusted earnings of $3.33 a share on revenue of $24.26 billion. Those results topped Wall Street's estimates of earnings of $3.25 a share on revenue of $24.04 billion.
Boeing raised its full-year revenue guidance by $1 billion to a range of $97 and $99 billion, driven by defense volume and services growth. Boeing Chief Executive Officer Dennis Muilenburg told TheStreet's Brian Sozzi at the end of May that he was bullish on U.S. defense spending.
"Continued services growth, increasing defense volume and strong performance of our commercial business, as well as our positive market outlook, give us the confidence to raise our revenue and Commercial Airplanes margin guidance for the year," Muilenburg said in a statement.
The company is coming off a successful Farnborough Airshow, where it announced a total of $98.4 billion in orders and commitments for commercial airplanes and $2.1 billion in commercial and defense services orders and agreements.
Boeing maintained its full-year adjusted earnings outlook of $14.30 to $14.50 a share, which fell short of forecasts calling $14.53 a share, according to analysts surveyed by FactSet. The company also reiterated its cash flow guidance of $15 to $15.5 billion, and the lack of a higher outlook "is likely to weigh on BA today despite better-than-expected [free cash flow of $4.3 billion] in the quarter," J.P. Morgan analyst Seth Seifman said.
The company trimmed its full-year operating margin for its defense, space and security unit to 10% to 10.5%, compared with its previous guidance of 11%. The second-quarter operating margin was 9.3%, "primarily reflecting KC-46 Tanker cost growth of $111 million, partially offset by solid execution and favorable mix," Boeing said.
Shares of Boeing fell 1.9% to $351.46 at 2:15 p.m. ET.
The company's commercial airplanes business reported revenue of $14.48 billion, up 1% year over year, as deliveries jumped 6% to 194.
The defense, space and security unit's revenue grew 9% to $5.59 billion. Management raised revenue guidance for the segment to a range of $22 billion to $23 billion, up from $21.5 billion to $22.5 billion.
Muilenburg said President Donald Trump's Space Force and his administration's overall push back into space exploration could be a huge opportunity for Boeing.
"I am very encouraged by what I see is the administration leaning forward on investing in all dimensions of space, not just Space Force but more broadly, the work going into space exploration and the re-invigoration of that entire ecosystem," Boeing CEO Dennis Muilenburg told TheStreet on a post-earnings media call Wednesday.
Muilenburg also has big plans for Boeing Global Services, which recently celebrated its first anniversary since its launch. The unit saw revenue jump 15% to $4.09 billion. Boeing raised its revenue guidance for the segment to a range of $15.5 to $16 billion, up from its prior outlook of $15 to $15.5 billion.
"We continue to see that as a very attractive growth market for us, and we set a high-bar target of growing that to be a $50 billion-a-year business over a five to 10-year timeframe," Muilenburg said on the call.
Muilenburg intends to build the business with an integrated organic and inorganic investment strategy, primarily driven by organic investments.
"But where it makes sense we'll compliment [organic investments] with inorganic investments," Muilenburg said. "We clearly see acquisitions as a bolt-on compliment to what is primarily an organic investment strategy."