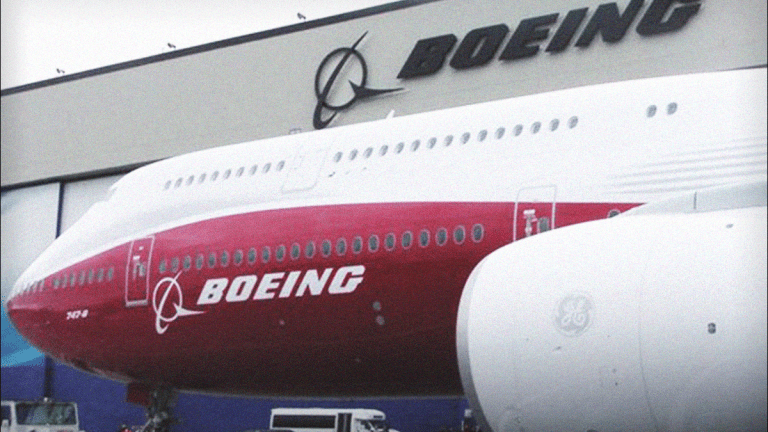 Boeing Shares Slide; Analysts Cut Ratings After 737 MAX Revelations
At least two firms downgraded their ratings and lowered their price targets in light of recent revelations about the Chicago aerospace giant's grounded 737 MAX jetliner.
Boeing (BA) - Get Free Report shares were falling 4.4% to $329.05 Monday after analysts from at least two firms cut their ratings and price targets in light of recent revelations about the Chicago aerospace giant's grounded 737 MAX jetliner.
Credit Suisse analyst Robert Spingarn cut Boeing to neutral from outperform and pared his price target to $323 from $416 after 
publication of instant messages
by an ex-senior test pilot at the company that he "unknowingly" misled safety regulators about a 737 MAX control system.
"We can no longer defend the shares in light of the latest discoveries, [which] significantly increase the risk profile for investors," Spingarn said in a note to investors.
The MAX jet was involved in two fatal crashes, one over Ethiopia and another earlier one over Indonesia, before getting grounded worldwide.
In the messages, Mark Forkner, a technical pilot involved in developing training and manuals, had said that the MCAS flight system was "running rampant" while undergoing testing in a flight simulator, according to an Associated Press report. AP's report added that the pilot said he "basically lied to the regulators (unknowingly)."
Boeing said on Sunday that it regretted concern caused by publication of the messages. The New York Times first reported over the summer that in March 2016 Forkner had emailed FAA officials asking that MCAS be removed from the pilot-training manual.
Spingarn said that he believed the path to return to service for 737 Max "could be obstructed as the messages may shatter the fragile trust" between regulators and Boeing. He also noted that the company is under criminal and civil investigations.
Separately, UBS analyst Myles Walton downgraded Boeing to neutral from buy with a price target of $375, down from $470.
Watson said his working thesis had been that the failures on the 737 MAX development centered on fault-intolerant design compounded by poor assumptions of pilot response.
But source material provided to Congress and the Federal Aviation Administration on Friday "heightens the potential of incomplete disclosure," Walton tells investors in a research note.
The Wall Street Journal reported that investigators for the House Transportation and Infrastructure Committee looking into the design and certification of the 737 MAX have received details of a three-year-old internal Boeing survey. That survey showed that roughly one in three employees who responded felt "potential undue pressure" from managers regarding safety-related approvals by federal regulators across an array of commercial planes.
Boeing was the Dow's biggest loser on Friday, closing down 6.8% to $344.
Don't let this market haunt you and join Jim Cramer's Investment Club, Action Alerts PLUS.
Click here to sign up
!