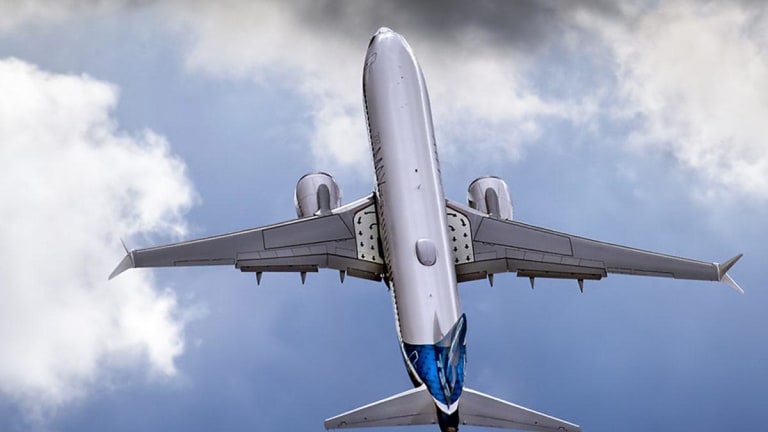 Boeing Shares Jump After Plane Maker Pegs January 2020 Return for 737 MAX
The world's biggest plane maker said it could bring the 737 MAX back into service early next year.
Boeing Co. (BA) - Get Boeing Company Report shares jumped Monday after the world's biggest plane maker said it could bring the troubled 737 MAX back into service early next year.
The Chicago aerospace giant said in a statement that it expected the grounded jet, which has been out of service since the spring, to return to commercial duties by January 2020, but it could resume deliveries in December. 
"Boeing continues to target [Federal Aviation Administration] certification of the MAX flight-control software updates during this quarter," Boeing said.
"Based on this schedule ... the resumption of MAX deliveries to airline customers could begin in December, after certification, when the FAA issues an Airworthiness Directive rescinding the grounding order."
"In parallel, we are working towards final validation of the updated training requirements, which must occur before the MAX returns to commercial service, and which we now expect to begin in January," Boeing said,
Boeing shares were marked 4.7% higher in active trading Monday at $367.31 each, a move that boosts the stock's six-month gain to around 10.3% and adds 117 points to the Dow Jones Industrial Average. 
The shares have been gaining steadily since the company on Wednesday posted weaker-than-expected third-quarter earnings but said it still expected the 737 MAX aircraft to receive approval from at least one major regulator before the end of the year.
Boeing said it would increase costs related to the grounded 737 MAX by around $900 million, taking the total to around $3.6 billion.
But it not only expects a return to service in the fourth quarter, it sees production rising from 42 planes a month to 57 planes per month by the end of 2020.
The 737 Max has been grounded since March after two crashes less than six months apart killed 346 people. Investigators have linked the crashes to failures of the plane's MCAS flight software system.
The planemaker has the software to ensure that the system can't be activated repeatedly and that it no longer has a single point of failure. MCAS -- short for Maneuvering Characteristics Augmentation System -- was triggered by erroneous sensor readings in both crashes.
"Our top priority remains the safe return to service of the 737 MAX, and we're making steady progress," CEO Dennis Muilenburg said Oct. 23.
"We've also taken action to further sharpen our company's focus on product and services safety, and we continue to deliver on customer commitments and capture new opportunities with our values of safety, quality and integrity always at the forefront."
Boeing said overall aircraft orders fell by more than two-thirds, to 62 units for the third quarter, and trimmed its forecast for 787 Dreamliner production to 12 planes from 14, beginning in late 2020, thanks in part to U.S.-China trade tensions.
The aerospace company still has an order backlog of $470 billion, thanks to net orders of $16 billion in the third quarter.
But the continued difficulties in sorting out safety issues with the grounded 737 tipped free cash flows into negative territory, with Boeing pegging the figure at -2.42 billion, down from +$4.56 billion for the same period last year.