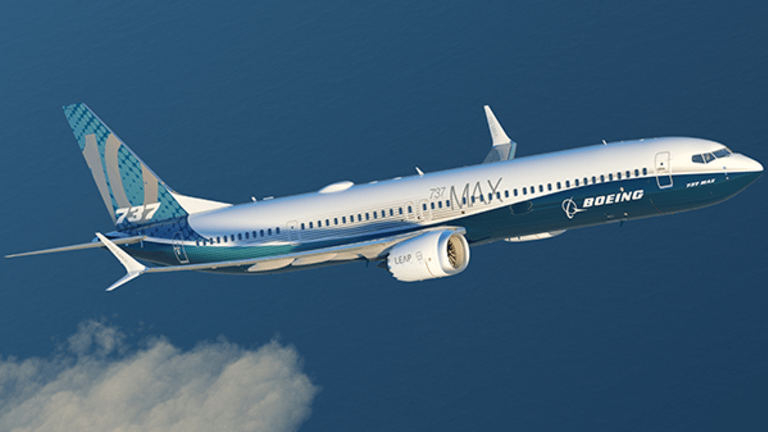 Boeing's Stock Just Hit a Milestone It Had Never Reached Before in More Than 100 Years
A nice round number it hit.
As Boeing Co.  (BA) - Get Report rolled out one more variation of the 737 at the Paris Air Show, after selling more than 9,500 of the world's most popular aircraft so far, the company's stock hit a milestone it had never reached before -- $200 a share.
In 2013, Boeing shares hit $100 for the first time. In 2016, Boeing celebrated its 100th birthday. On Monday, Boeing shares hit an all-time high of $199.47 before closing at $199.08.
Early Tuesday afternoon, shares traded up 0.5% to $200.15.
Jim Cramer said Monday, "Boeing is just going up and up and up.
"If it does pop to 200, I would be a short-term seller," Cramer said. "Hedge funds like to buy ahead of the Paris Air Show and then they sell it on any news."
Long-term, he said, "Just own it."
In Paris on Monday, Boeing introduced the 737 MAX 10 as a competitor to the Airbus A321 and said it had 240 orders from 10 customers.
On Tuesday, United Airlines said it will convert 100 of its current 737 MAX orders into MAX 10 orders, making United the largest single MAX 10 customer.
Other MAX 10 orders announced Tuesday were leasing company Aviation Capital Group with 20 orders, Chinese airline Okay Airways for eight and China Aircraft Leasing Group for eight.
With the fuselage stretched five-and-a-half feet beyond the length of the 737 MAX 9, the MAX 10 can carry between 180 and 230 passengers. The MAX 9 typically seats 178. Boeing said the new airplane will have the lowest seat mile cost of any single-aisle airplane ever produced and will be available in 2020.
"Airlines wanted a larger, better option in the large single-aisle segment with the operating advantages of the 737 MAX family," said Kevin McAllister, CEO of Boeing Commercial Airplanes, in a prepared statement.
Despite the share price gain and the multiple announcements, not everyone is a fan.
"Do we see the 10 as a competitor of the A321? I think if you look at the numbers, the answer is no," said Airbus's chief salesman, John Leahy, at the air show, according to wire service reports.
He said the A321 has 10 more seats and 1,000 miles more range. "Put that all that together and we think the 10 is a competitor to the 9."
Aerospace consultant Addison Schonland said in an email, "Leahy is being cute and also rather closer to the truth. The MAX 10 is another compromise because the MAX 9 hasn't been the winner it is supposed to be.
"I think the improvement doesn't have a big enough delta," Schonland said. "The A321 is still more capable in some ways."
Vertical Research Partners analyst Rob Stallard wrote in a note that 66 MAX 10 orders represented conversions of existing MAX orders.
"Boeing claims that the new model has a 5% cost advantage versus the Airbus A321, but we're not sure that the definitions in this comparison reflect real world airline operations," he wrote.
Updated from 8:52 a.m. ET on Tuesday, June 20
Visit here for the latest business headlines.
This article is commentary by an independent contributor. At the time of publication, the author held no positions in the stocks mentioned.