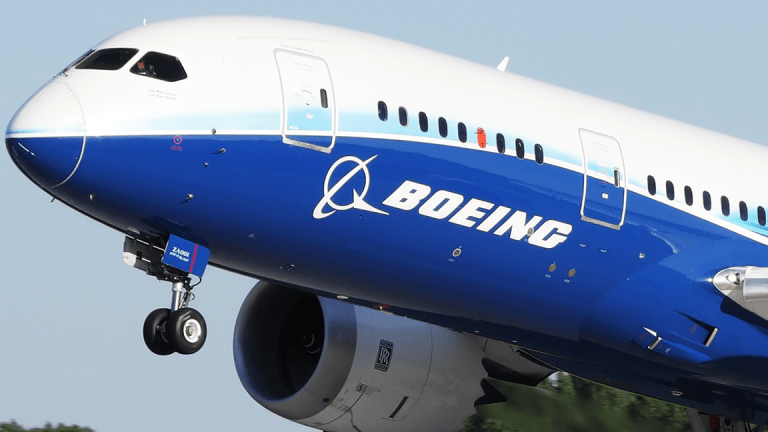 Boeing Sees Demand Take Off, Deliveries Set Yearly Record
737 jets and Dreamliner aircraft drive demand, says the aircraft maker.
737 jets and Dreamliner aircraft drive demand, says the aircraft maker.
Aircraft and defense defense company Boeing Co.  (BA) - Get Report said Tuesday that business was flying after it reported record strong demand for jets and net orders valued at $143.7 billion.
Boeing shares rose 3.8% to $340.53 in trading on the New York Stock Exchange following the news.
Boeing said it delivered 69 of its 737 airplanes last month alone, and set a new yearly record of 806 deliveries in 2018. Last year's number was the previous company record at 763 deliveries.
The company also reached 893 net orders, after it completes 203 orders for planes in December.
CFRA Research upgraded its view on Boeing to a "strong buy" from a "buy."
"Overall, we think Boeing is taking market share from its main competitor Airbus and is well-positioned with strong commercial and military demand," said CRFA's Jim Corridore in a statement.
Having a seven-year backlog, Boeing had raised production of its 737 aircraft six months ago to 52 airplanes per month. Part of the demand for the 737, said Boeing, has come from the fuel-efficient MAX jets, including the MAX 9.
The twin-aisle 787 Dreamliner was also in continued demand, said the company, as carriers such as Hawaiian Airlines and Turkish Airlines recently jumped on board to buy the aircraft. Boeing's Dreamliner program finished the year with 145 deliveries, said the company.
Others on the list of 2018 orders were the 777, 767 and 747-8.
"In addition to the ongoing demand for the 737 MAX, we saw strong sales for every one of our twin-aisle airplanes in a ringing endorsement of their market-leading performance and efficiency," said Ihssane Mounir, a senior vice president at Boeing, in a statement. 
"More broadly, another year of healthy jet orders continues to support our long-term forecast for robust global demand that will see the commercial airplane fleet double in 20 years," said Mounir.