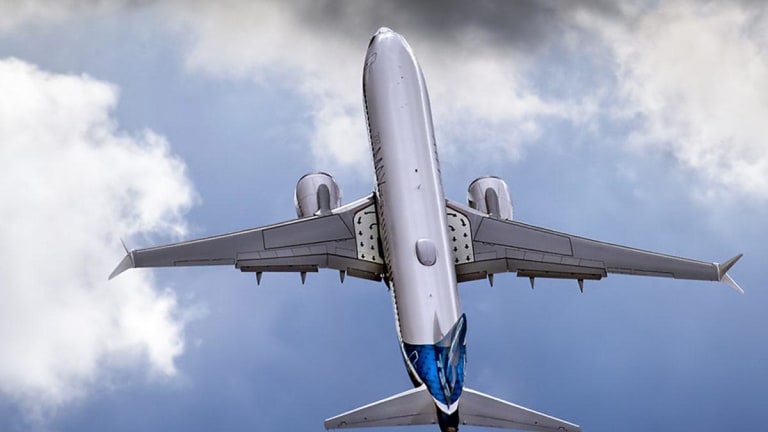 Boeing Says Turkish Airline SunExpress to Exercise Options for 10 737 MAX Jets
Boeing says Turkish airline SunExpress is exercising options for 10 additional Boeing 737 MAX 8 airplanes in a $1.2 billion deal.
Boeing (BA) - Get Report said Monday that Turkish airline SunExpress will exercise options for 10 additional Boeing 737 MAX 8 airplanes in a $1.2 billion deal.
The purchase adds to a previous SunExpress order for 32 MAX airplanes.
Boeing was up slightly to $374.09 a share.
"We have full confidence that Boeing will deliver us a safe, reliable, and efficient aircraft. However, it goes without saying that this requires the undisputed airworthiness of the model, granted by all relevant authorities. Our utmost priority at SunExpress is and has always been safety," said SunExpress CEO Jens Bischof.
The troubled 737 MAX has been grounded since last March after two crashes less than six months apart killed 346 people. Investigators have linked the crashes to failures of the plane's MCAS flight software system.
Southwest (LUV) - Get Report and United Airlines (UAL) - Get Report recently announced they were grounding the 737 MAX 8 until March.
Boeing has the software to ensure that the system can't be activated repeatedly and that it no longer has a single point of failure. MCAS -- short for Maneuvering Characteristics Augmentation System -- was triggered by erroneous sensor readings in both crashes.
Earlier this month, the Chicago-based aerospace giant said in a statement that it expected the grounded jet, which has been out of service since the spring, to return to commercial duties by January 2020, but it could resume deliveries in December.
"We regret the impact the MAX grounding has had on SunExpress and their passengers," said Stan Deal, president and CEO of Boeing Commercial Airplanes. "The Boeing team is working hard to safely return the airplane to service and providing the capacity for SunExpress to continue serving as the backbone of air travel in the Turkish tourism industry."
Separately, Reuters reported that Sheikh Ahmed bin Saeed al-Maktoum, chairman of Flydubai, told reporters that the Dubai state-owned airline can replace the 737 MAX planes with Airbus A320neo jets.
Deal said that Boeing has had "ongoing discussions" with Flydubai about "ensuring that we do our part to mitigate the impact [of the groundings] and then ensuring that we are working together as time approaches to return those aircraft to service," according to Arabian Business.