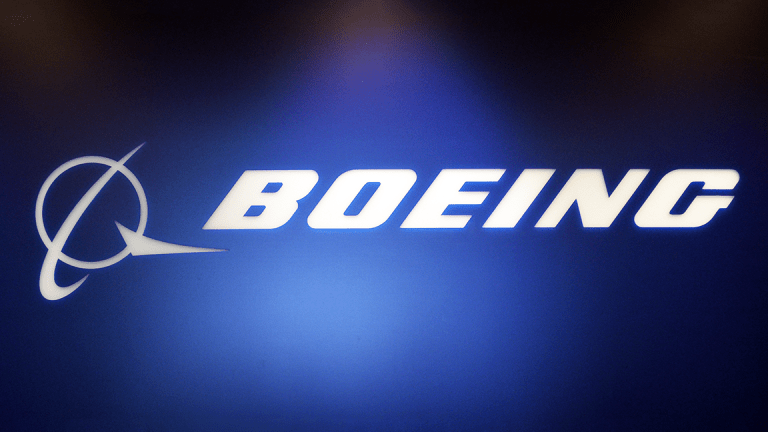 Boeing Falls Most on Dow as Arrest of China Exec Worsens Trade Fears
Boeing Co. shares fell the most on the Dow Jones Industrial Average after the arrest of a Chinese executive in Canada raised fears of a worsening trade war.
Boeing Co. (BA) - Get Report shares were the worst performers on the Dow Jones Industrial Average after Huawei Technologies Co.'s chief financial officer was arrested in Canada over possible violations of U.S. sanctions on Iran, potentially worsening relations with China amid a U.S. trade war with Boeing's biggest overseas customer.
Boeing lost as much as 7.4% before recovering a bit to close at $331.90, down about 3.1%.
Boeing Chief Executive Officer Dennis Muilenburg said on Thursday he hopes China and the U.S. can resolve their trade disputes, on a day when global stocks fell on concern about a trade war between the world's two largest economies.
"We are hopeful coming out of the G20 summit that we are on a path to finding a trade agreement with China that's going to be productive," Muilenburg said in an interview with CNBC.
Boeing has "not yet" seen an effect on Chinese sales and lease-backs, Richard Hammond, vice president at Boeing Capital, a financing arm of the largest U.S. exporter, said at a media briefing in London Thursday, according to Bloomberg. Boeing expects "robust demand in that region for quite some time" and is "working with our
government and their government to provide whatever help we can," Hammond said.
The Canadian government said on Wednesday that it had detained Huawei's chief financial officer, Meng Wanzhou, on Saturday in Vancouver, British Columbia, while she was transferring flights. The United States is seeking Meng's extradition but has not said what prompted the arrest.
The news reportedly ignited anger in China, just days after leaders of the U.S. and China indicated they may have reached a truce in the trade war. Huawei makes telecommunications equipment that large American mobile carriers such as AT&T (T) - Get Report have avoided using in their networks ever since a 2012 congressional report highlighted the security risks.
Separately, Indonesia's Lion Air is considering canceling orders for Boeing's 737 MAX jets following a crash that killed 189 people in October but has not yet made a decision, the airline's CEO Edward Sirait said on Thursday, Reuters reported.