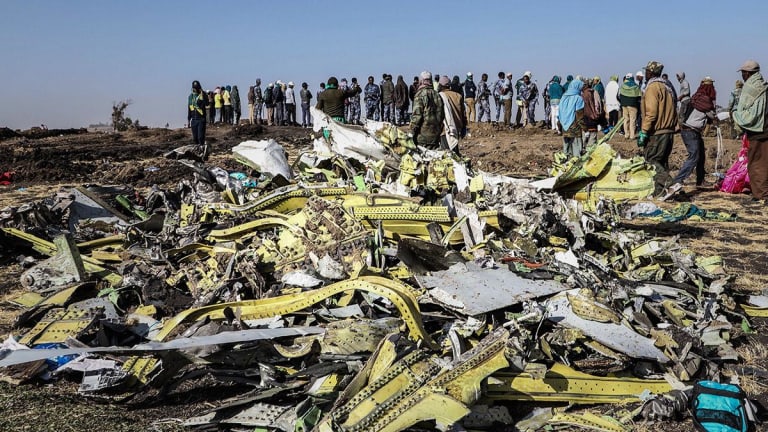 Boeing Stock Keeps Sliding as EU Joins List of Regions Banning the 737 MAX 8
Boeing shares trade at a five-week low Tuesday as the planemaker stands by its 737 MAX 8 jet as a growing list of countries around the world move to ground the flagship aircraft amid increasing questions over its safety following Sunday's deadly crash in Ethiopia.
Boeing  (BA) - Get The Boeing Company Report shares are on pace for their biggest two-day decline in more than a decade Tuesday as the European Union became the latest aviation authority to ground BA's flagship 737 MAX 8 jet following Sunday's deadly crash in Ethiopia.
The European Union Aviation Safety Agency issued an emergency airworthiness directive grounding Boeing 737-8s and 737-9s because "it cannot be excluded that similar causes may have contributed" to both Sunday's crash and an October crash of a Boeing 737 MAX 8 in Indonesia. Both incidents killed all aboard. 
The EU's move followed similar decisions from officials in Britain, Australia and Singapore, which prohibited 737 MAX planes from landing at the city state's Changi airport, Asia's second largest. British aviation regulators said that "as we do not currently have sufficient information from the flight data recorder, we have as a precautionary measure issued instructions to stop any commercial passenger flights from any operator arriving, departing or overflying U.K. airspace."
Boeing shares were marked 6% lower in mid-afternoon trading in New York, following on from Monday's decline of around 5.4% to change hands at $376.75, the lowest since January 29. The move that trims the stock's year-to-date gain to about 16% and marks BA's largest two-day percentage decline in more than 10 years.
In the United States, the Federal Aviation Administration issued an extended safety warning -- known as a "continued airworthiness notification"-- to international operators of the MAX 8 late Monday, with U.S. Transportation Secretary Elaine Chao adding that if it "identifies an issue that affects safety" it will "take immediate and appropriate" action.
Airworthiness Directives are legally enforceable regulations used to correct unsafe conditions in an aircraft, its engine, propeller or its appliances, according to the FAA website. There are around 350 737 Max 8s in service being flown by 54 operators around the world, according to FAA estimates.
"External reports are drawing similarities between this accident and the Lion Air Flight 610 accident on Oct. 29, 2018," the FAA said in a statement. "However, this investigation has just begun and to date we have not been provided data to draw any conclusions or take any actions."
Still, even President Donald Trump weighed in with a tweet on the situation:
However, Boeing insisted in a statement that it has "full confidence in the safety of the MAX. ... We'll continue to engage with (all civil authorities) to ensure they have all the information they need to have the confidence they need (to) safely continue to operate their fleets or return them to service. It is also important to note that the Federal Aviation Administration is not mandating any further action at this time, and based on the information currently available, we do not have any basis to issue new guidance to operators."
The cause of Sunday's disaster, which followed a deadly crash of a Lion Air flight off the coast of Indonesia in October, has not yet been determined. However, control-tower recordings suggest the pilot was having early difficulties and eyewitnesses reported seeing flames from the jet prior to its crash. Both of the flight's black boxes have been recovered and are being analyzed by investigators.
"Boeing is deeply saddened to learn of the passing of the passengers and crew on Ethiopian Airlines Flight 302, a 737 MAX 8 airplane," the company said in a statement Monday. "We extend our heartfelt sympathies to the families and loved ones of the passengers and crew on board and stand ready to support the Ethiopian Airlines team."
"A Boeing technical team will be traveling to the crash site to provide technical assistance under the direction of the Ethiopia Accident Investigation Bureau and U.S. National Transportation Safety Board," the statement added.
Boeing's 737 lineup, perhaps its most important program, contributes around a third of the the Chicago-based planemaker's bottom line, as well as a fifth of its sales, and has a back order log of nearly 5,000 units.
(This article has been updated.)