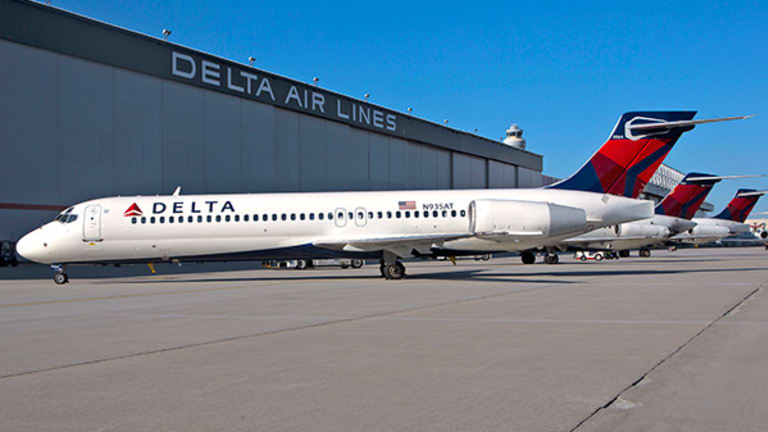 Publish date:
Boeing Dreamliner Order Cancelled as Airbus Postpones Deliveries
Delta cancels an order for Boeing 787's while Airbus agrees to delay deliveries to Emirates Airline.
Delta cancels an order for Boeing 787's while Airbus agrees to delay deliveries to Emirates Airline.
Delta Air Lines (DAL) - Get Report is canceling a deal for 18 Boeing (BA) - Get Report 787 Dreamliner aircraft, a transaction valued at more than $4 billion.
The Atlanta-based airline did not disclose the specifics of the agreement, but noted that it will continue to take delivery of the new 737-800ER aircraft through 2019 to fulfill its order of 120 narrowbody jets.
Delta inherited the deal as part of its 2008 merger with Northwest Airlines. However, the company signaled that the order was never going to be fulfilled the back in 2010 when it deferred the order to a 2020 and beyond delivery timeline.
"This business decision is consistent with Delta's fleet strategy to prudently address our widebody aircraft needs," Greg May, Delta's senior vice president of supply chain management and fleet, said in the statement.
Delta shares were lower during the trading session Wednesday morning; Boeing stock was also slipping.
The cancellation comes as Boeing's European rival, Airbus Group SE (EADSY) - Get Report , announced it was postponing the delivery of a dozen jets to Emirates Airline.
The company said six deliveries of the A380 planes would be pushed back to 2018 from 2017, with another six postponed from 2018 to 2019.
Emirates Airline reported in November having some unspecified technical issues with Rolls-Royce engines for A380 jets, according to Reuters.
"Airbus re-confirms the target to deliver around 12 A380s per year from 2018 as announced earlier in July 2016," the company said in a statement. "Further fixed cost reduction initiatives will be accelerated so the impact on break-even in 2017 is minimal."
Stretching the A380 orders out makes sense to Jefferies equity analyst Sandy Morris because he says "keeping A380 alive is 'the game.'"
News of the canceled Boeing order and postponed Airbus deliveries comes shortly after both companies inked a deal with Iran, which marked some of the most prominent commercial transactions since international sanctions were lifted. Airbus is selling 100 jets to Iran Air with deliveries beginning in early 2017, while Boeing is selling 80 planes and expects to start deliveries in 2018.
Employees of TheStreet are restricted from trading individual securities.