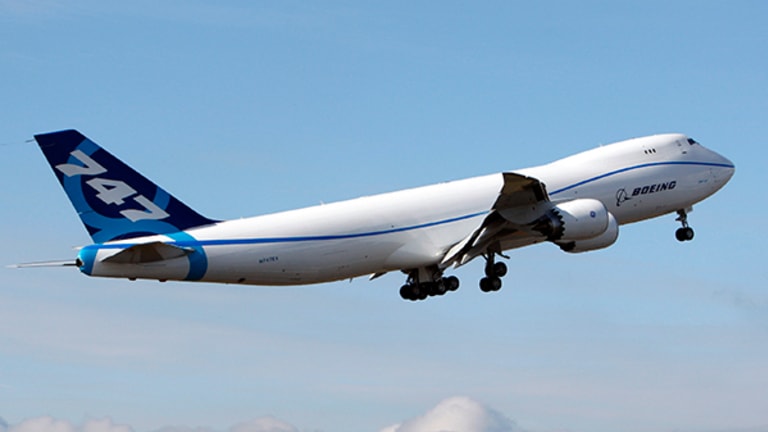 Cramer Says Boeing is Set to Soar after Earnings Beat
The world's largest manufacturer of airplanes sees 6% growth in defense planes in the first half.
Boeing (BA) - Get Report has reported a loss of 44 cents per share on revenue of $24.8 billion in the second quarter, significantly outperforming expected losses of 93 cents per share. The company also reaffirmed cash and revenue guidance.
The loss represents a previously announced 787 cost reclassification and charges on the 747 program. For the same time period last year, Boeing reported earnings of $1.62 per share on revenue of $24.5 billion.
The Seattle-based company also reported earnings of $1.35 per share on revenue of $47.4 billion for the first half of the year. This is compared with earnings of $3.59 per share on revenue of $46.7 billion in the first half of last year.
"American Airlines (AAL) - Get Report is famous for footballing," Cramer said. "They like to really rough and tumble with Boeing to get a better price...that fooled a lot of people, too."
Cramer lauded Boeings orders, profitability, operating cash flow is great, and inexpensive stock on earnings.
"I like this group very much," Cramer said. "Boeing's going higher."
Earnings-per-share guidance has been adjusted to between $6.10 and $6.30 for 2016, from $8.15 and $8.35, to reflect the impact of the 787 R&D reclassification and the 747 charges.
Boeing shares ticked up $1.52 per share, to $136.39 midday Wednesday. The company has a market cap of $88 billion.
The commercial and defense businesses delivered strong revenue. Commercial airplanes had revenue of $17.5 billion for the second quarter, compared with $16.8 billion in the second quarter of 2015. However, the division is down in the first half, reporting revenue of $31.8 billion in 2016, compared with $32.3 billion in 2015.
Revenue in defense was down to $7.2 billion in the second quarter, compared with $7.5 billion in 2015. And revenue was up 6% in the first half, to $15.13 billion.
Chief Executive Officer Dennis Muilenburg said in a statement, "As we look forward to the second half of the year, we anticipate continued strong operating performance across our production and services programs on generally healthy demand for our broad portfolio of market-leading offerings."
He added, "Overall our teams remain intensely focused on improving productivity and quality, building out our large and diverse backlog, investing in future growth, and delivering increasing value to all of our stakeholders."
The Indian government is ready to ink a deal with Boeing for four long-range maritime spy planes, the Financial Times reported Wednesday. Sources said the new planes will cost around $1 billion and the first will be delivered in three years.
Boeing's recent proposed deal to sell 80 planes worth $17.6 billion to Iran Air has come under scrutiny after the U.S. Congress passed a motion to block licenses to export passenger aircraft and parts to Iran. The Iran Civil Aviation Organization insisted that the deal can still go ahead despite opposition, Forbes reported.
Malaysia Airlines is expected to place a smaller order than Iran with the company as early as Wednesday, Reuters reports. The deal could be worth up to $5.35 billion, half the size of a similar $11.3 billion deal VietJet placed with Boeing in May.
Also, Boeing on Tuesday forecast that nearly 1.5 million technicians and pilots will be needed in the airline industry by 2035.