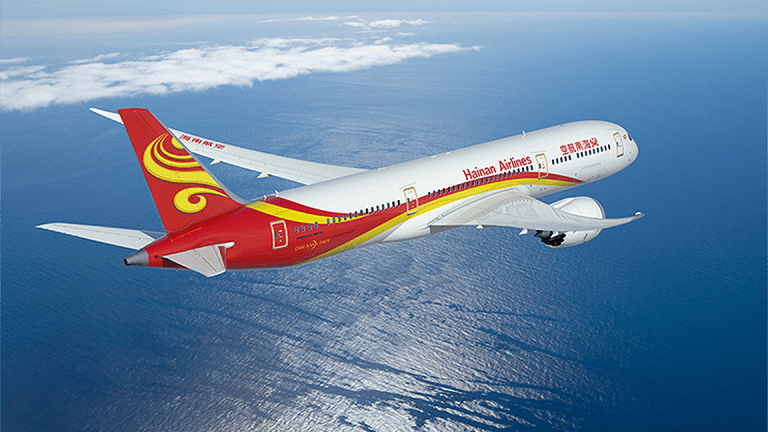 Boeing's 787 Allows Hainan Airlines to Fly From New York to Interior China
Hainan Airlines used the Boeing 787 to begin the first service ever between New York and interior China. It now flies JFK to Chengdu and Chongqing.
Two new flights from New York's John F. Kennedy International Airport mark another historic first Boeing Co.'s  (BA) - Get Boeing Company Report 787 -- apparently they are first commercial flights between the East Coast of the U.S. and interior China.
The flights from Chengdu and Chongqing to JFK embody the U.S.-China strategy of Hainan Airlines, which relies on the 787 to open new routes between secondary markets.
Historically, U.S.-China service had been limited to the coastal cities of Beijing and Shanghai. United Continental Holdings Inc. (UAL) - Get United Airlines Holdings, Inc. Report broke the mold in June 2014, when it used a 787-8 to begin San Francisco-Chengdu service, the first commercial route from the U.S. West Coast to interior China.
The 787 Dreamliner, first delivered to Japanese carrier ANA in 2011, enabled routes that were not previously operated because only bigger aircraft had sufficient range. Those aircraft provided too much capacity for new, undeveloped routes.
"Our strategy has been to link cities that have not had service before," said Joel Chusid, U.S. executive director for Hainan. "We fly Seattle-Beijing but not New York-Beijing; we fly LA to Chengdu but not [to] Shanghai, and San Jose is the Bay Area [airport] for us."
In 2015, Hainan, the fourth-largest Chinese carrier and the largest privately held Chinese carrier, began Beijing-San Jose service; in 2016, it began Changsha-LAX, the only flight from interior China to LAX, as well as Beijing-Las Vegas.
Chusid noted that the term "secondary" cities is something of a misnomer for Chengdu, which has a population around 15 million; Chongqing, which has 30 million; and for Boston, the center of an area of about 5 million. But the U.S.-China bilateral aviation treaty makes the distinction and restricts service to primary destinations, particularly the congested airports of Beijing and Shanghai.
A new Beijing airport will open in 2019, but Chusid said even that may not provide sufficient capacity given the slot constraints. (Slots are assigned takeoff and landing times). "You're very tight in Beijing and Shanghai with gates and slots," he said. "There's a big slot issue for domestic flights, and we don't want to put in more international flights in Beijing with nothing to connect to."
Hainan now has 12 U.S. routes including: Seattle to Beijing and Shanghai; Boston to Beijing and Shanghai; Chicago to Beijing; San Jose to Beijing; Las Vegas to Beijing and Los Angeles to Changsha, Chengdu and Chongqing. It also flies Beijing-Calgary and Beijing-Toronto.
"We started with Seattle in 2008 and Seattle is now our largest U.S. market," Chusid said.
The carrier began Chongqing-JFK service on Oct. 20 and Chengdu-JFK on Oct. 26. Each flight will operate twice weekly. At 7,573 miles and 14 hours, Chongqing-JFK is the longest flight in Hainan's system.
For New York service, Hainan uses both the 787-8, which seats 213 passengers in two classes, and the 787-9, which seats either 289 or 292 in two different configurations.
"The 787-8 and the 787-9 are our workhorses between China and the U.S," Chusid said. "We use both. We don't have any of the mega-widebodies."
Hainan's fleet of 191 aircraft includes 143 Boeing 737s; the widebody fleet consists of 23 Boeing 787s (including a dozen 787-9s, with 22 on order), 22 Airbus A330s and four 767s. The A330s "can do West Coast, but not beyond that," Chusid said. "It is used on European routes [although] we have started to put the 787 on Moscow and Tel Aviv and other places -- now that we have enough to go around."
Not surprisingly, most Hainan seats are sold in China. China point-of-sale ranges from between 55% to 60% to about 90% on the Las Vegas flight.
"People come not just for gaming," Chusid said. "They have gaming in Macau. But this is a younger crowd, the millennials of China. They come and rent RVs and drive to Yosemite and the Grand Canyon, and they go to the shows and restaurants."
Two things could help Hainan's future U.S. growth: the arrival of more 787s -- it has 22 on order -- and additional liberalization of the bilateral aviation agreement.
Chusid meets regularly with U.S. airports; he has talked to about 30. Among them are Raleigh-Durham International Airport. Chusid called it "very interesting," partially because the U.S. headquarters of the Chinese manufacturing company Lenovo is nearby. "We've talked to them for several years now and they're doing some runway adjustments to handle larger aircraft," he said.
"There is a long list of cities very anxious to have service from China," Chusid said. "We take these proposals very seriously. Las Vegas is one we never thought of five or 10 years ago, but they talked to us every year and made a good case."
Now, travel star Samantha Brown has the tips you need to save on your next flight:
More of What's Trending on TheStreet:
This article is commentary by an independent contributor. At the time of publication, the author held no positions in the stocks mentioned.