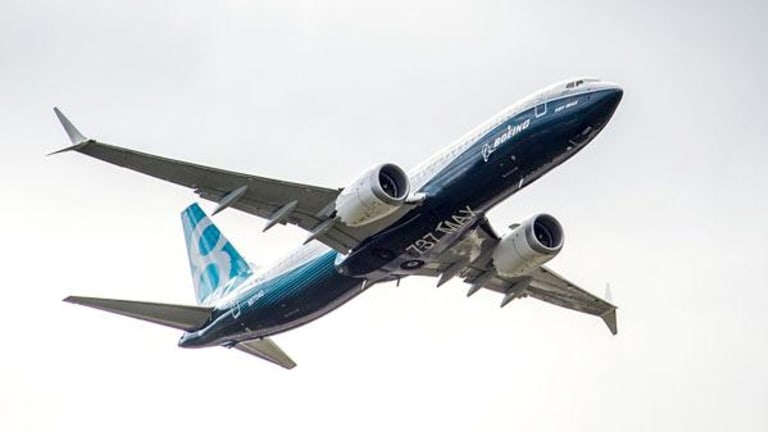 Boeing 737 and 787 Profit Gains Will Overwhelm 777 Decline, Analyst Says
Boeing investors may have been scared off by the declining market for widebodies, but one analyst says bears are missing the improving picture for the 737 and the 787.
Despite the slumping market for widebody jets, a new report takes a positive view of the outlook for Boeing (BA) - Get Free Report  thanks to improving cash flow, prospects for a higher dividend and a continued strong market for the reliable 737.
In the report, Cowen & Co. analyst Cai von Rumohr reiterated an outperform rating on Boeing and set a price target of $175.
Boeing shares closed Wednesday at $132.64. Year to date, Boeing is down about 8%, making it the second worst performer in the Dow 30. Only Disney, down 11% has done worse. The Dow is up about 6% year to date.
Bearish views of Boeing have dominated this year for three reasons, von Rumohr wrote. Orders for the 777 are declining due to the expected 2020 introduction of the 777X; the 787 program has $27.7 billion in deferred production costs that must be amortized; and "the long air transport upcycle is running out of gas.
"Bears are right to be concerned with the coming decline in the 777's profit contribution," he wrote. "But they don't give full credit to the probable 737 profit ramp, which should offset most of the 777 drop. 
"We estimate that 737 gross profit contribution will increase by $1.8B from 2015 to 2019, offsetting most of the 777 decline," he said.
Boeing said it will ramp up monthly 737 production to 52 in 2018. Demand for the world's airplane workhorse remains strong.
Globally, domestic traffic is up 5.1% year to date, according to the International Air Traffic Association. That is a good sign for the 737 and the Airbus A320, the two narrowbodies that fly the bulk of the world's domestic routes. Boeing has a backlog of 4,404 orders for the 737 and "delivery positions are oversold through 2019," von Rumohr said.
"737 revenues should rise by an estimated $6B+ from 2015 to 2019, and even with the delivery mix shifting to the MAX, we think profit accrual rates can increase," he said. "Work on the 737 MAX appears to be moving ahead smoothly." First delivery of the 737 MAX is expected in 2017.
Von Rumohr said he anticipates Boeing will increase 737 production to 57 a month in 2019, even as it trims 777 production from seven to four or five a month and moves very slowly to boost 787 production from 12 to the stated goal of 14 a month.
Investors are overly worried about the 787's deferred production costs, von Rumohr said, noting "bears obsess over 787 accounting and argue that BA will have to take a huge forward loss because the program's $27.7B in deferred production costs means that the 869 remaining deliveries in the accounting block will have to amortize $36.1MM per copy to avoid a charge."
He said the deferred costs increased because Boeing spent heavily to make substantial improvements from the 787-8 to the 787-9. But now that the 787-9 is selling at a higher price than the 787-8, the deferred costs will come down more quickly, and they will come down even more quickly when the 787-10 starts to be delivered.
"Investors were mostly unaware of the significant changes in the Dash 9, which BA chose not to highlight likely for fear of alienating Dash 8 users," von Rumohr said. "Hence, they were disappointed by the extended high plateau of quarterly deferred production increases into 2014."
Even at a dozen 787s a month, "787 will turn cash positive with initial amortization of 787 deferreds likely in Q3," he said.
Another aircraft that could soon help Boeing's profit picture is the KC-46, the aerial refueling plane being developed from the 767 for the Air Force. The first 18 deliveries are scheduled for 2017. "The KC 46 has been a big drain; they took close to $2 billion in forward losses," von Rumohr said in an interview.
The losses will diminish, he said, and "the level of cash drain will go down and they could start to turn cash positive in late 2018."
Meanwhile, Boeing has hiked its dividend 125% since 2013 while buying back about 6% of shares annually. Add it all up, von Rumohr said, and by 2019 Boeing becomes a stock with cash flow of $15 a share and a dividend of $6.25 a share.
A current dividend yield of 3.3% "offers downside support and makes BA a standout value vs. its peers," he said.
This article is commentary by an independent contributor. At the time of publication, the author held no positions in the stocks mentioned.