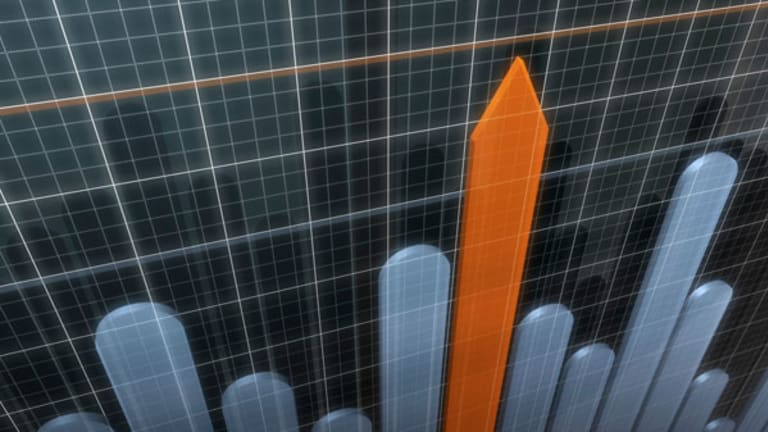 BMC Software Should Get Back to $50
This IT software company posts solid results through good times and bad.
The following commentary comes from an independent investor or market observer as part of TheStreet's guest contributor program, which is separate from the company's news coverage.
NEW YORK (
) -- MagicDiligence
comparing four enterprise software companies currently listed in Magic Formula® Investing:
Oracle
(ORCL) - Get Report
,
BMC Software
(BMC)
,
CA
(CA) - Get Report
, and
Microsoft
(MSFT) - Get Report
. The conclusion was that Oracle was the best-looking stock in the bunch, but that all were attractive.
This remains the case for BMC Software. Let's take a closer look at this interesting stock.
BMC makes enterprise software for managing information technology systems within a company. IT infrastructure is the collection of all computer-based assets, such as servers (Web, application, database, etc.), storage, applications, compute hardware, network connectivity, etc. The company's products automate many routine tasks, provide a high level overview of IT diagnostics, allow quick reporting and action on problems, and so forth.
The firm breaks its business up into three areas: First is Enterprise Service Management, or ESM, servicing "distributed" networks, those consisting of multiple different individual networks and computer resources. Second is Mainframe Service Management, or MSM, selling to mainframe networks, where a set of central monolithic computers handles the majority of work and users use "dumb terminals" to access it. ESM is a slightly larger contributor to revenue, but MSM is a more profitable unit. The third area is Services, consulting work, education (materials and seminars) and implementation help. Services is a slightly unprofitable category for BMC.
Follow
TheStreet
on
and become a fan on
As explained in the linked article, enterprise software is an attractive industry. For BMC, recurring maintenance revenue account for about 50% of sales. Licenses to its software are sold on both term and perpetually renewing contracts. This means that a large majority of BMC's revenue is recurring, setting up stable streams of cash flow and protecting against dramatic peaks and valleys of profitability.
Additionally, enterprise software has high switching costs. Large companies put a lot of time, effort and consideration to how they implement and deploy IT systems. It often takes months or even years to evaluate and decide on a solution. Once put in place, it is expensive, time consuming and disruptive to business to make large changes. BMC's software is integrated, meaning its tools work together to provide comprehensive solutions. This makes it more difficult to sell, but once sold, also makes it far more difficult to switch away from. This allows us to have high confidence in BMC's ability to generate cash, through both good times and bad.
This is illustrated by the firm's solid results in the 2008 to 2009 "Great Recession" period, where revenues, profits, and operating margins all rose uninterrupted.
The growth catalysts here are twofold. First, like its competitors, BMC has been and will continue to be active in buying up smaller software firms to expand its portfolio of offerings to cross-sell to existing customers. BMC purchased I/O Concepts just last week, data center automation firm BladeLogic in 2008, and made a number of smaller acquisitions last year. These all add to revenue. On the flip side, at a valuation of about $6 billion, BMC is by far the smallest of the four companies we examined. This makes it a potential acquisition for one of its larger competitors.
Secondly, there is a secular move toward "cloud computing" for IT solutions. This is a general term that encompasses, in effect, outsourcing certain IT operations to a central provider. This movement has facilitated large investments in data centers, huge IT infrastructures that require the kind of software that BMC produces. BMC is getting robust growth in new licenses for its cloud and "software-as-a-service" products.
The biggest near-term risk in BMC is behind the price decline -- the firm has been having execution problems in its sales force. Attrition rates exceeding 40% have limited the company's ability to build up its sales pipeline to an acceptable volume. Management believes they have a grasp on the situation, and are planning to fix it with compensation and goal modifications. However, there is the possibility that competitors are successfully poaching BMC's sales force. If the company cannot keep its best salespeople, it will have difficulty competing.
Which leads us to the bigger picture risk. BMC is a software-only house, but it competes directly with full hardware and software offerings from big firms like
Hewlett-Packard
(HPQ) - Get Report
,
IBM
(IBM) - Get Report
and Oracle. BMC's strategy in the past has been to partner with hardware-focused firms to provide the software -- an example of this is a partnership with
Cisco
(CSCO) - Get Report
. However, corporate IT managers tend to like to keep things simple and standardize on one provider. That can leave BMC at a disadvantage.
Overall, I like the business a lot and believe it to be significantly undervalued along with most of its peers. BMC wins a head-to-head comparison against CA for two reasons. One, it has historically been a higher multiple stock than CA. Two, BMC has stability in the management ranks with proven results, while CA has been a bit of a revolving door over the past few years. Finally, BMC's smaller size makes it an easier company for a competitor to swallow at a premium. My fair value estimation is $50.
At the time of publication, the author was long MSFT, although positions may change at any time.
This commentary comes from an independent investor or market observer as part of TheStreet guest contributor program. The views expressed are those of the author and do not necessarily represent the views of TheStreet or its management.